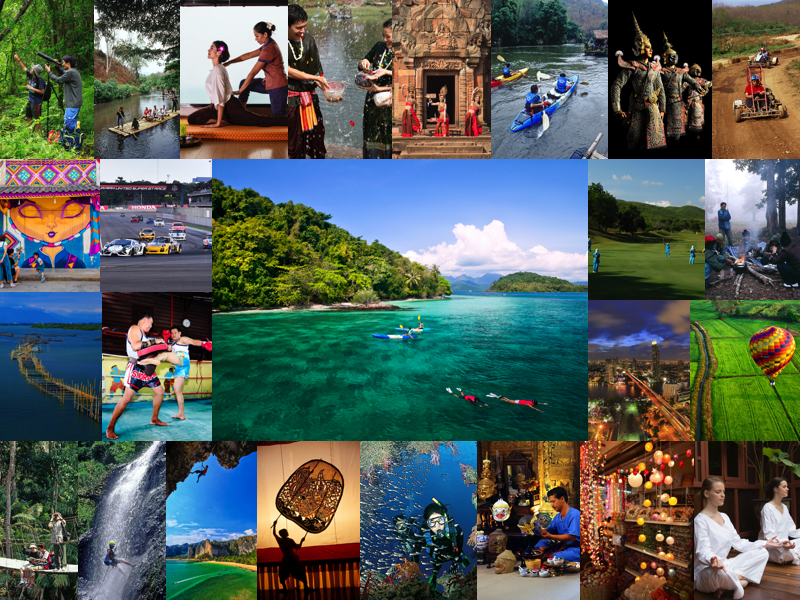 Thai smile warms your heart
One of the reasons Thailand wins many hearts from all over the world is our smile and friendliness. Thai people are happily welcoming all the travelers to our home country just like you are one of our family members. No matter where you go or any trouble that you might get into, you are certain that you will always get the help you need. The services in Thailand also impressed many travellers. Friendliness and genuine hospitality is the real luxury nowadays.
2. Healthy and tasty Thai food
Thai food is one of the healthiest and tastiest foods in the world. Cooking with nutritious ingredients, fresh vegetables and healthy herbs yet packed with flavors is the highlight of the Thai cuisine. No wonder why Thai food is always among the favorite cuisines and Thailand is a heaven for vegan lovers thanks to the clever use of many kinds of veggies. The best thing when it comes to food in Thailand is its 24hrs access to food. You can find many kinds of food and food markets for almost 24 hours.
3. Thailand is safe according to EU
Council of the European Union has set up measures and recommendations for safe travel within the EU and outside the EU by following the current health situation and coronavirus resurgence globally. On the EU list of safe countries to travel to and to enter the Union, Thailand remains on this list since the beginning of the outbreak. This is thanks to the health situation in the country and the ability of the thai government to handle the pandemic effectively as well as the Thai people to follow the norms and the regulations set up by the government.
4. Confident while traveling
Thailand has been able to control the spread of the disease thanks to the quick actions and the cooperation of every sector including Thai people. Johns Hopkins Centre for Health Security in the United States ranked Thailand as number one in the world out of 184 countries for its ongoing COVID-19 recovery effort. To make travellers feel confident and safe while travelling in Thailand, Amazing Thailand Safety and Health Administration (SHA) has been introduced to all stakeholders to ensure the safety and wellbeing of all travellers. Hotels, restaurants, tourist attractions, transport services and other facilities in Thailand must strictly follow the COVID-19 control guidelines issued by the Ministry of Public Health.
5. Activities suitable for all
Thailand offers plenty of activities that fit all traveller types. Active travellers enjoy yoga or running on the beaches, foodies can join cooking class. The kids, on the other hand, can learn to make Thai toy craft. Those who are interested in the local lifestyle can visit a local community and experience the local life. Each traveller can design their own trip according to their likes and interests. Thailand has diverse activities to fit all types and all ages of travellers.
6. Nature recovery
The pandemic period has brought a positive effect for the Thai nature. While tourists are gone, nature bounces back happily in Thailand. Beaches, national parks, rainforests and coral reefs have recovered to its best. It is the perfect time for animals and nature to enjoy their lives without any distraction and re-flourishment. As all the types of social, economic, industrial and urbanization activity suddenly shut off, nature has taken the advantages and showed improvement in the quality of air, cleaner rivers and beaches, less noise pollution, undisturbed and calm wildlife. Before the pandemic, Thai people have started paying attention to the environment and paved the way to environmental friendly travel as well as sustainable tourism. The pandemic has accelerated the trend.
7. No more mass tourism
Many of us cannot travel due to many reasons, but those who have decided to travel now during the pandemic have a chance to experience the real and genuine Thailand. Be the first to re-discover Thailand. There's no reason to wait until winter 2021 to visit Thailand again. Thailand during our summer and autumn can be beautiful. In order to control the outbreak of Covid-19, many tourist attractions are now limiting visitors or require tourists to book in advance, thus making it more enjoyable to visit those places from your bucket list you have dreamt of.
8. Enjoy outdoors activities
Health authorities recommend us to keep active and do activities outdoors in order to stay fit and healthy. When you are in Thailand, it is warm all year round. There are plenty of outdoor activities to choose from hiking, snorkeling, biking, or simply relaxing on the beach.
9. Value for your money
The next holiday in Thailand is an excellent opportunity to pamper yourself with better accommodation or luxurious experiences that it once was not possible before. Hotels and resorts are offering package deals and promotions in many of your favorite destinations. Food and the cost of living in Thailand is also economically friendly with today's exchange rate. Travellers get more of what they pay for while in Thailand.
10. Thailand is everything you want and more
Thailand is famous for beautiful beaches and exotic culture. Truth is Thailand is the hub of Asia, the country that has it all from budget to extravagance. Different regions are unique and offer varieties of activities to suit your traveling style. Those who enjoy vibrant city life and modern art choose for example Bangkok to explore the metropolitan culture. While others who seek rich history and culture can travel to Chiang mai or Chiang Rai in the north. Divers can discover underwater world in the south such as Koh Tao or Trang. Food lovers should not miss street food and all the Michelin star restaurants. Traveling in Thailand is simple and you can enjoy the diversity the country offers in just one trip.