Text & Photo : Malin Hefvelin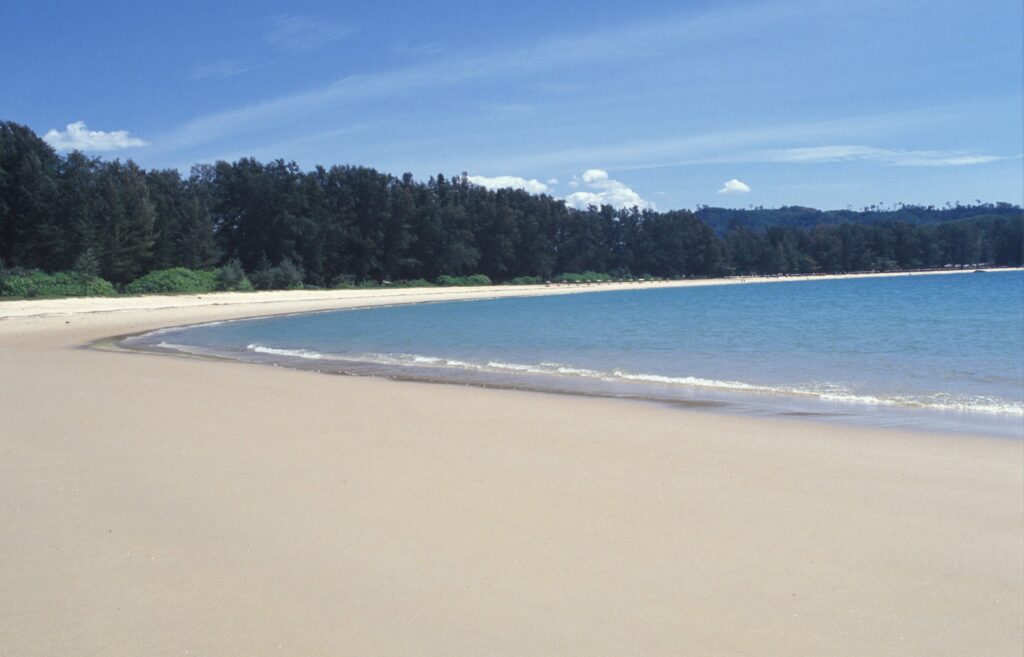 Phuket with its long, powdery beaches between smooth rock formations is also called the pearl of the Andaman Sea. Much has happened since the first tourists arrived in their hunt for pristine beaches and genuine culture. But you can still find the real deal here, as long as you know where to look. After 30 years as a tourist favourite, Phuket still has the ability to fulfil our longing for sun, serenity and exotic surroundings.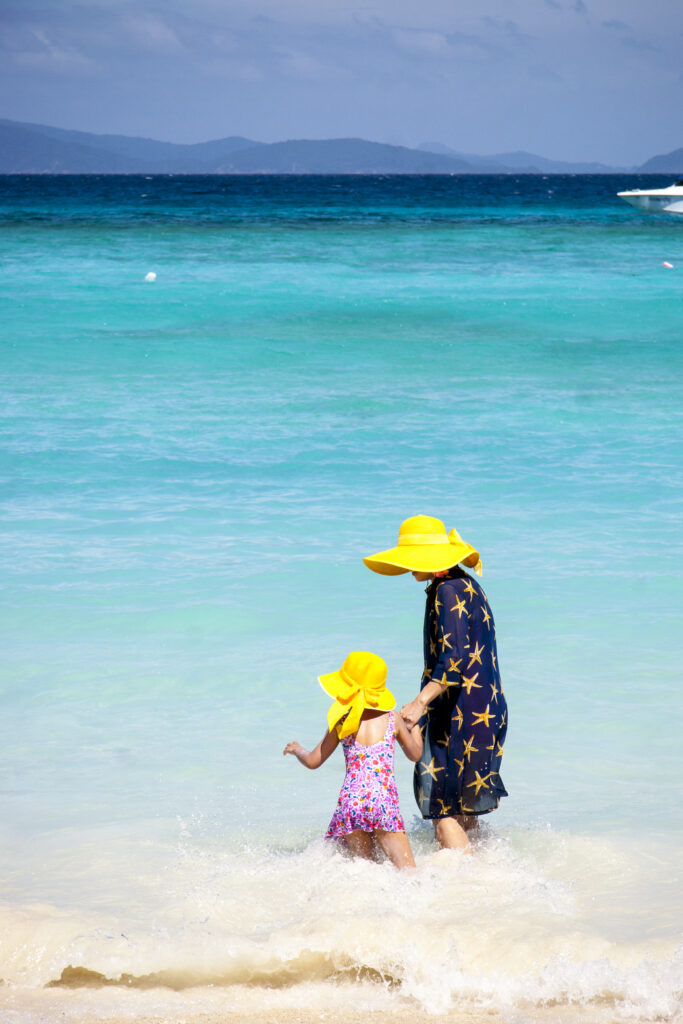 Although Phuket has long been one of Thailand's most popular destinations – the number of tourists has tripled in the last ten years – it is still possible to avoid both crowded beaches and potential tourist traps. Phuket has undergone a renaissance in recent years, with several new hotels and beach clubs, especially on the west coast.
Bang Tao and the Laguna Phuket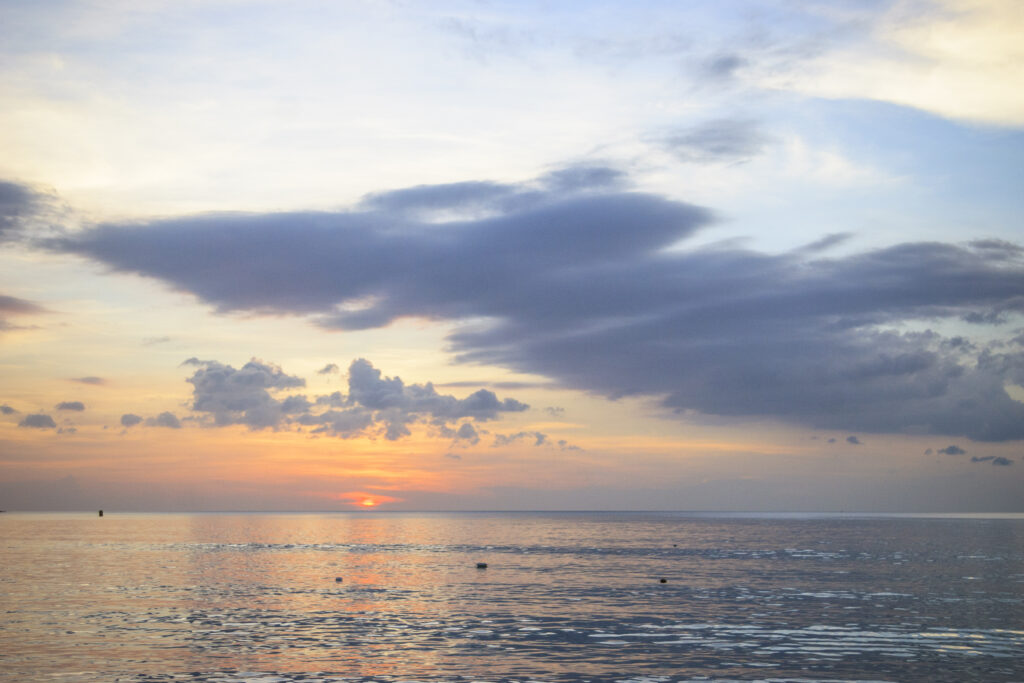 The Laguna Phuket resort complex dominates a large area of Bang Tao Bay with about ten hotels. The bay, which in the 70's was a tin mine, has been cleaned up and restored to its original, natural state. Yesterday's mines are today's water filled lagoons, and between them you find the hotels deeply embedded in the jungle. Small, cushion-filled barges traffic the interconnected lagoons, and a trip to Bang Tao Beach only takes minutes. Bang Tao Beach one of the most beautiful – and longest – beaches in Phuket with its white coral sand and swaying palm trees. Beach club Xana offers brunch during the day and party atmosphere from sunset and onwards. All beaches in Phuket are open to the public and to vendors, so on Bang Tao you can also dig your toes into the sand and order chilled coconuts and well-cooked food at local stalls at a fraction of hotel prices.
Cassia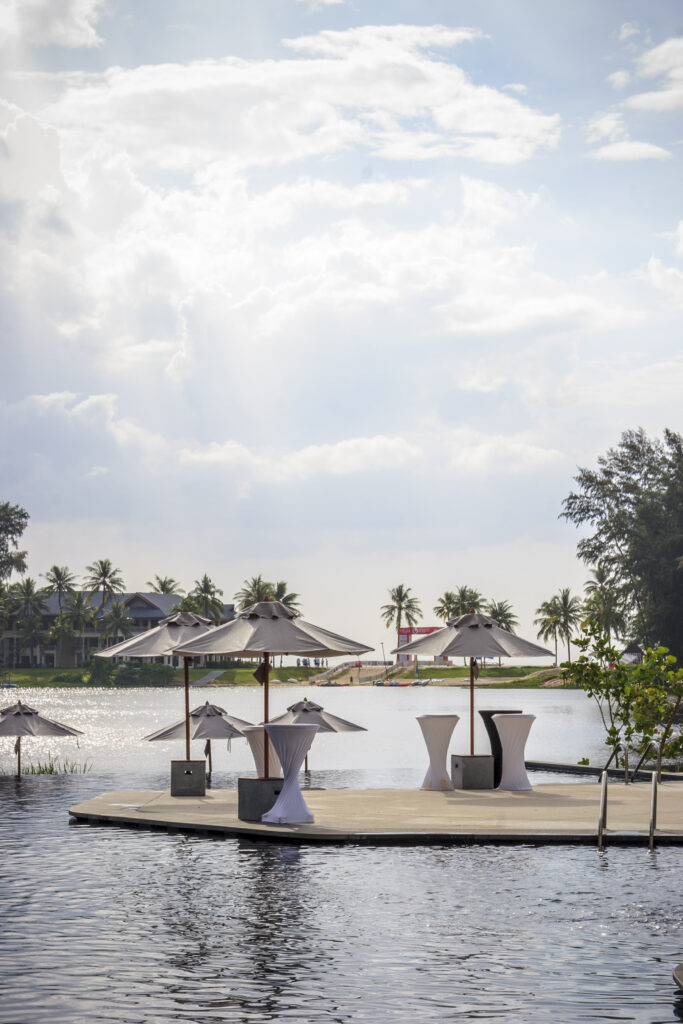 Cassia is a concept from the luxury hotel chain Banyan Tree. They offer modern apartments with private kitchen in the middle of the luxury resort area at a lower price. We get hot breakfast delivered in containers to the room every morning, while juice and milk for the entire stay is already in the fridge. If you prefer to eat out, no worries. In Laguna Phuket there are over 50 restaurants within boat distance around the lagoons. As if that were not enough, the village of Choeng Thale is just outside the premises. The village main street is filled with restaurants competing to lure you in with their most seductive aromas. From early morning to late night you can sample the goodies from the Thai cuisine here.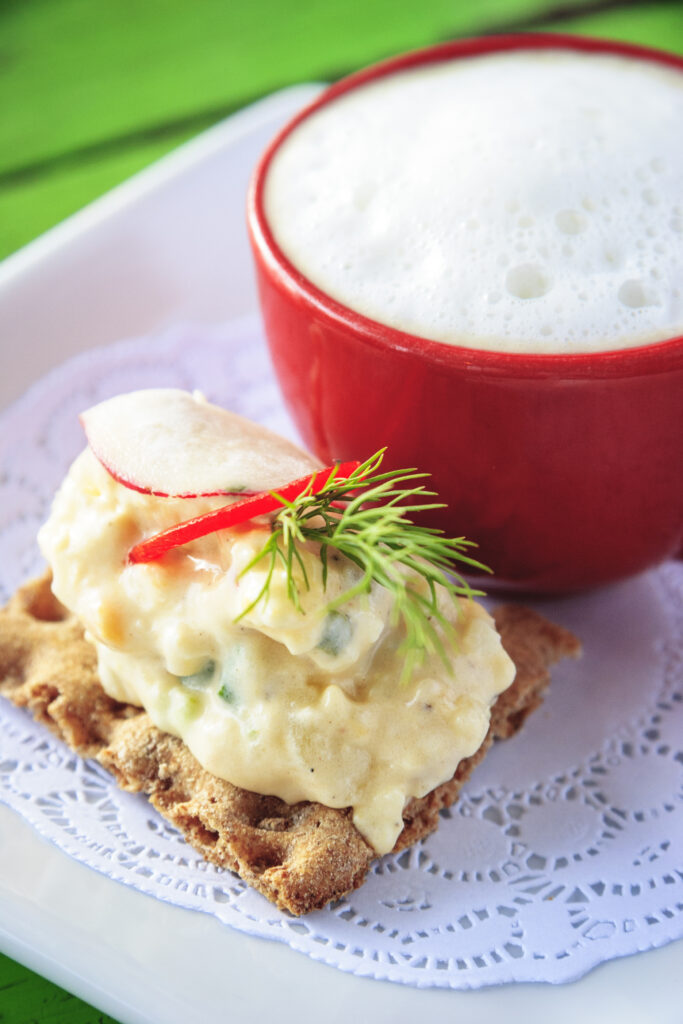 We spend most of our evenings on the almost empty Bang Tao Beach by our hotel, waiting for the sunset. Life is as good as it can get, especially if you are accompanied by cold bottles of local beer while the sky changes from lavender to barley blue, and the song of the cicadas is replaced by the sweeping chirps of the bats. As darkness falls, heart-shaped lanterns begin to rise toward the sky in front of us, released by someone further up along the beach.
Banyan Tree Hotel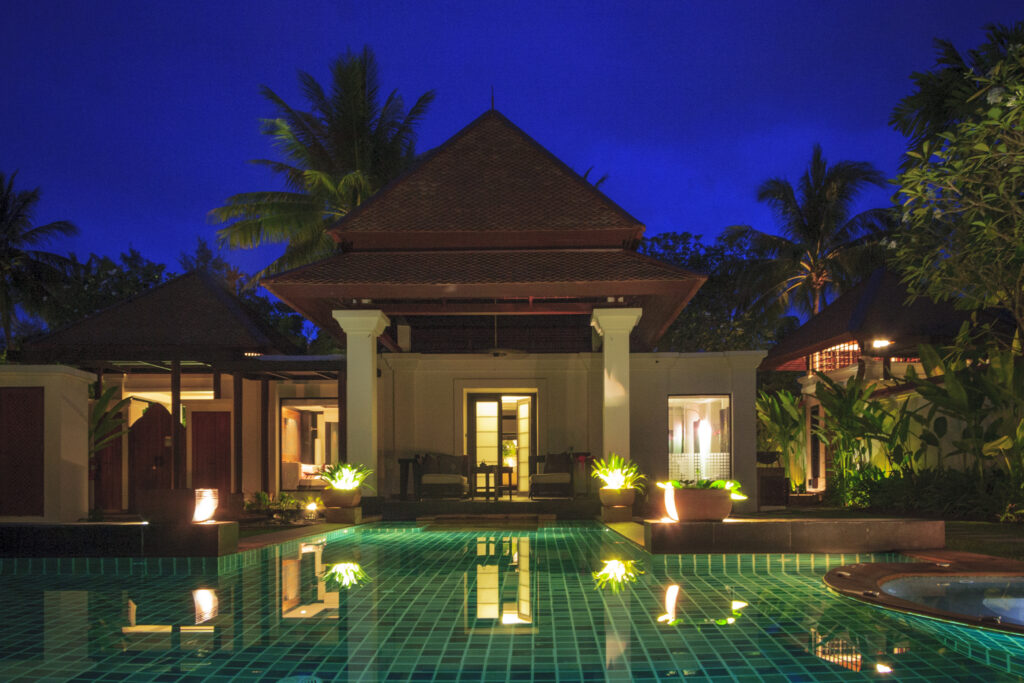 If you wish to take the opportunity to indulge on your last days of vacation, the exclusive resort Banyan Tree is conveniently situated close to Cassia in Laguna Phuket. The hotel chain's newest concept, Spa Pool Villas, has a private garden and its own infinity pool overlooking the lagoon. The bedroom has glass walls on three sides and is surrounded by a pond with lotus flowers illuminated from below at night. One hour of massage by the private pool is included every day.
General Manager Sriram Kailasam has worked at Banyan Tree Phuket since it opened in 1994. I ask him what makes Banyan Tree so special.
– This was the chain´s first hotel, and it has deep roots in Thai culture. The food we serve and all the ceremonies we do are Thai and the spa is based on traditional rituals, he explains.
At the hotel's fine dining restaurant Saffron, a traditional dancer slowly sweeps between the tables accompanied by soft music, dressed in gold brocade. We start with washing our hands in a bowl of warm water before we make our order. We eat delicious noodle-wrapped shrimp with mango dip, and sea bass with palm heart in creamy curry sauce before we pedal our way home to the villa in the warm night on the free-to-use bikes. There, the staff has prepared a bath in the garden hot tub, sprinkled with purple orchid flowers covering the water surface, and a chilled bottle of champagne on the side. In other words, a perfect night.
Location click here
Banana Beach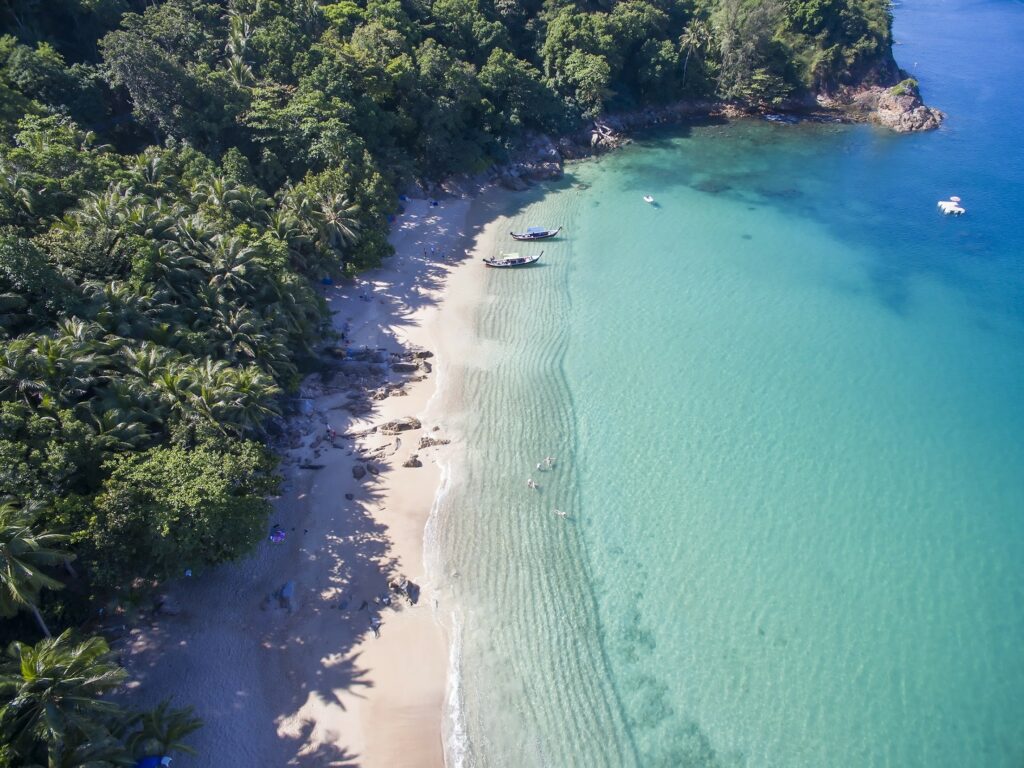 One day we hear a rumour about an almost untouched beach just north of Laguna. Banana Beach is not easy to find, we have to park on the side of the road, jump over the fence and slide down a sandy slope. A dozen or so tourists have also found their way to the secluded beach where large casuarina trees provides a nice shade. A few of them have arrived from other beaches with longtail boats, now swaying in the middle of the bay like jewels with its bows adorned with flower garlands and shawls in traditional colours.