Text & Photo : Anders Pihl
The lovely town of Phrae is a hidden gem in northern Thailand. Few visitors find their way to this small city, which among locals is well known for splendid wooden architecture, remarkable temples, interesting handicraft traditions and beautiful surroundings.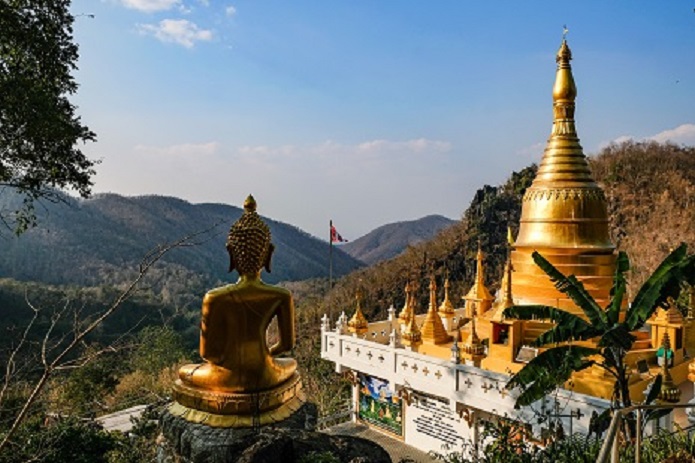 Northern Thailand has many popular highlights, including national parks, temples and large cities, like Chiang Mai. The tiny town of Phrae receives by far fewer visitors. I was very lucky to discover this rare place by coincidence. Considering its size, Phrae has unbelievable much to see and experience.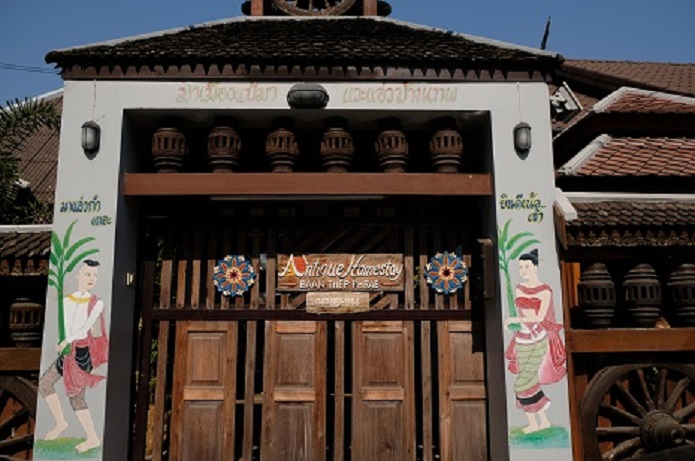 Phrae lies on the Yom River and was founded around the 7th century. The oldest historical part of the city is surrounded by the remains of a city wall. Today the wall looks more like a ridge with trees on the top.
Close to the old wall I found the great Baanthep Antique Homestay, a family home where I spent my first night in Phrae. The father is a collector of antiques who runs a small museum in the same building. The spotless rooms here have superb standard and it is enthralling to have breakfast in a museum among 400 years old giant wooden pillars and fascinating antiques.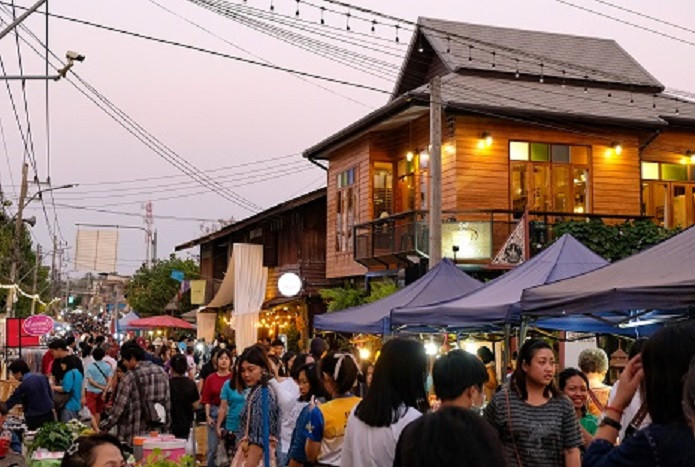 Next day I have a joyful time exploring the town. Phrae was once a key hub in the teak trade and is hiding the perhaps finest wooden architecture in Thailand. There is an abundance of magnificent mansions and quaint wooden palaces with plenty of elaborate gingerbread style carvings. One stunning example is Khum Wongburi mansion, another one is Khum Vichairacha. But the whole historical center of Phrae reminds me of a large outdoor museum.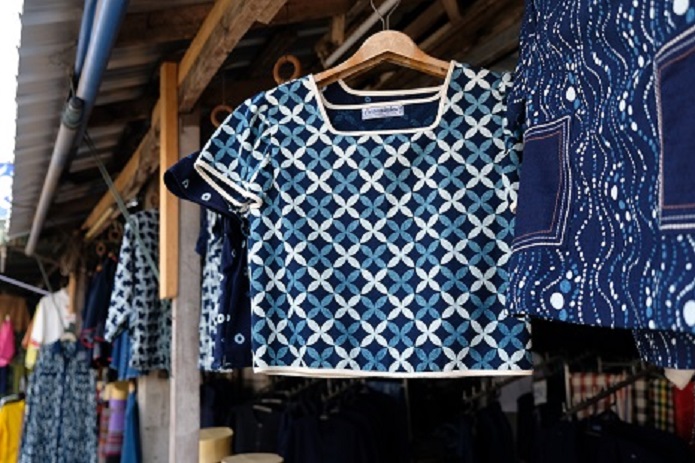 Phrae is also famous for its handicraft traditions, not at least the Mo Hom, a hand-woven denim-like and blue-dyed fabric, often worn by local people. You can buy Mo Hom in many shops in Phrae and it comes in countless patterns and styles.
I did not expect Phrae to be a good place for a coffee, but it is indeed. The town has after all a low key tourist scene and the number of cozy cafés with wifi and Asian/Western fusion food is surprisingly high.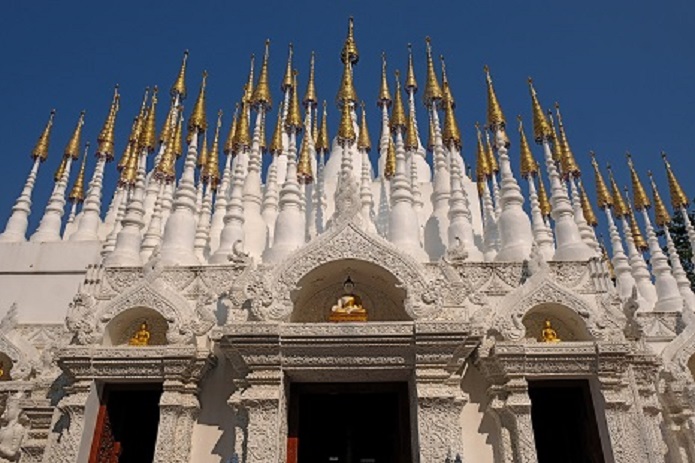 After coffee it is time for temples. Phrae has many of them and some are unique and particularly notable. The important Wat Phra That Cho Hae is located on a top of a hill and the Wat Phong Sunan has a huge golden turtle sculpture outside. The animal is the buddhist symbol for a long life and the believers hope to achieve it by walking under the turtle's belly.
However, the two temples with the possibly most striking looks you find in the beautiful mountains above Phrae. Quirky Golden Rock temple has a collection of golden buildings, objects, statues and an enormous golden rock scattered out on a mountain side. The views over the valley I share with the Buddha-figurines makes the effort to walk up here worthwhile.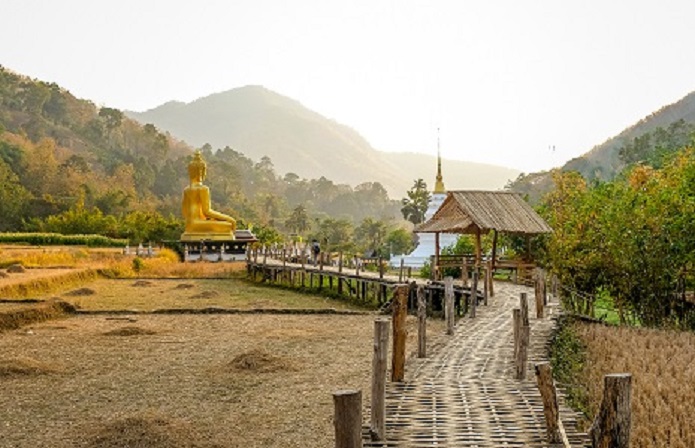 Next temple, Wat Na Khu Ha, is just a kilometer away in the same valley. It receives the late afternoon's last rays of sunlight when I arrive. Beside the temple's huge freestanding Buddha-statue a footbridge of braided bamboo coils like a snake over fields with rice and peanuts. A magic kind of place. The footbridge demands me to take a walk on it. The bridge ends at a small stall where a farmer sells his excellent freshly harvested peanuts. They have a purple color and can be the best peanuts I ever tried.
Back in Phrae the following day I have lunch at the irresistible Slope Café. The name is highly appropriate, because the crooked and slanting wooden building look like it has been sliding backwards from the road side.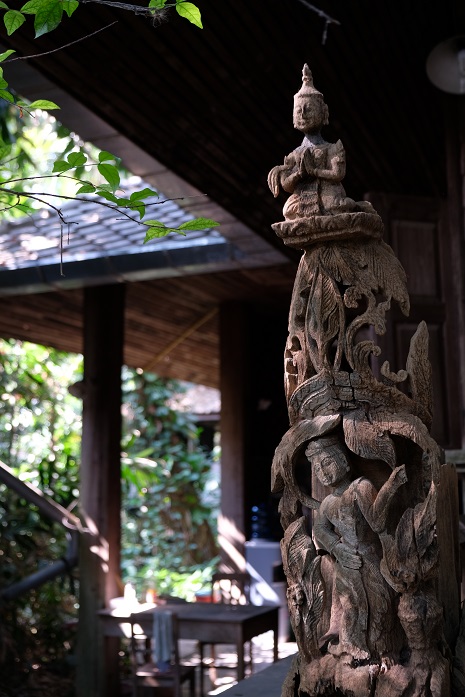 The walls inside have many charming posters from old Thai science fiction movies. Vainly I try to buy them, but the owner just smiles and shakes his head. Of course they are not for sale. With such an accurate style there is no wonder Slope Café also has excellent food, coffee and pastries.
All in all, the things to do and see in Phrae will easily be enough for several days. Not bad for a place that most often is missing out on the tourist map.
Location : click here