November, 2020
Samut Songkhram is tucked into a picturesque patch of coastline on the Gulf of Thailand. Located about an hour drive southwest of Bangkok, the uniqueness of this province is its location that combines 3 kinds of water; fresh water, brackish water and salt water. Despite its small size, Samut Songkhram offers numerous unique attractions. Here we give some tips that enhance your local travel experience.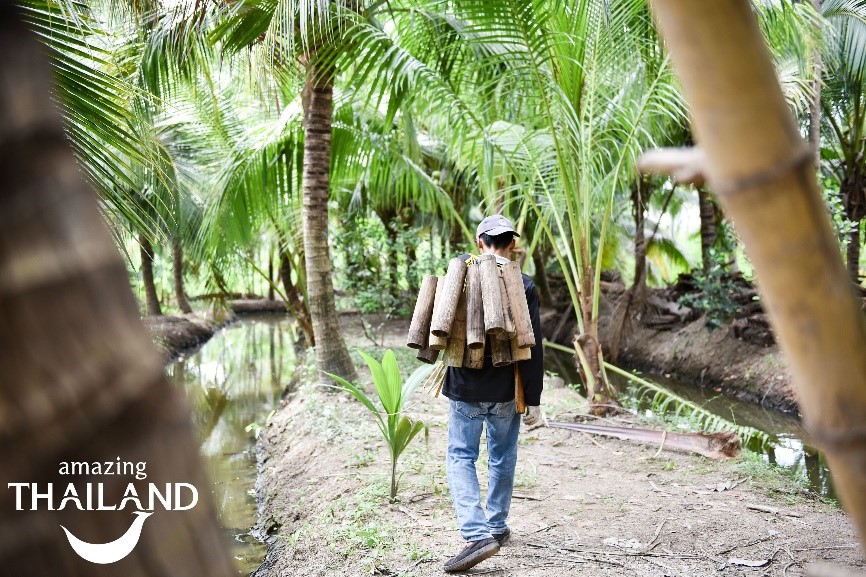 Maeklong Railway Market – Thailand's folding umbrella market
At glance, many markets in Thailand look the same, but one that definitely stands out is Maeklong Railway Market or in Thai "Talad Rom Hup". Why? Because it sits atop train tracks. As the train comes charging down, the market is transformed and allow it to pass.You will hear the train long before you actually see it. Vendors and merchants collectively begin to cooly move their belongings and umbrellas away from the tracks. Baskets and goods are dragged away, the overhead tents are drawn back. The tracks are cleared, making way for the train to pass. This is why the market is known as "umbrella pulldown" market or in Thai Talad Rom Hup. Here you will find mainly food, Thai sweets, fresh produce, seafood, vegetables, fruits and drinks.
Tha Kha Floating Market – local relaxing market
Unlike other floating markets, Tha Kha Floating Market is kept the way it has been for decades. It has a local feel. You will see villagers rowing their boats along to sell fresh fruits and vegetables to one another. There are a wide range of fresh produce and local food. What is unique here is that it primarily serves the local community and focuses on self-sufficiency economy and sustainability. Still to this day, the canal and market are used as a hub for people in the area to trade and sell local, mainly food products. Yet the market welcomes all the travelers to come and experience a genuine local way of life.
The Amphawa– Chaipattananurak Conservation Project – The local wisdom
Serving as the reminiscence of the past, the Ampawa-Chaipattananurak Conservation Project today has become a center of collaboration to conserve and develop Thai traditions on which the Ampawa residents have had pride themselves. The project is founded on Thailand's previous king's philosophical concept of sufficiency economy. It is divided into 3 areas. Agricultural demonstration farms have been developed to demonstrate integrated fruit farming as an integral part of the livelihoods in Amphawa. Community shops are a place for local traders to sell local Thai crafts and antiques as well as souvenirs. The Amphawa Community exhibition displays items and information to promote local culture and traditions.
Ban Phaya So
Ban Phaya So is a house of a Thai music instrument maker. The instrument is called in Thai "So", a string musical instrument. Here it combines the art of traditional Thai music with carving in different designs and transforms a plain looking coconut shell into a carved sound box called "So". Here you can learn the art of carving and how to play the music. If you play violin or any string instruments, this place is highly recommended.
Wat Bang Kung – Temple hidden within the roots of large trees
Going to a temple is a part of life for Thai people. Wat Bang Kung is a very unique one near Amphawa and a must stop. The small Buddhist temple appears to be emerging from within large trees. Despite its simple architecture, the most iconic is the roots and branches and of large trees that surround and dominate the temple making it remarkable.
Klongkon Community – Thailand's largest mangrove forest
It is recognized by their dense tangle of prop roots which appear to be standing on stilts above the water. Here you can plant mangrove and shrubs to restore the forest and its ecosystem. It stabilizes the coastline, reducing erosion from storm surges, currents, waves and tides. The root system makes it attractive for fish and other organisms seeking food and shelter.
Baanrimklong Homestay – Learn how to make coconut products
Baanrimklong Homestay is a Thai Style homestay close to Amphawa district in Samut Songkhram. Here you can learn the simple lifestyle of the villagers and engage in various activities such as making coconut sugar, learn the art of making hats or baskets from coconut leaves or making food and dessert from the coconut.
Youtube link: https://youtu.be/u5cah0WHXWM