The unique tradition of Bun Luang and Phi Ta Khon Festival – also known as the Ghost Festival – will be held from 23 – 25 June 2023, in Dan Sai district of the Northeastern province of Loei.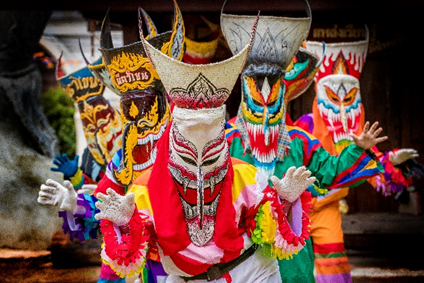 The most recognized feature of the three-day festival is the grand Phi Ta Khon parade of locals who dance, and strike poses while wearing huge masks creatively made from carved coconut-tree trunks, topped with wicker sticky-rice steamers that make them appear taller and more grotesque. But when you look beyond the mask you see how the Phi Ta Khon celebrations are all about paying homage to the spirits of nature and the countryside.
At first of course, it is the colorful masks of the Phi Ta Khon revellers that draw the eye. but the rites, processions and costumes on display also evoke fertility festivals and hark back to times when people would appease local gods and spirits to ensure a good harvest. In a region such as Loei, where agriculture is the mainstay of the economy, the fertility of the soil and favorable weather is crucial, especially in June and July when the all-important rice crop is being planted.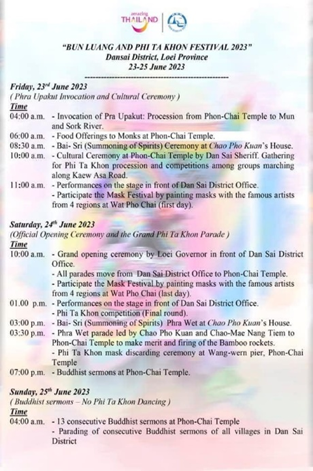 The activities on the first day (Friday, 23 June) include food offerings to monks at the temple, a summoning of spirits ceremony, a cultural ceremony and stage performances.
On day two (Saturday, 24 June), the program includes the festival's official opening ceremony in front of Dan Sai District Office, followed by a summoning of spirits and then the grand Phi Ta Khon parade, making of merit and firing of bamboo rockets.
On day three (Sunday, 25 June) there will be 13 consecutive Buddhist sermons at Phon-Chai Temple, and parading of consecutive Buddhist sermons of all villages in Dan Sai District.
More information on the Bun Luang and Phi Ta Khon Festival is available from TAT Loei Office on Tel. +66 (0) 4281 2812, or via e-mail at tatloei@tat.or.th, or via Facebook: TAT Loei.