"Meaningful Travel Showcase" in Denmark and Sweden were organized by Tourism Authority of Thailand to promote Thailand as one of sustainable destinations. Over 60 participants from Denmark and Sweden's tourism industry joined the event to meet with Mr. Yuthasak Supasorn, TAT Governor, Tourism Authority of Thailand (TAT), Ms. Thapanee Kiatphaibool, TAT Deputy Governor for Domestic Marketing and representatives from 5 regions of Thailand. The events took place in Copenhagen, Denmark on August 15 and in Stockholm, Sweden on August 17.

(Denmark Participants from media, travel agencies, and airline)

(Stockholm Participants from media and travel agencies)
"Tourism Authority of Thailand has been operating to promote sustainable tourism for about 30 years to encourage a supply engagement, which will contribute to Thailand's readiness to be a responsible tourism destination. We continually gained good cooperation from all related public and private sectors. Therefore, I believe and expect that all of us will play a significant role to announce and help create awareness of Sustainable strategic moves in Thailand. I hope all of you will be a part of us to strengthen Thailand's brand that could provide meaningful travels as one of the memorable sustainable tourism destinations in the world.", say Mr. Yuthasak Supasorn, TAT Governor, Tourism Authority of Thailand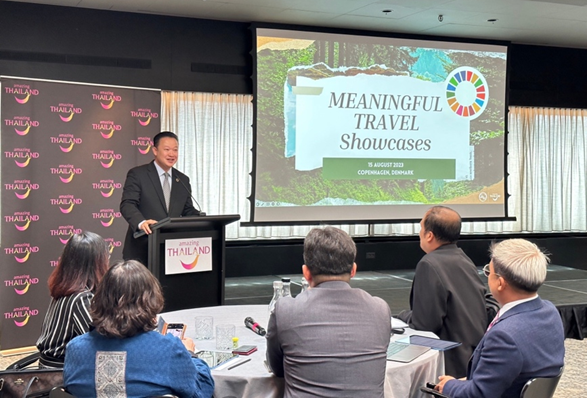 Mr. Yuthasak Supasorn, TAT Governor, Tourism Authority of Thailand
The events showcase Thailand Sustainable Tourism Goals (STGs), which is in accordance with 17 goals of UN Sustainable Development (SDGs). This will contribute to sustainability in four dimensions comprising management, socio-economy, culture, and the environment. STGs aim to promote sustainability of biological resources, strengthen communities and grassroots economy, strengthen sustainable competitiveness to enhance sustainable experiences for all travelers. A part of the strategy is to promote low-carbon tourism and implementation of climate action for sustainability.
TAT has continued with a good cooperation from all related public and private agencies to encourage sustainable and low carbon tourism in many projects. That includes The Carbon Neutral Tourism Project, to promote attractions in pilot areas that could apply the concept of carbon neutrality in their operations. Another is CF-Hotels Project which has an aim to develop a platform to calculate carbon emissions in pilot hotels and accommodations. This year, TAT
together with Thailand Greenhouse Gas Management Organization or TGO and Thairath TV Channel 32 signed a memorandum of cooperation on Net Zero Tourism to support the sustainable tourism management. TAT also works in collaboration with the Thailand Sustainable Tourism Foundation (TSTF) to accelerate Thailand to become a well-known destination of sustainable tourism. "Establish Thailand to be Sustainable Tourism Destination or ESTD" with an aim to increase the capacity of Thai tourism business to provide environmentally-friendly services and reduce greenhouse gas emissions. Last but not least, we also launched the Low-Carbon Tourism Camp for tourism business to gain more knowledge with training programs in 5 areas that include Khon Kaen, Phuket, Bangkok, Chonburi, Chiang Mai.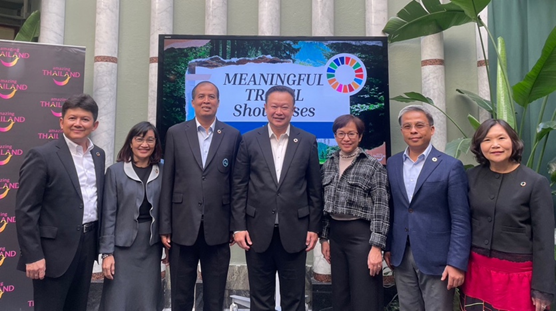 During the event, 5 representatives from major tourism destinations areas also present the movement and sustainable activities that have contribute to STGs's four dimensions goals as follow;
Explore the Best Urban Oasis of Asia in Bang Kobua Community
Bang Kobua Community Based Tourism Club, located in Samut Prakan province, is only 30 minutes from central Bangkok. Bang Kobua was Chao Phraya River's gateway for agriculture and transportation in the old days. Since 2019, The Environmentally protected and conservation area was found to preserve the natural ecosystem. Consequently, this area retained its natural and shady atmosphere, acting as an air purifier area in Bangkok's vicinity, and has become an environmentally-friendly tourist destination.
Here travelers can enjoy the sight of preserving cleanliness of canals and environments through innovation and local intellect, exploring the tourism routes based on local wisdom, culture, and environment of the Bang Kobua community. From kayaking/canoeing along Phae canal, or cycling route to nearby Si Nakhon Khuean Khan Park and Botanical Garden, those activities help reduce energy consumption, lower carbon emissions. Making souvenirs from tie-dying fabric using natural colors from local plants and flowers. Moreover, travelers can pamper themselves in traditional Thai spa that use a biomass gas stove to boil herbal spa water and herbal compress ball made from local herbs.
Touch the Sound of Nature in Krabi
Tung Yee Peng Village is a small village located on the east of Ko Lanta Yai. Ban Thung Yee Peng Ecotourism Community Enterprise was established by villagers and the Royal Forest Department to emphasize a sufficiency economy and functioning as a learning center for community forests and eco-tourism.
The highlight activity is a traditional Romantic Sunrise Gondola Tour where guests can sit and listen to the sound of the oars softly hitting the water, without being disturbed by the sound of the engine while discovering the animals in the mangrove forest. The community also offers various environmentally conscious activities, including painting, planting mangroves, cooking classes, Lampeng Tea workshops, and coconut leaf basket weaving workshops. Food provided to tourists is a healthy local menu, prepared using nutritious local ingredients and served in local wicker containers. A long-tailed solar-powered boat is used for clean energy. This is regarded as another development in the region's Low Carbon tourist management as a prototype for protecting the environment while using less energy.The community turns waste into art and supports souvenirs from the community to share and distribute income. Hiring community members who are disabled or elderly promotes employment opportunities. And in the future, the community will bring the "ZERO CARBON" application "App for tourism", which allows entrepreneurs and citizens, including tourists, to calculate their own carbon emissions.
Koh Mak, A Low Carbon Destination, Trat
Koh Mak is the first low-carbon destination in the country. Located in the North-Eastern part of the Gulf of Thailand near Koh Chang in Trat province. A laid back tropical paradise island is perfect for family, couples, eco-conscious travelers.
There are many eco-friendly activities that travelers can enjoy including making your own Tie-Dye Garment from orange-tined from undergrounded iron which is a unique shade found only on the island and volunteering to Clean Up the Beach with Trash Hero. The Koh Mak Coral Conservation Group offers a coral nursery program for responsible tourists, collecting and rehabilitating broken corals underwater. Low-carbon restaurants and a cooking school that uses ingredients and cooking methods that produce less carbon are also available for travelers.
Numerous eco-friendly initiatives in Koh Mak create clean energy transportation,providing a sustainable economy for the local, preserving the coral reef surroundings, establishing animal clinics and shelters for homeless pets, all aimed at enhancing the local quality of life.
Khon Kaen Gastronomy towards sustainable Tourism
Khon Kaen is the fourth largest city in Thailand located in Northeastern or as known as "Isan".
Thailand's largest region is famous for rustic gastronomy that has been influenced by the neighboring countries Laos and Cambodia. Pla Ra or Fermented Fish is one of the main ingredients used in Isan cuisine that brings the natural umami to the dish.
Here in Kaeng Lawa wetland Community, travelers will get to learn more about the ancient knowledge of Plara from the local fishery. Start the day with a morning walk to the local market, discover the local ingredients and taste the delicious home cooked meals inspired by the local chef or sit in at the Chef's table at Huan Kham Nang. Beside the gastronomic scene, travelers can indulge their creative side at Columbo crafts village or mesmerize by the mural painting at Wat Chai Si and enjoy authentic folk music, Mor Lam. The community has provided a sustained economy for the locals, creating jobs and also bringing new innovation and infrastructure to the local knowledge.
Tea Tourism: From Grey to Green
Doi Pu Muen is located in Mae Ai district, Chiang Mai province in the north of Thailand. Doi Pu Muen has become an eco-style tourist attraction focused on local Lahu traditions and culture. A village located in the Pa Hom Pok Mountain where the first Assam tea tree was planted by King Bhumibol Adulyadej in the 1970s to better the lives of hill tribes by providing and supporting sustainable agriculture.
Travelers who look for a unique culture are welcome to Doi Pu Muen. Experience the way of life of the Lahu tribe people, visit the tea plantations which mainly grow organic as their cash crops. Besides, travelers will get some hands-on experience learning about tea production. Travelers can also volunteer to support further community development efforts such as building of infrastructure in the Lahu villages. The contribution to achieve STGs's goal can be seen from gender equality and empowering all women and girls. Ensure access to affordable, reliable, sustainable and modern energy for all ex. Parabola Dome for tea dryer and Clean Water Solution.
In 2024, TAT intend to drive the sustainable tourism through our strategic plans, and all departments in TAT will cooperate and cocreate to make it happen in a concrete way through various projects; for example, Responsible Tourism Fair, promotional activities of Domestic and International Marketing Departments, as well as Low Carbon Tourism Products from Product Department; e.g. 20 Low Carbon Tourism Routes, and so on.TAT expects to welcome 35 million foreign tourists and inspire 200 million domestic trips in 2024.