Thailand has once again voted for Travel Great RES Prize Destination 2024 in the category "Best Affordable for long haul destination" (previously called Best Value for Money award) for 3 consecutive years. The honor was given at the Travel News Market in Stockholm on November 10th, 2023.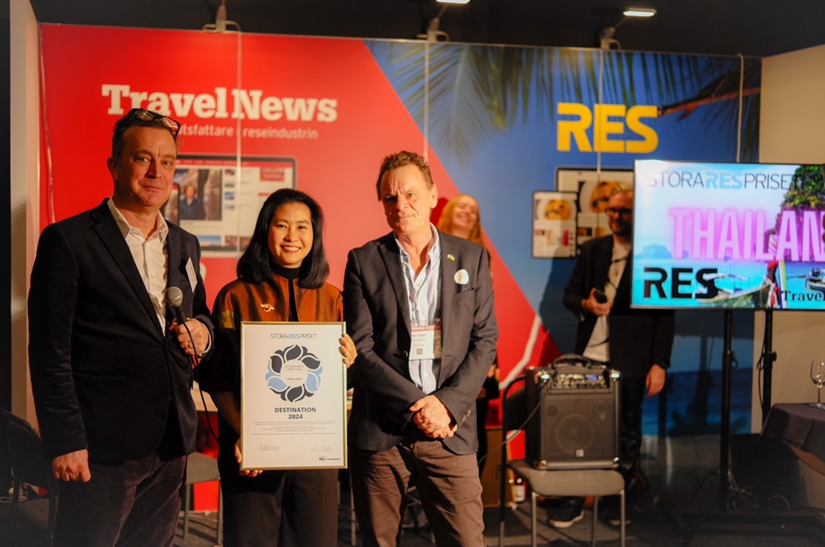 Affordable award is voted by travellers who are looking for the dream destinations that offer the best value and quality. Travel Great RES Prize Destination 2024 award organized by RES and Travel News, Swedish leading travel and tourism industry magazine. The result is based on a survey of 1,500 Swedes across the country, and it was conducted by the research company Nordic Bench and Travel News.
Miss Krittika Rojanasap, Deputy Director Tourism Authority of Thailand Stockholm Office for the Nordic countries and the Baltic States was present during the celebrations and awards ceremony:
"Such an honors to receive this award once again and what an amazing feeling to know that Thailand is still Swedes favorite destination throughout the years. The value of traveling to Thailand is only a fraction of what travelers could have. Thailand offers more than just beautiful nature, friendly hospitality, variety of activities for everyone to enjoy, and an attractive cost of living. Travelers can truly engage in a "Meaningful relationship" where they can connect with themselves, the local people, the community, nature, or even with Thailand.", says Miss Krittika Rojanasap, – Deputy Director Tourism Authority of Thailand Stockholm Office.
TAT will continue to highlight the importance of responsible tourism and sustainable in Thailand in the coming years. TAT, Stockholm office, will continue the work to promote Thailand's authentic culture, rich nature, and warm hospitality. We continue our work to ensure that Thailand move toward sustainability and continues to be the preferred long-haul destination.
Sweden is the quality market with the largest incoming travelers in the Scandinavian countries. From January – September 2023, the number of tourists was more than 110,000.