A sightseeing tour around Bangkok on a bicycle? Are you mad?
Text & Photo : Stefan Christensen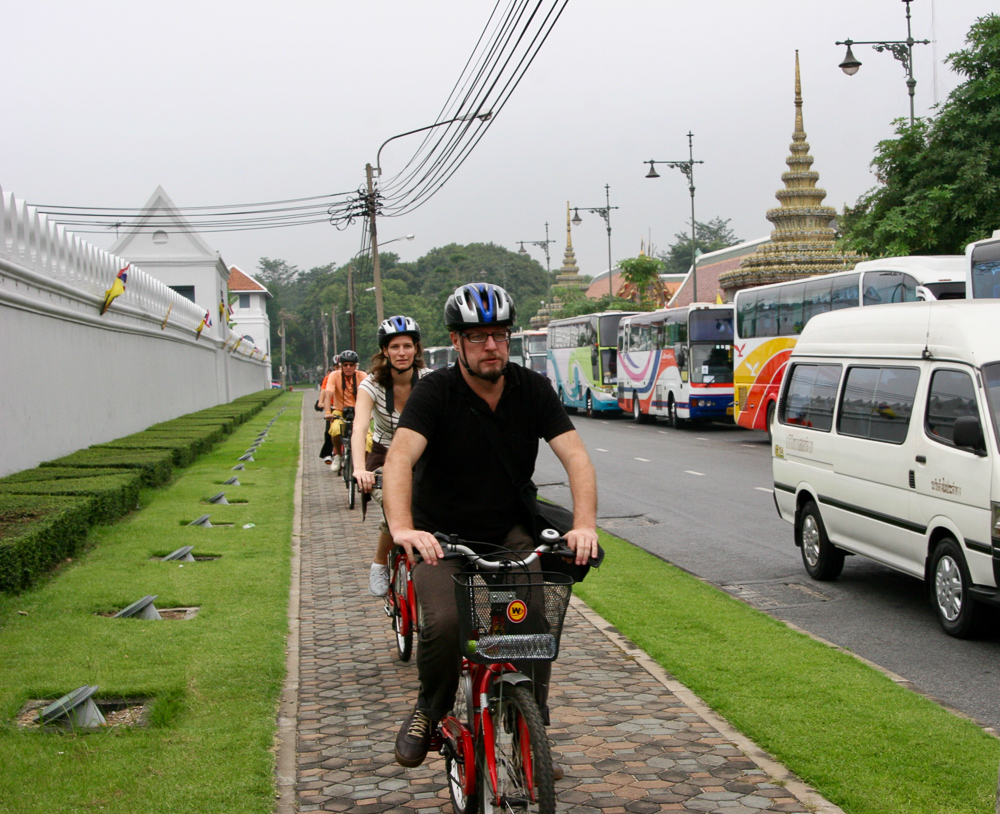 No, I don't have a death wish and my name is not Evil Knievel but taking a tour on a bike around Bangkok is actually really fun – and safe!
We are 6 Scandinavians that gathers in the morning at the office of "Bangkok By Bike" located on the Thonburi side of the Chao Phraya river.
Arne Wilhelmsson is a retired Swedish postal worker who moved to Thailand and needed something to do and in the end it became a company where you explore Bangkok from a bicycle.
Safety first
First we all have a safety drill, getting our bikes fitted to our different sizes and we also get fitted with a helmet and other means of protection. And off we go!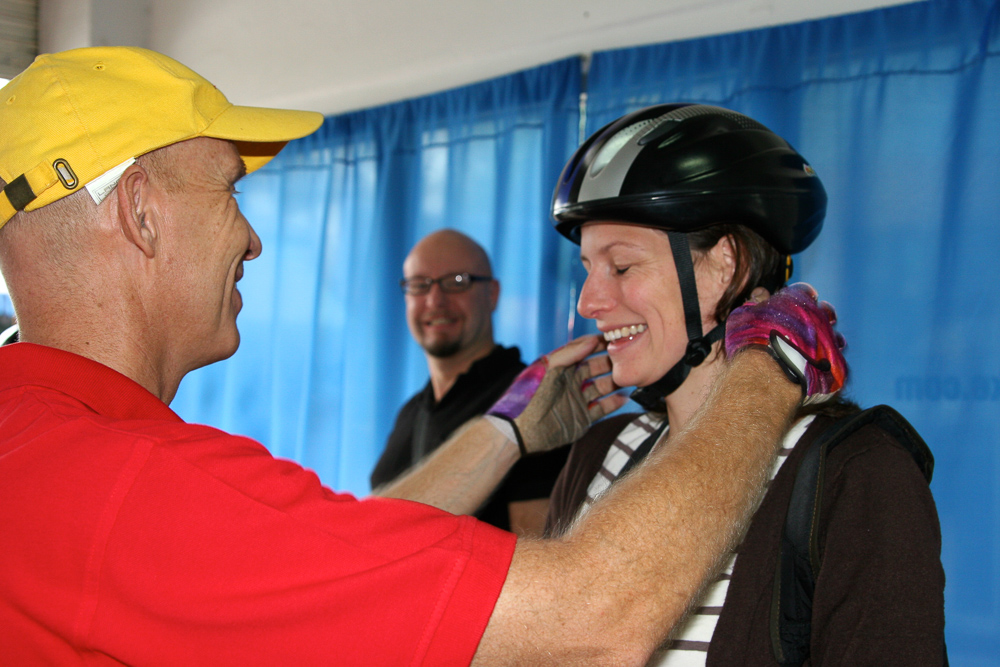 After getting to know our bikes a little bit in the calmer traffic on the Thonburi side of Bangkok we load them onto a river ferry that will take us to Rattanakosin Island where we first will head up to the Khao San Road area.
Since its still morning, it's about 10:am now most of the backpackers is still sleeping and the normally very busy and crowded street shows us a complete different picture compared to what we are used to. The life on the street is very different compared to the nightlife there that is dominated by tourists – at this time a day its dominated by Thai people.
Well, when we are done with that we head on to the next sight, passing by both the Royal palace, Wat Phra Khiew and Wat Pho on the way to our next goal. Pak Klong Talat.
The flower market. This is a place of so many colours and scents from a vast variety of flowers, plants, incense and other peculiar farm products. This is a feast for both your eyes and your nostrils. Let's have a coffee break.
The other side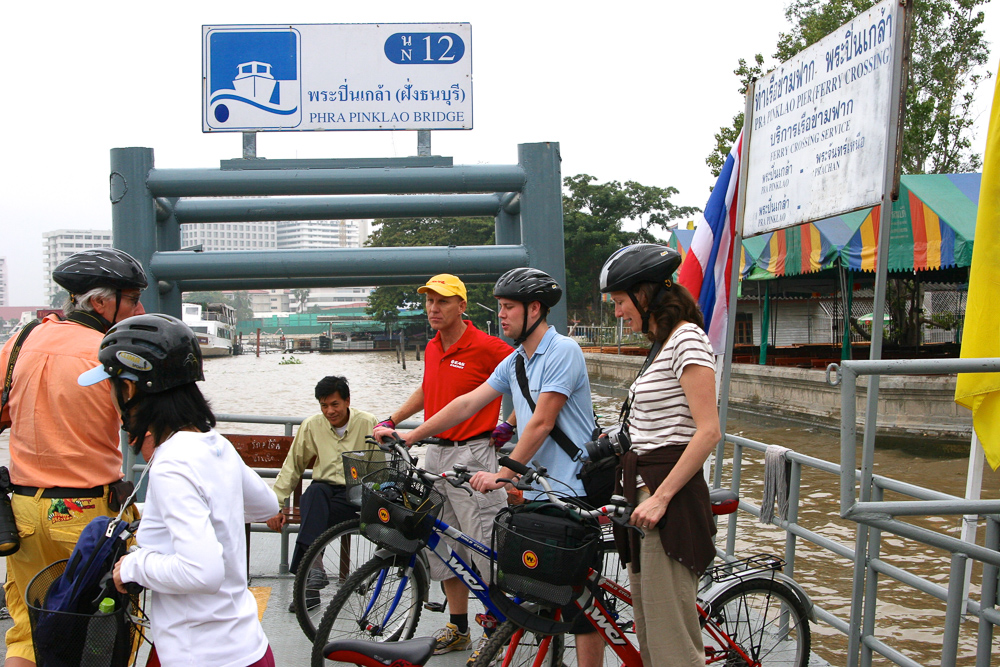 Now it's time to head back to "the other side" and that is the Thonburi side of the river. For that we use the Memorial bridge that was built in 1932 and was one of the first to span the Chao Phraya river.
The Thonburi side of the river offers us a close look into ordinary Thai people's daily life, the tour mainly takes place on smaller footbridges passing very close to peoples home.
It's a different world over here, people smile and laugh and are curious of you and where you come from.
Few people here speak English and that is actually a good sign, we are definitely heading out of the tourist attractions. We have our guide with us to translate if we need it, we do pass a few temples along the way like the famous Wat Arun that is on every tourists list and some less famous like Wat Kalayanamit where we can observe ordinary life around a temple.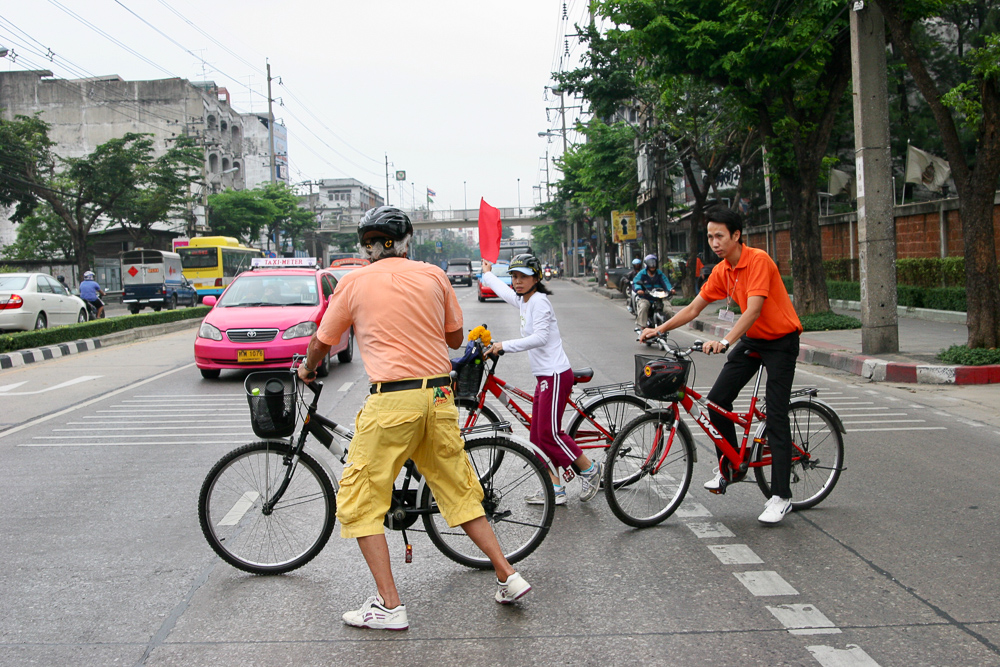 When we need to cross any major road we do it very safely with a flag guard and the fact that traffic here actually is much more calmer and slower compared to the other side of Bangkok – it's almost like a whole different world.
Care about the locals
Arne says they never take the exact same route every day, just to avoid disturbing the people living there too much.
We stop for a lunch at a typical thai lunch place along the canal and eat a typical Thai lunch consisting of many different dishes to share among us on the table.
After the lunch break the tour continues further into what can only be described as the greener parts of Bangkok, close to the klongs or canals as they would be called in the west we get a glimpse of a rural Thai lifestyle almost in the middle of Bangkok.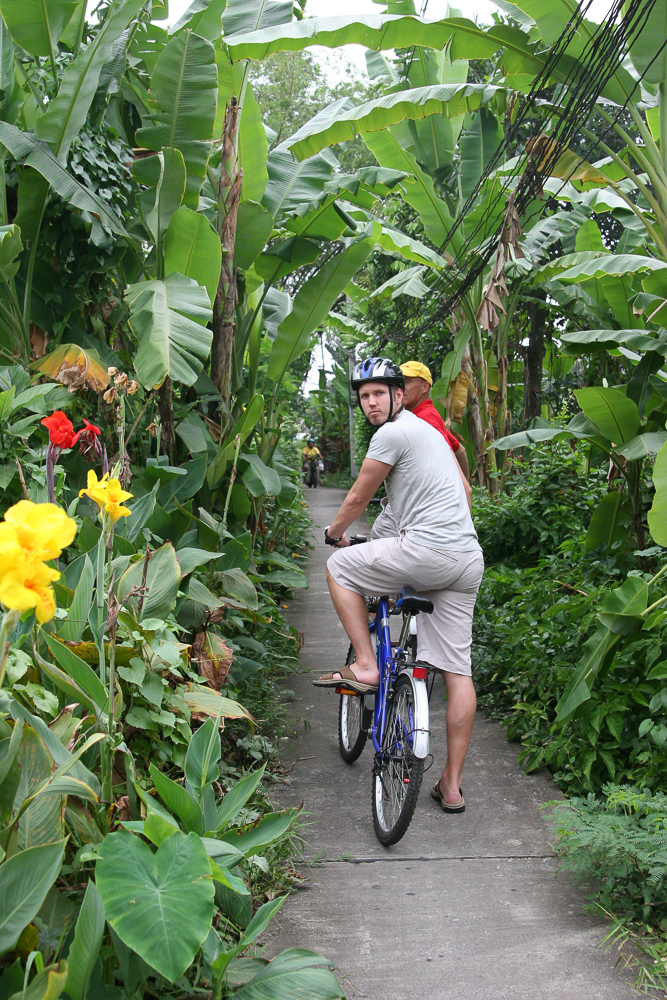 In the end of the tour we load our bikes on a longtail boat and head back through canals and khlongs to the starting point.
We are tired but have full of memories of a Bangkok we hardly knew existed.