Street food is undoubtedly one of the most familiar staples of Thai culture. The varieties of street food vary by region around the country, giving visitors endless options to choose.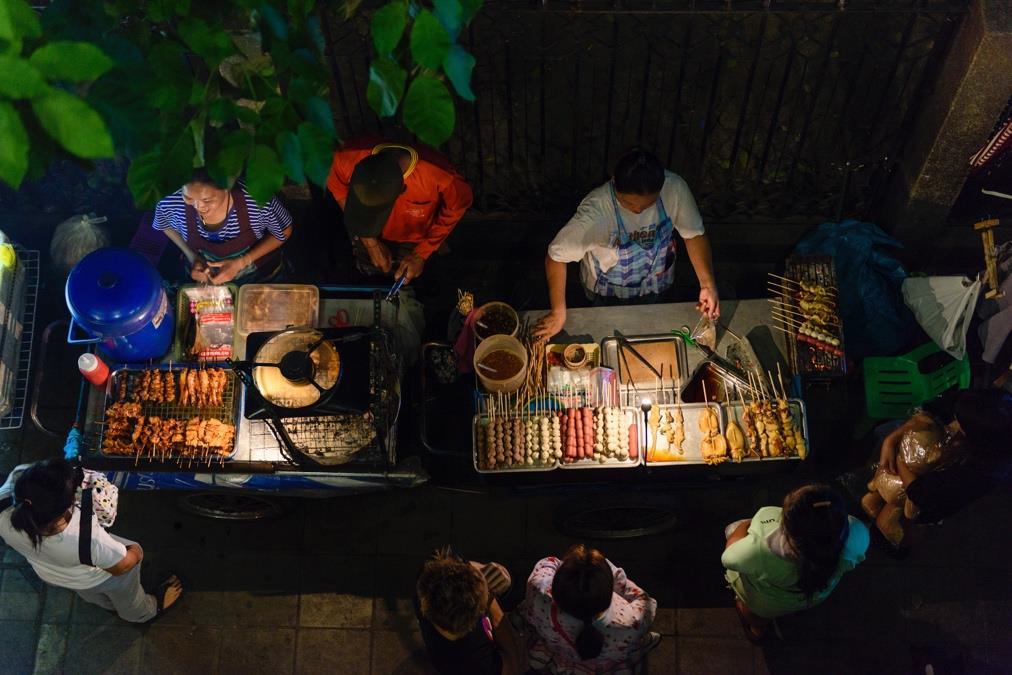 Experiencing street food in Thailand is a given for any trip to the Kingdom. Travelers and residents alike have no shortage of choice when buying fresh, made-to-order Thai food straight from the source. Having many hot off-the-grill options makes enjoying street food the ideal format for savouring. Many of the dishes that are a fundamental part of the Thai food culture.
From early in the morning until late at night, vendors can be found preparing everything from noodles to ice cream from their custom-made carts on the streetside. The carts themselves are often a part of the charm, regularly as inventive and colourful as the food being made. It is common to find makeshift mobile kitchens built around a motorcycle. And more simplistic pop-up canteens built onto the front of homes in residential areas.
Cost is another key reason why street food remains one of the most practical options for eating in Thailand. Sourcing local ingredients and preparing meals at home can easily cost far more than ordering a meal on the street, most of which range from just 30-70 Baht.
The prevalence of street food in Thailand has made way for many of the Kingdom's annual food festivals; such as, the Vegetarian Food Festival which showcases plant-based food. Additionally, most night markets have sections dedicated entirely to chowing down on the large variety of street food being offered.
In recent years, street food has begun to graduate from being small mom-and-pop pushcarts to joining the ranks of the MICHELIN guide. However, since she received her accolades from MICHELIN and beyond, several other street food vendors have also been given recognition.
In addition, city like Phuket was the first city in Southeast Asia recognized By UNESCO as the Creative City of Gastronomy. Besides beautiful beaches, one of the best things about Phuket is its food culture. Food lovers can get to know Southern Thai cuisine from local style such as fresh seafood, strong fiery spices, farm-to-table crunchy vegetables to Micheline star and Micheline guide restaurants around the city. Southern Thai cuisine has been heavily influenced by the culinary preferences of its neighbors, particularly Malaysia and Indonesia. Phuket's cuisine is one of the diversity of gastronomy. They are the combination of Chinese, Malay or Thai.
One day-in-the-life of a Phuket foodie might go something like this.

Breakfast
Breakfast is a time when Phuket residents wake up and smell the strong coffee. Phuket's people are known to drink dark roast old-school coffee, water-filtered black coffee traditionally brewed through a steep metal pot with a 'sock' filter, served with sweetened condensed milk or with pure fresh milk. This time-honoured morning ritual is usually accompanied by one of these dishes; Dim Sum, Roti (Thai pancake) topped with fried egg and served with variety of curry flavours. Try Micheline guide, Roti Chaofa, one of most popular Roti places in Phuket.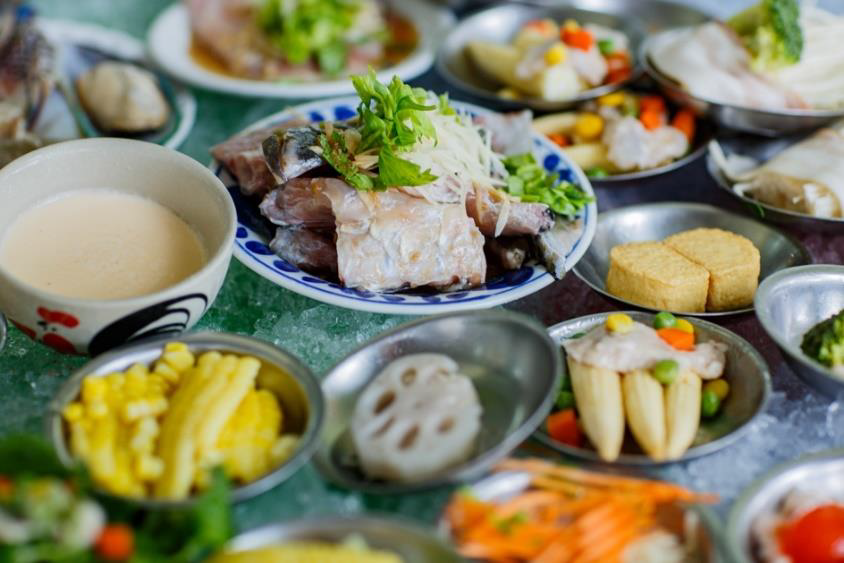 Lunch

A Phuket lunch is a time to get one's noodle fix for a midday energy boost. Chinese and Malay flavours again entice the palate with local favourites Mi Hokkien (Chinese Malay noodle fare) We recommend to go to Mee Ton Poe which is originally founded in Phuket 70 years ago. A traditional Phuket lunch is never complete without tucking into the island's local dessert favourite O-Aew (shaved ice with sweet toppings and jelly).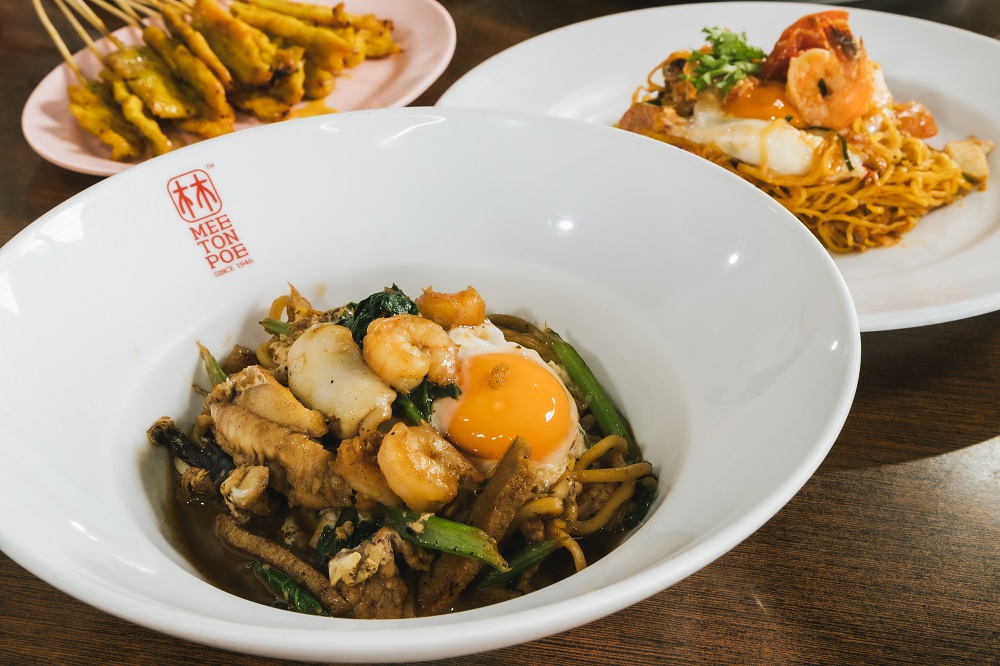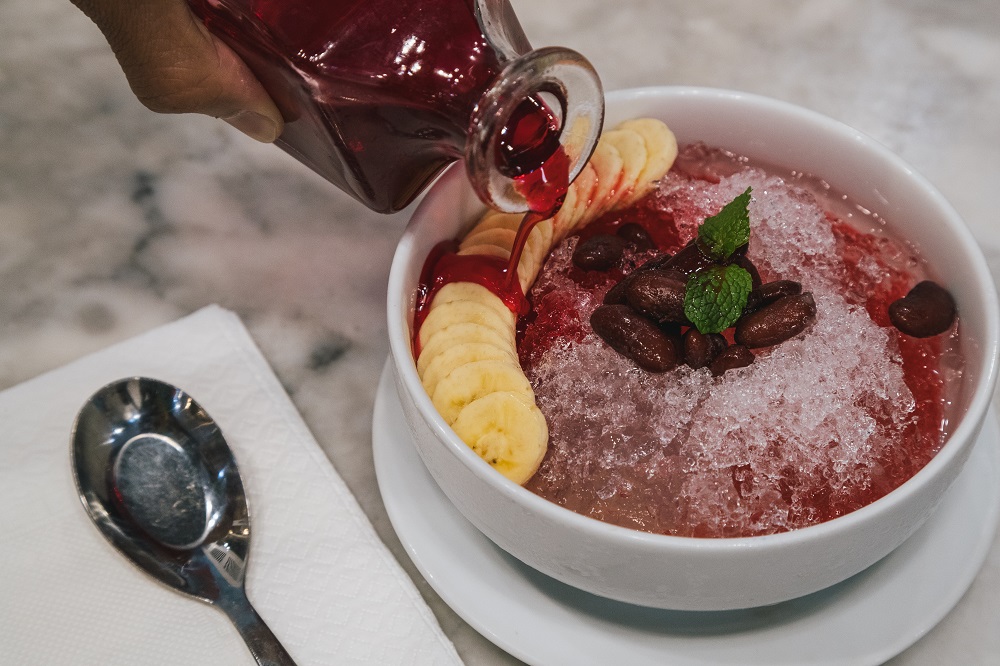 Dinner
Phuket's locals tend to prefer strong flavoured dishes for the evening meal, either very spicy, very sour or very sweet. Many of the dishes oozes the deep yellow colour and strong scent of turmeric. Its unique flavour is used to tame strong fish flavours and other seafood that the province is famed for. Favourite dishes include Pla Sai Thot Kamin (deep fried fish with fresh turmeric), Mu Hong (stewed pork belly with herbs), Nam Phrik Kung Siap (shrimp chilli paste), Mi Hun Kaeng Pu (rice noodles with curried crab), Loba (deep fried stewed-pig's head) and Yam Pak Kut (spicy fern salad). Try Micheline guide, One Chun restaurant where family recipes passed down over 3 generations.
Or you can end your night with a little something special at the only Green Michelin star restaurant in Thailand, Pru. With the concept of eco-friendly restaurant and the attempt of taking good care of every step of cooking in a sustainable way, from planting, to harvesting and properly cooking. Its menu is built around dishes with ingredients sourced from ecosystems across Thailand like Phang-Nga.