Text: Jessica Berghult, Photo: Ingela Nilsson & TAT media
Thailand is also known as the land of health and has long experience as a wellness destination. Here you can find everything from 5-star luxury hotels with their own signature spa and training activities to smaller hotels that only the avid wellness enthusiast knows about.
We have visited some of Thailand's brightest stars in the Wellness sky, everything from Bangkok, down the coasts of Cha Am and Hua Hin – Thailand's own Wellness Mecca.
The Peninsula Bangkok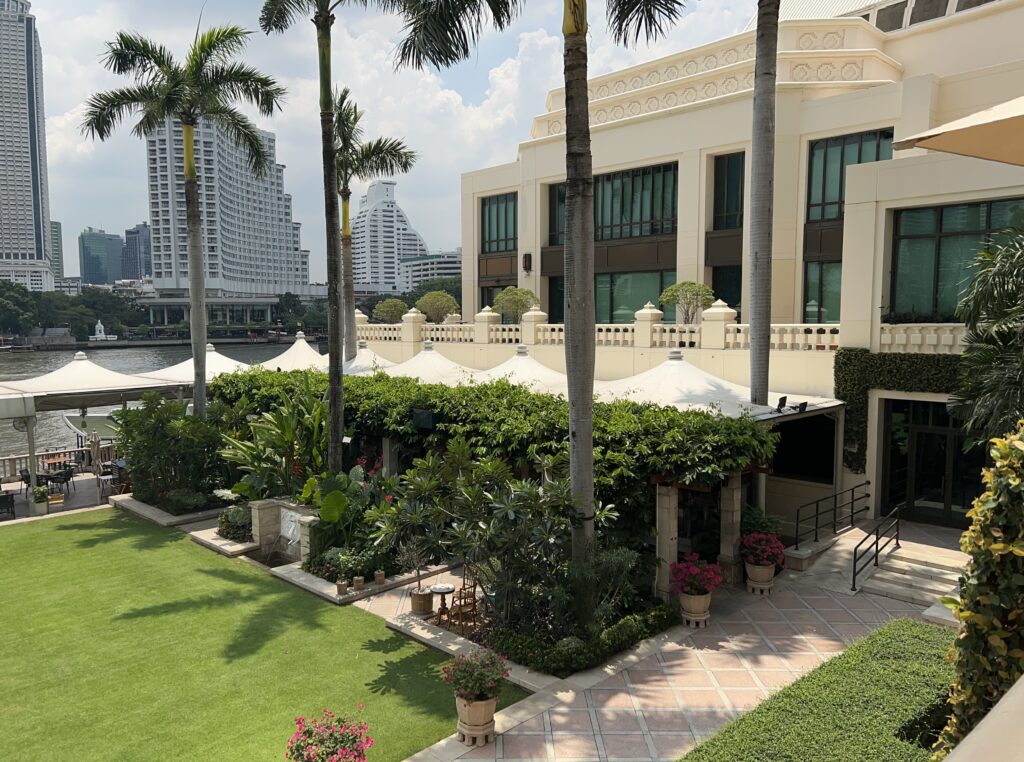 This 40-story hotel has a fantastic location next to the beautiful Chao Phraya river in downtown Bangkok. The Peninsula Spa is the heart of the hotel. Apple Poonlumlett, who is the spa manager and who has put together our wellness schedule for the stay, is based here. The beautiful spa is nestled in beautiful greenery, like an Eden garden.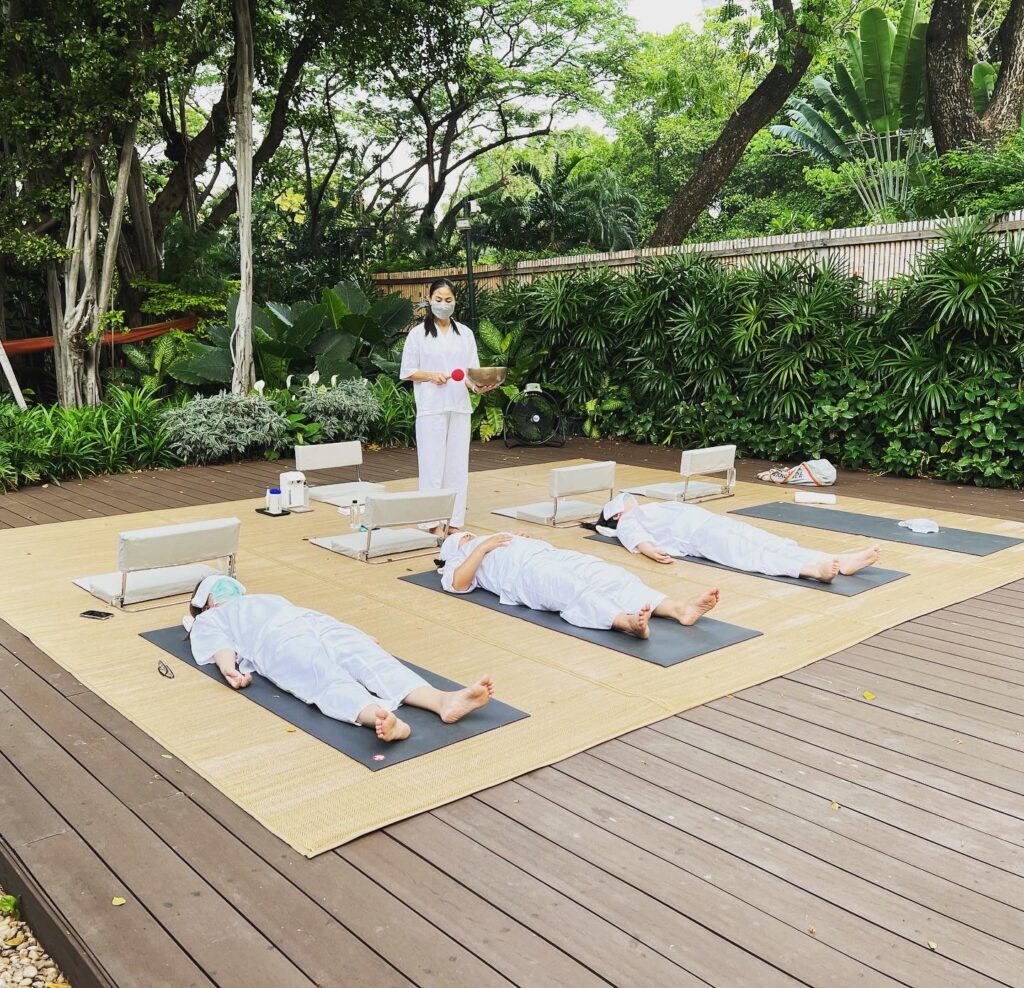 We had time to try both classic "Thai massage", water gymnastics in the pool, which went by the name "Aqua Fit Activity", and a "mindfulness Breathing class". The latter class is completely in line with the most hyped health trend right now, which is that we must learn to breathe properly in order to relax properly and have a healthier, happier, and hopefully longer life.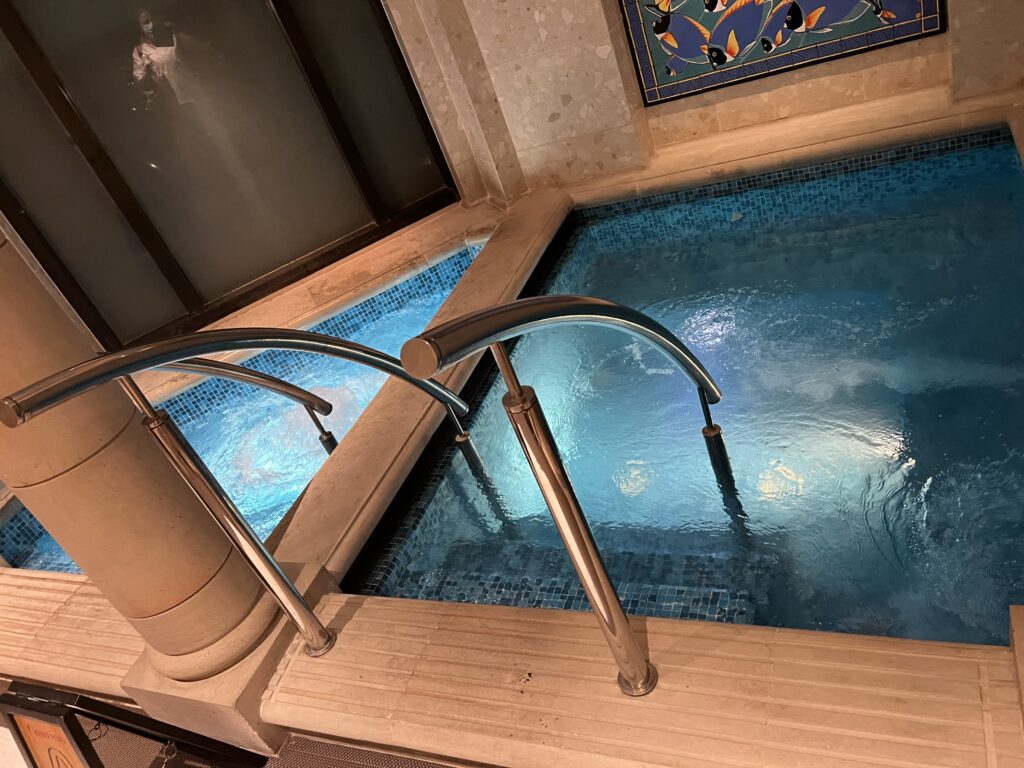 From the spa's terrace, you have a view of the "River Café and Terrace", which is right on the river's edge, and here a sumptuous breakfast buffet is served every morning. This cozy restaurant offers a variety of cold and hot dishes, depending on what you fancy. If you miss breakfast, there is also the opportunity to enjoy the view and have lunch at the same restaurant.
We wanted to explore the area around the hotel a little extra and therefore took the opportunity to go on a luxurious sunset cruise with one of the hotel's own period boats. A smart way to see all the beautiful buildings and statues along the river's edge, while enjoying a good cocktail on deck. Definitely a good excursion choice. It is easy to understand that this hotel goes by the name "the Venice of the East".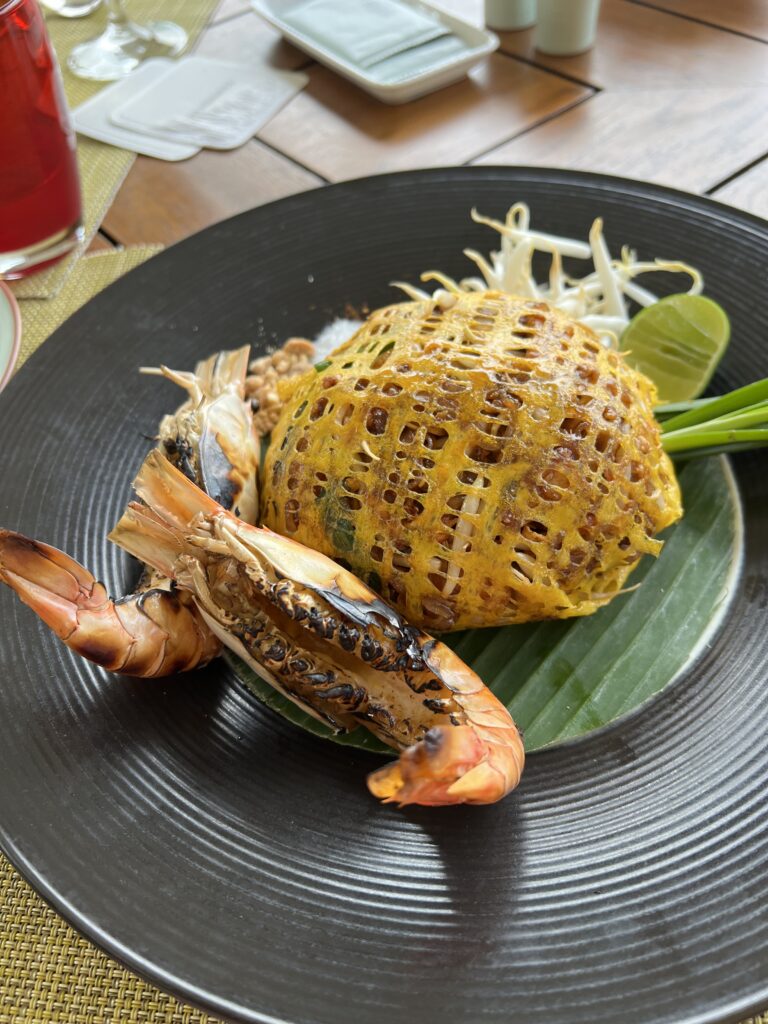 The hotel´s fantastic Thai restaurant – "Thiptara Restaurant" offers a luxury similar to a full-fledged Michelin restaurant. When we asked if they hoped to be included in Guide Michelin, the answer was a resounding "Yes", that was the goal, we were told. And with the experienced chef Yodying Phoomcharoen at the helm, it will surely not be long until this "fine dining Thai restaurant" reaches its goal. www.peninsula.com
On the way from Bangkok to Cha Am and Hua Hin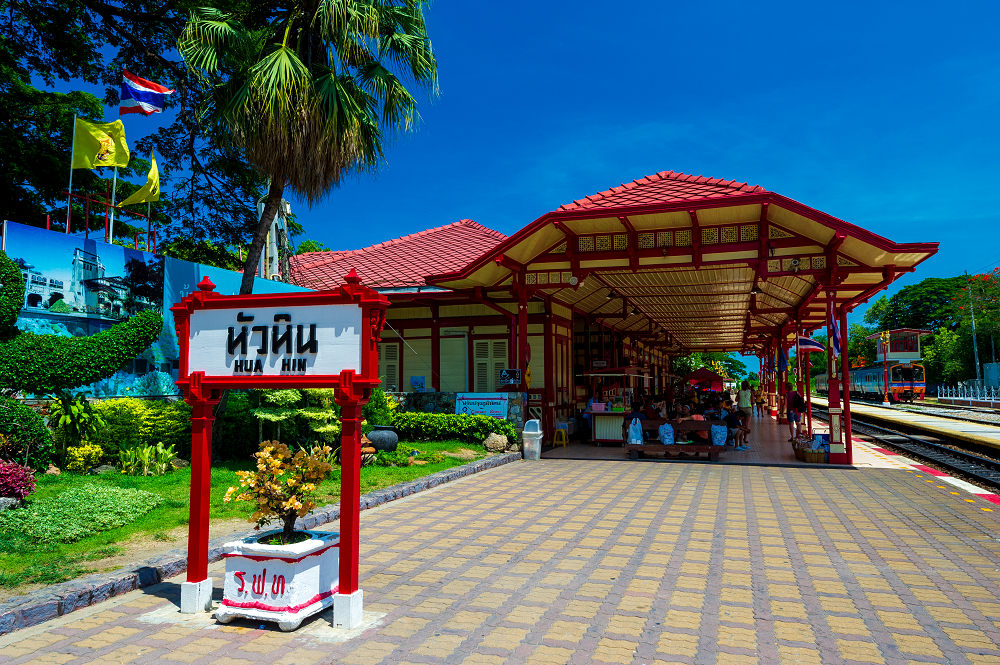 After a couple of days in Bangkok, we continue the journey down toward the cities of Cha Am and Hua Hin, both of which are known for their various Wellness Resorts. But on the way to the looming goal, we manage to visit some smaller "hidden gems". Perhaps the best experience of them all was during this amazing travel experience.
Divana Spa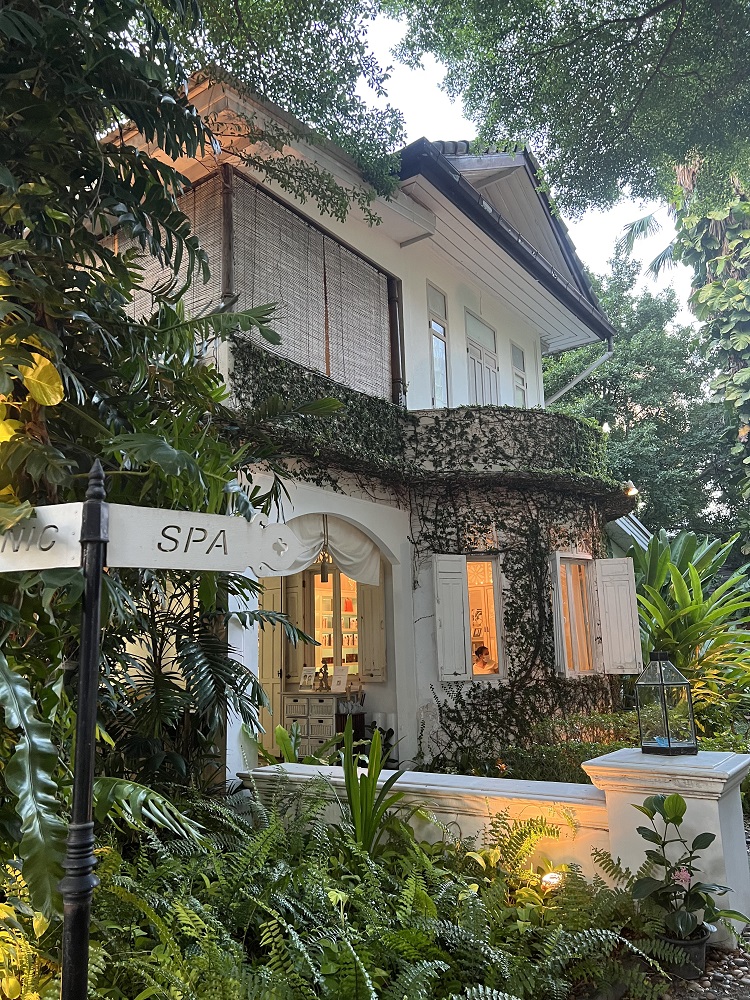 Bowling, or Wittaya Jiraswakdilok as he is called, has started a completely new spa concept, "Divana spa", which has adopted old Thai tradition in terms of technology, treatment, and execution. The beautiful mini spa is decorative and romantic at the same time. It feels like you are stepping straight into a small pastel-colored fairy tale world, where no detail is left to chance. The most spectacular experience was bathing in a giant round porcelain cup. Obviously antique with many years behind it. www.divanaspa.com
Baipai Thai Cooking School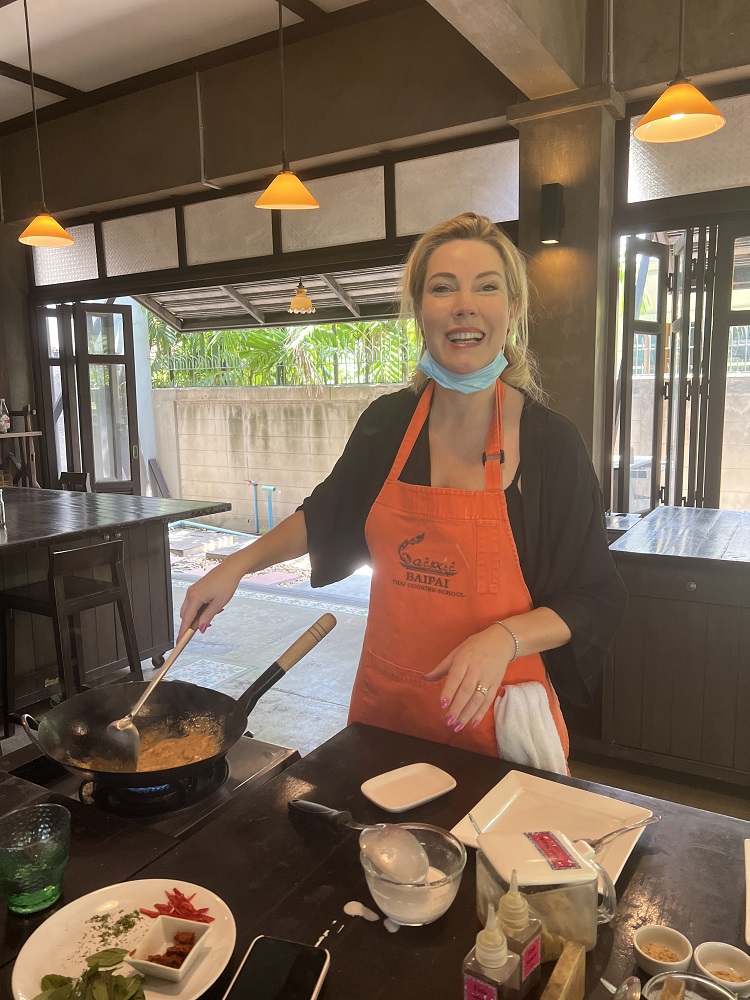 Health is clearly not only about the right mindset, the right breathing, and a relaxed body. It is also what you put into your body. Baipai Thai Cooking School offers "Thai cooking classes". The outdoor kitchen with 8 different cooking stations, is located just outside Bangkok. Here, both smaller and larger groups can learn to cook wholesome and healthy Thai food. Our chef Yui, or Ruchaneevan Ludragarunmet, as her real name is, bought all the ingredients from the local market just before our arrival. In other words, all ingredients are freshly made, which gives us the best opportunities to bring out all the complex flavors in the best way. It's not as easy as you think, but as you know, practice makes perfect. I am now a pro at both Pa-Nang Curry, Chicken Satay, Savory shaved lettuce, Fried chili beef, and curry paste! www.baipai.com
Sea Salt spa – Kang Hun Tong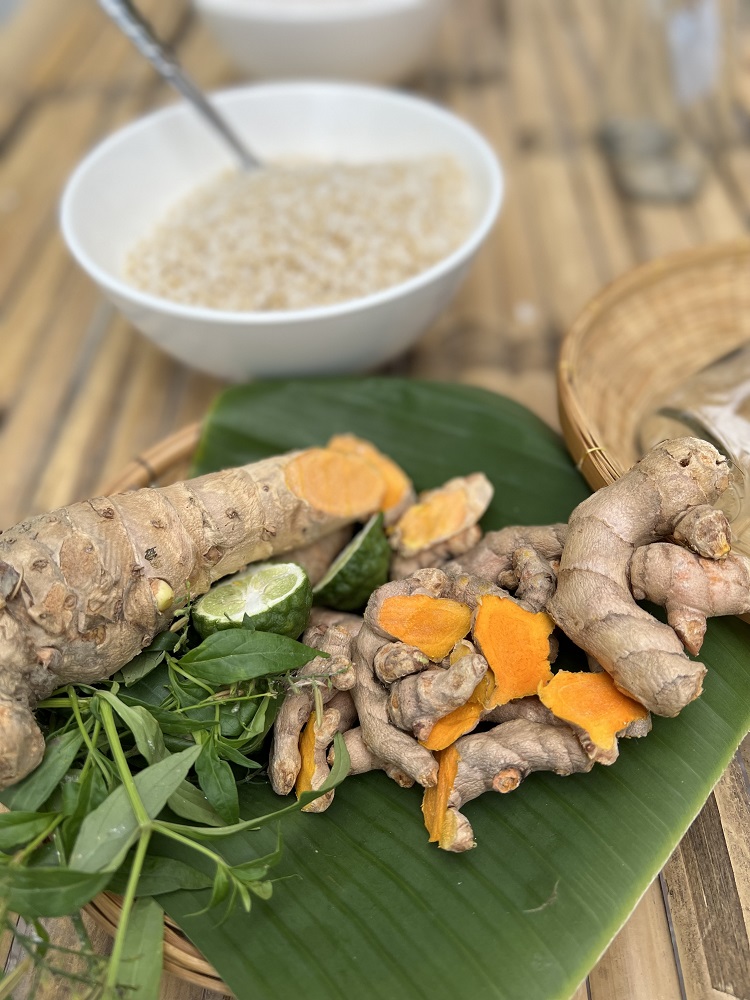 We stop at Kang Hun Tong – a "Foot salt spa" run by the locals themselves. The salt opens up the pores and cleans the feet in depth, while the sharp salt crystals scrub the heels soft and make you dance back to the car – like on little soft clouds. Afterward, there was the opportunity to combine your own bottle with different foot salts, inspired by all the blue-green shades of the sea. Next to it was a small shop stall with fragrant soaps, oils, and salts to take home as beautiful gifts or souvenirs. https://www.kanghuntong.com
Wellness Hotels in Cha Am & Hua Hin
VALA Hua Hin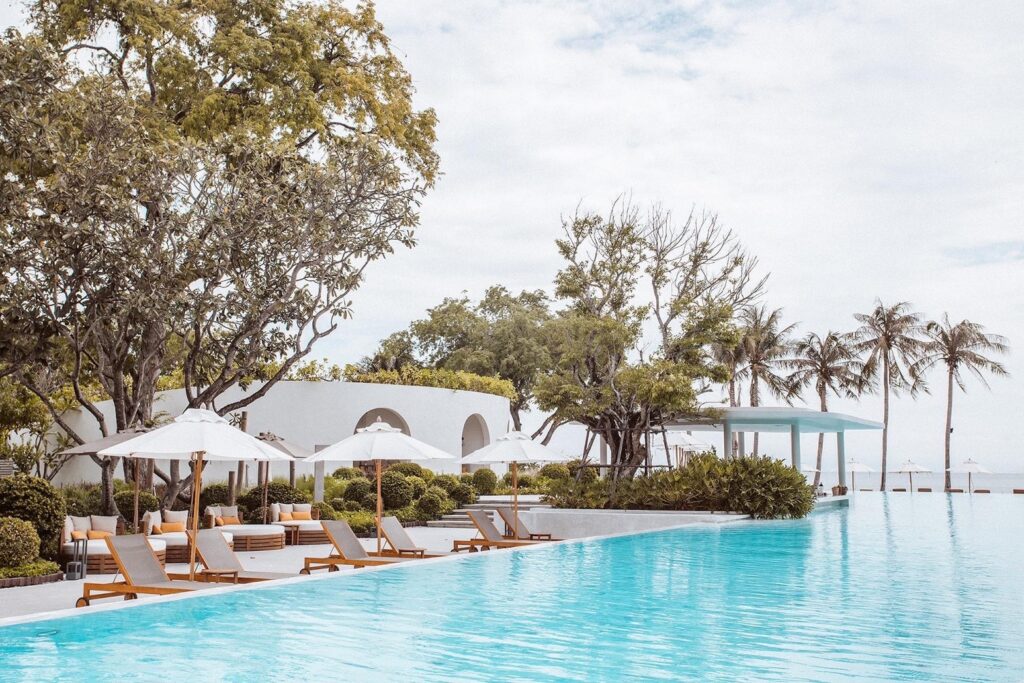 It's easy to think that this 5-star luxury hotel is all about big pools, beautiful surroundings, and stylish discounts. But VALA Hua Hin is so much more. Prakan Nuchpong is the hotel manager and has taken pride in giving guests a holistic experience. Of course, this hotel is incredibly beautiful, but it also exudes warmth and genuineness. Already at check-in, we receive a personal welcome in the room in the form of a message on the bed. Here are palm leaves, flowers, and different plants, and together form different letters. The creative staff have used what nature has to offer in the area and have put together a welcome text with the help of the beautiful greenery. On the coffee table, there is a hearty muffin buffet and other healthy treats that will satisfy the worst hunger after the day's drive. Also at this hotel, we had the opportunity to try Thai traditional cooking, but this time dessert was on the menu. Among other things, we learned that sweet potatoes are excellent as the main ingredient in "mini pancakes" and various soft cookies. In Sweden, we use sweet potatoes mainly for food and very rarely for dessert. In other words, you learn as long as you live! Before we leave VALA Hua Hin, we have time to see the sunrise together with other early morning yogis. A wonderful experience that gave the body new energy for the whole coming day. www.valahuahin.com
Regent Cha Am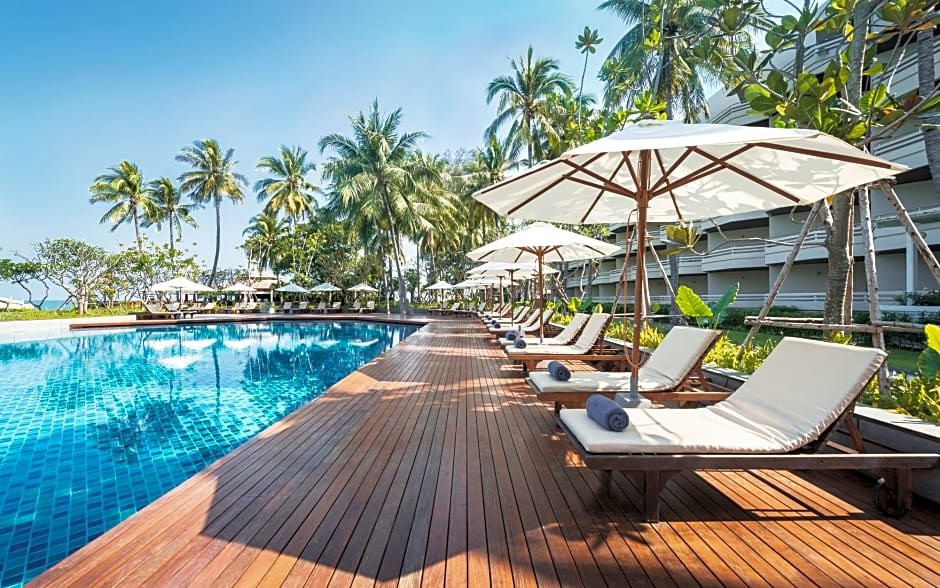 VALA Hua Hin has a sister hotel, with the same owner, called Regent Cha Am. This hotel is only a few steps away but has a completely different target group. Regent Cha Am is a paradise for families with children, with 2 child-friendly pools, large green areas that invite play, as well as a children's club and childcare for those who wish. www.regent-chaam.com
Purimuntra Resort & Spa
Purimuntra Resort & Spa is a standout as a health destination. Here, so far, the prices are a little lower as many tourists have not yet found their way here. This resort is run by a driving force – Khaimook Ananritkul who has managed to preserve Thai simplicity with the closeness to nature.
Muntra Spa is located one floor up in a stilt hut with no windows. Here you have a fantastic view of the beach and sea while you get to experience both body scrub, Thai massage, and aromatherapy, of course together with local natural oils that smell absolutely lovely. www.purimuntra.com
Aleenta Resort and Spa, Hua Hin
If you are looking for a healthy and gluten-free breakfast, this hotel is perfect. Aleenta Resort & Spa, Hua Hin, has its own bakery in close proximity to the resort that has a solid menu of gluten-free options to choose from. If you choose to take a cooking class at this resort, they have their own cultivation of most things you could possibly need in the form of spices, vegetables, and fruits. Before the cooking classes begin, you must collect what you may need for the dishes to be prepared. It is also possible to make small excursions to both the bakery and the garden, with the hotel's own transport.
Mam, or Patcharee Phadungohart, as her real name is, is the assistant manager and tells us, among other things, that there are exciting new plans underway regarding the expansion of the beautiful huts near the sea. These small huts are located right on the beach and several of them have direct access to the swimming pool. We promise of course to come back. You don't want to miss rooms near the beach! www.aleenta.com