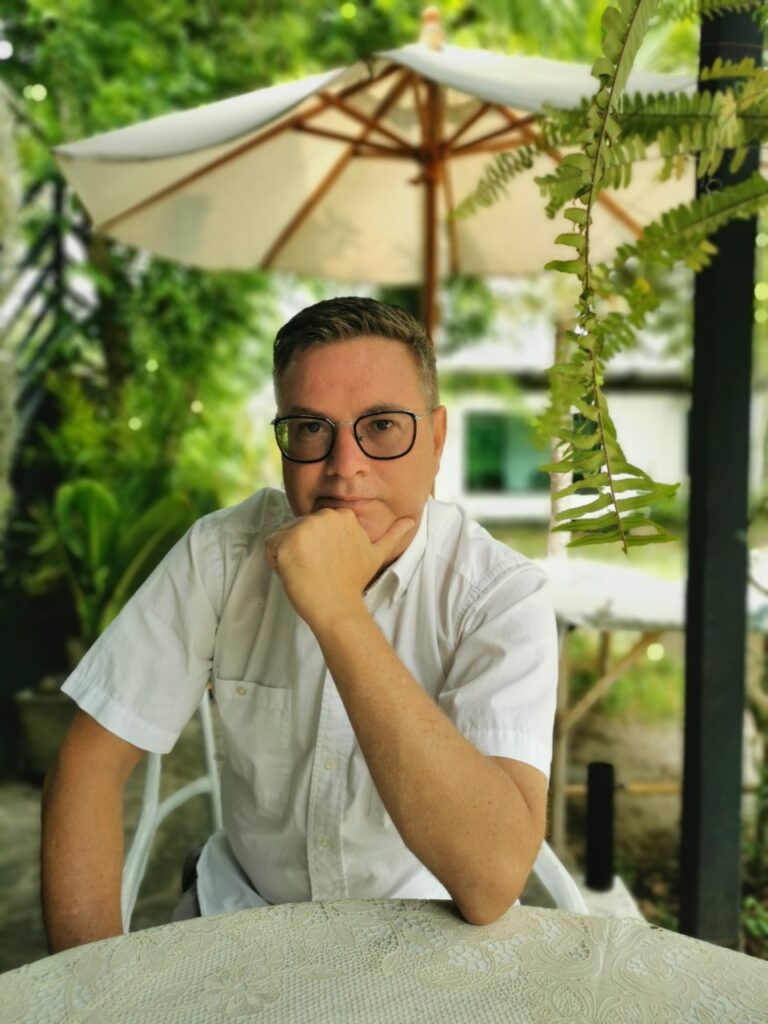 Per Sundberg
Nationality: Swedish
Occupation: Travel consultant
In the mid-1990s, a former Swedish school teacher began his journey to work as a volunteer teacher in Taiwan and took a detour to backpack around Thailand for a few weeks to fulfill his childhood dream of traveling the globe like Marco Polo. Per Sundberg has returned to Thailand for both business and leisure over the years, enchanted by the country's natural beauty and the warmth of its people. In 2004, he and his wife decided to make Chiangmai their home.In addition to his profession as a travel consultant, Per Sundberg runs a personal blog (https://thailandtidbits.com/) where he shares his in-depth knowledge of travel in Thailand.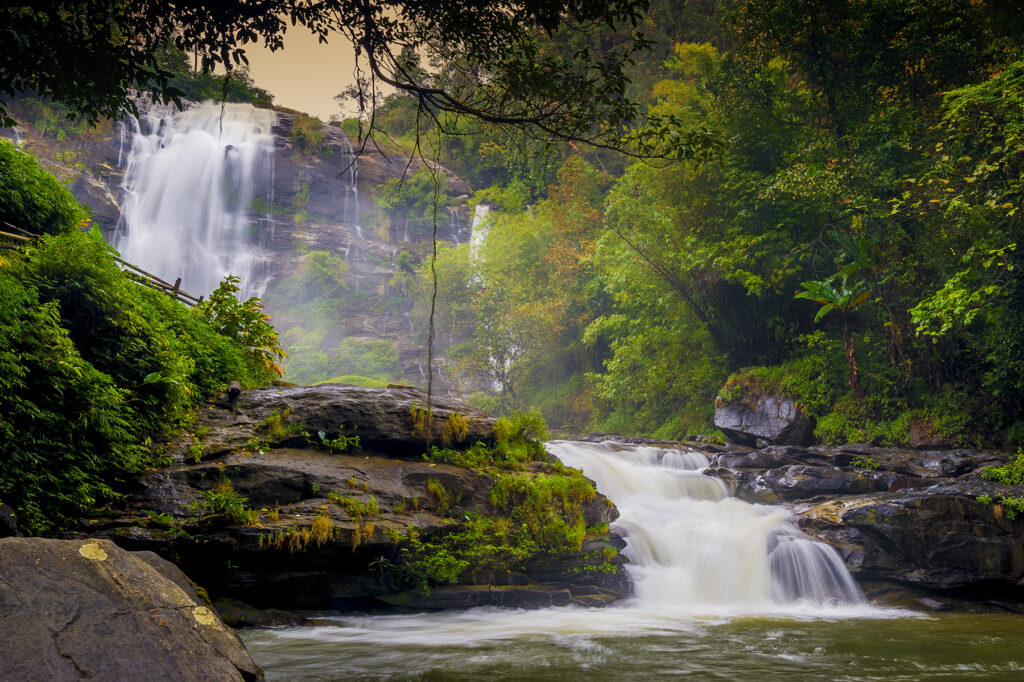 Are there any specific items or things that Nordic travelers should bring with them to Thailand?
I think Thailand is so developed these days. So, most things you can find on the spot. You don't have to worry anymore. Twenty years ago, I would bring Swedish coffee to Thailand, but now I bring Thai coffee to Sweden [laughs]. I mean… Chiang Mai is one of the world's capital cities for coffee. In the South and Bangkok, you'll also find fantastic coffee. So maybe it would be something ridiculous like salty licorice or certain kinds of sweets. But as for practical things.…no, not really. Or maybe if there's a certain brand of sunblock that you have to have or something like that, then yes.
When you first arrived here, did you notice any cultural differences between Sweden and Thailand?
At the time, as a backpacker, I wasn't well prepared at all to tell you the truth. There was no Internet and I had read a book about being culture shock and about the Thai smile and to be humble and how to approach people and so on. But I still wasn't quite prepared for all the smiling and giggling. And I was a bit uncertain for what reason people were smiling and laughing [laughter]. I'm not anymore, but at that time, yes. I found Thailand to be a very very exotic world.
And what are some of the things people should not do in Thailand?
What concerns me a lot is to see people doing things that they wouldn't do in their own country. For example, there is too much news about foreigners dying in motorbike accidents, and not wearing helmets. So, be insured, and follow local regulations and laws. In Chiang, Mai, we sometimes see at the waterfalls in the rainy season that Thai people are leaving the area and the rangers say that they're closing now. But you still see some people out there. There are rules and regulations for reasons here. Common sense will help you to be humble.

Don't use your mood and temperament when talking or approaching people. Talk calmly and nicely. Also, be curious. Don't be too direct. And don't push things too hard. If someone doesn't understand what you're saying, then try to find someone else. You are a guest here.
Do you have any recommendations for first-time visitors to Thailand?
Prepare some clothes for nice occasions like when you're going out to eat. If you're going to some nice restaurants, don't only think that it's hot and you only need shorts and sandals. In Thailand clothes matter. How you dress matters. Also, if you go to temples, consider temple etiquette. Read about what you can do and what you cannot do. Religion matters. Culture matters. I've been here for so long that sometimes I would react if I see someone come into a coffee shop without a shirt on or things like this [laughter]. I mean, match your clothes with whatever activity that you are doing [laughs]. Be appropriate.
What are your recommendations for traveling in Thailand like a local?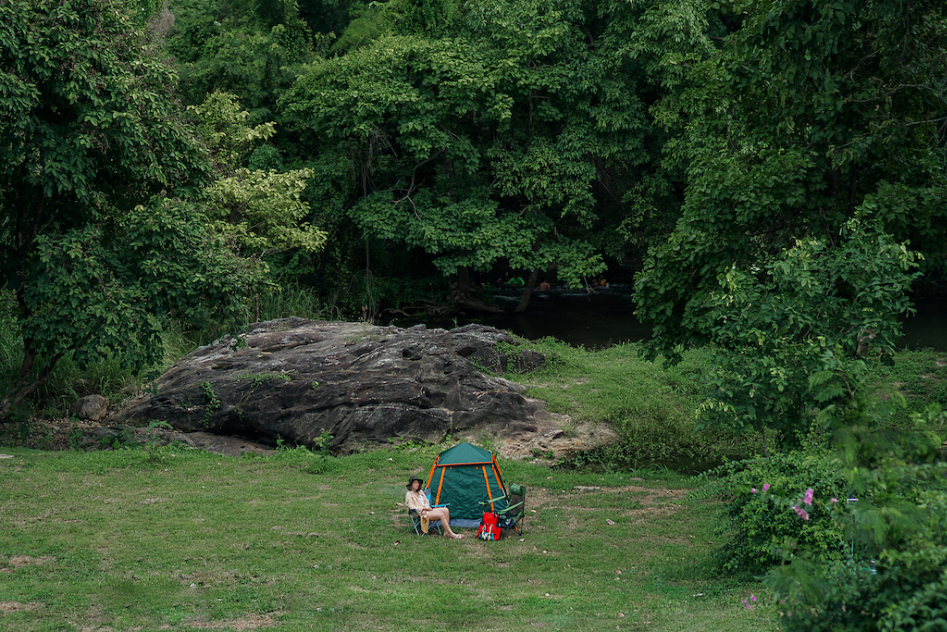 I think there are so many recommendations on social media today. So, maybe try to see what Thai people recommend on Instagram or Facebook. For instance, during the pandemic, we started going camping more and so we followed all these pages that recommended camping sites. I think it's a really interesting way to go local because the way Thai people go camping is different. When I grew up in Sweden, I felt that camping was a bit of a nightmare because there would be bad weather and it would be cold. But in Thailand, you go to a campsite and they might even rent out the tent for you. There will be Moo Krata (Asian-style pork BBQ). There will be a barbecue. The standard for toilets is so high; it's so clean. You have showers. It could be a surprisingly pleasant experience. I don't think that most foreigners would want to go to Thailand for camping, but if you want to do it, you can get some nice sites. You could be camping on a mountain with fantastic views.

So, try to look at tourism a bit like the way Thai people do. In the North, they embrace the cold weather. They want to see some frost on the ground. They want to see a sea of mist. And then you will meet a lot of people and you will have a lot of fun with a lot of people. I don't think that traveling like a local necessarily means that you have to take the cheapest transport or something like that. It's more like trying to see local recommendations in a guidebook, or from blogs.
Apart from beaches and islands, are there any other attractions in Thailand that might be interesting to Nordic travelers?
It might be hard to drag kids around to temples and so on. It's even difficult with my kids. My son is okay with it but my daughter… not so much. But we compromise, you know, a little bit of culture today and then you'll get what you want. For instance, if you come to Chiang Mai or Chiang Rai, check out the forests and waterfalls. Check out some nature resorts. Like the sticky waterfall in Chiang Mai. The water comes down and the rocks make you stick to it. You become like Spider-Man and the waterfall cools you down. And in Chiang Mai, we have a lot of these restaurants with playgrounds. And you have activities like skateboarding, Inline skating, rock climbing, and many other adventures. But also focus on safety too. I mean there isn't always a guard there to check on your kids. And many restaurants in Chiang Mai offer cooking classes, especially for kids too.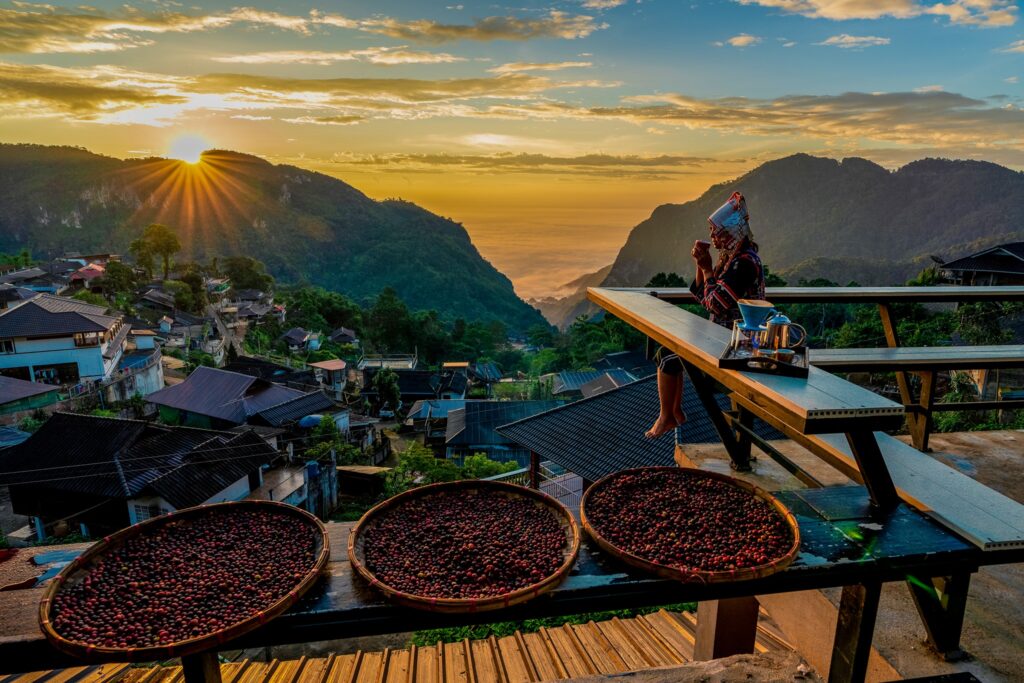 What is your favorite destination in Thailand?
That's a hard question after living here for so many years. But we tend to go on road trips during what we call the "green season," which is the rainy season here. Swedish people probably imagine that when it rains, it rains all the time and it's cold [laughs], but the green season in Thailand is nice. You can go up to the mountains. Maybe go to some rice terraces and stay in a lodge run by some hill tribe/indigenous people.

One of my best experiences is a typical Thai experience, and that's going to Phu Chi Fah to see the sunrise over the mountains and the Mekong. It's cold there and I know Swedish people try to escape the cold weather [laughs], but it's so beautiful. One of my best memories is walking there during the sunrise. Also going to Mae Hong Son and seeing the town wakes up in the morning while looking out from a temple on a mountain. I think the place is called Doi Kong Mu.

In the South, there's Tale Noi in Phatthalung. You take a boat in the morning to see the fishermen and the lotuses and the water buffalos. As you're doing this, you see the sunrise. Then you come back and have a beautiful breakfast. It's definitely off the beaten track but it's stunning. Unfortunately, Songkhla is on the Travel Advisory's list of places you're not recommended to go but it's also stunning – a historical city with so much to see and fantastic food.

And if you're interested in history, then you need to explore Ayutthaya and Sukhothai and the history behind the Death Railway and River Kwai [in Kanchanaburi]. These places are no secret anymore but they're well worth a visit. Beautiful UNESCO sites.

When it comes to beaches, we like to go to Khao Lak. We find the landscape very nice and the resorts are on the beach and a little bit more laid back.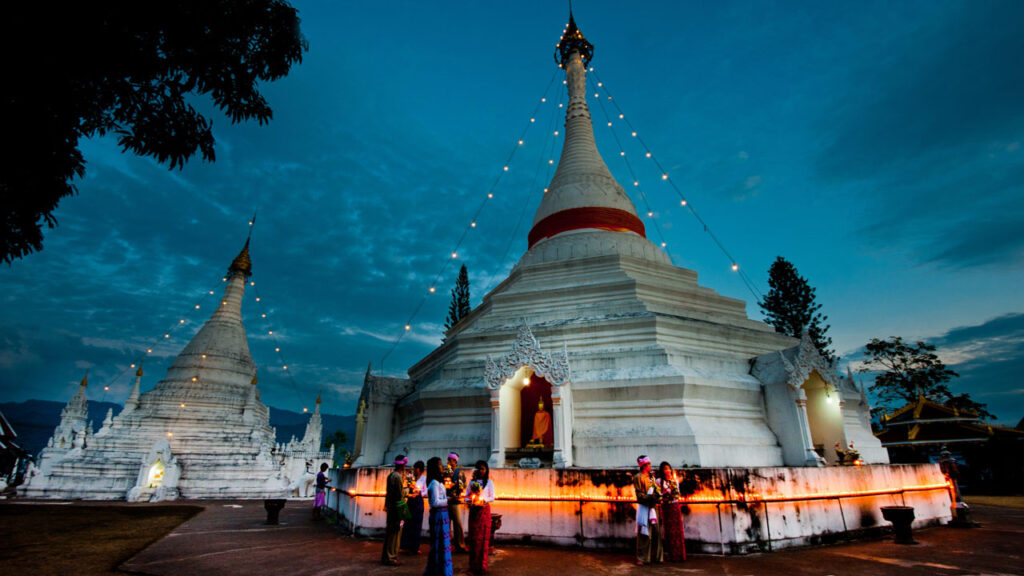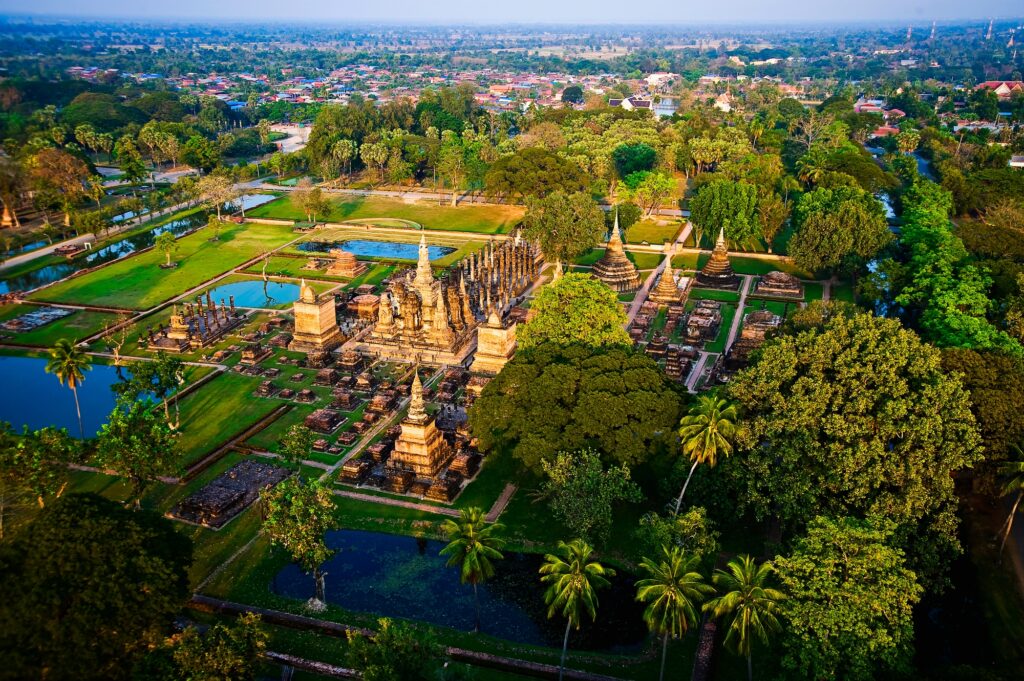 What do you think are the Thai dishes that everyone should try?
I'm trying to think about the dishes I miss the most when I'm not in Thailand. Honestly, I have a thing for Isaan cuisine [Northeastern Thai cuisine]. I think of Moo Yang (grilled pork), Som Tum (spicy papaya salad), and sticky rice [laughter]. I miss them maybe because when I'm in Japan it's a lot of tofu and seaweed and fish. So, I miss something spicy. I also miss Pad Krapao (holy basil stir-fry) and anything with basil in it. If my mother-in-law is here, we will force her to cook crab dishes, any kind of crab curry [laughter].

Another advice I have for people is if they're in the South such as Phuket or Trang, go out to have local breakfast and discover the Thai-Chinese cuisine there. Have some Dim Sum and sweet pork. When it comes to food, I try to look up what the region is famous for and try to surprise myself a bit. That makes it more fun.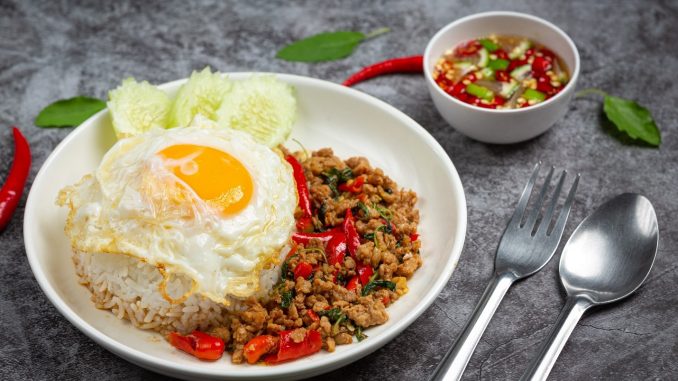 What is the best souvenir for visitors to bring back home?
In general, Thai people are famous for their handicrafts. You can go to local markets or weekend markets. You'll find individual artists who make unique jewelry and other crafts. And anything silk-related is a good gift – scarves and so on. And in the North, we have very nice cotton and cotton-related products. Also, you can find Thai-flavored things here to bring back such as dried fruits, Thai spices, Thai tea, ready-made curry pastes, and so on.
Photo Credit: