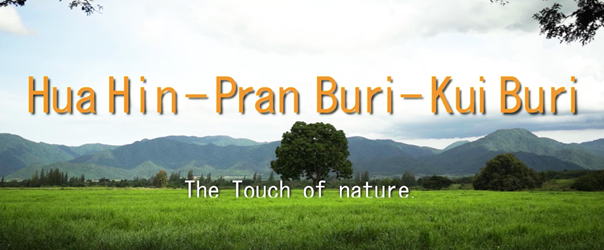 Pranburi is a charming beach town, just about 30 minutes south of Hua Hin. While there are not many conveniences, there are less crowds. Sun, sand, pristine beaches, charming local villages, eco-friendly attractions are the main factors why Pranburi is quickly becoming the destination of choice for a rising number of visitors seeking a mix of tranquility, authentic culture and outdoor adventure.
What to expect
Pranburi beach is one of the prettiest in the area, thanks to a scattering of small islands and rock formations right off the coast. The sand is dark and a bit coarse but there are many palm trees to give you shades.
Pranburi is not big and bustling like what you find in Hua Hin or popular beaches and islands in Thailand. In fact, activities around the area involve hanging out at the beaches or swimming in your resort pool. There are scattered local restaurants and bars. Apart from that, it is pretty quiet and therefore it is a great place with kids or just reading a book and swimming in the ocean. If you enjoy your active activities, go kayaking or snorkeling. You might be able to see unique species to be found in Thailand's water. If you are looking for a party and a nightlife, Pranburi is probably not for you.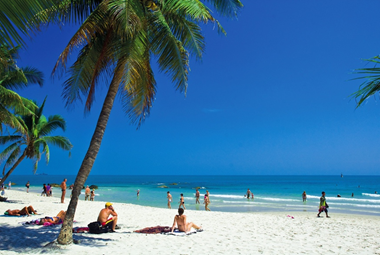 Outdoor activities to do in Pranburi
There are many things to do and see, whether one is interested in exploring and hiking or prefers water sports such as snorkelling and swimming. Below are some of outdoor adventures you can do while staying in Pranburi.
Exploring Khao Sam Roi Yod National Park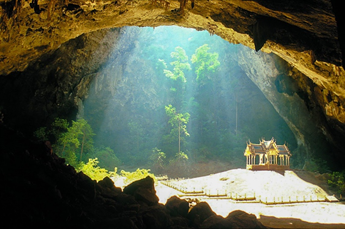 Khao Sam Roi Yod is an absolute must-visit spot. The name Khao Sam Roi Yod means "the mountain with 300 peaks", thanks to the numerous limestone mountains in the park. The national park is a paradise for outdoor adventure. We recommend hiking up Phraya Nakhon Cave to see its iconic royal pavilion and a huge chamber. Hiking the Khao Daeng Mountain is also amazing and the views are certainly rewarding. You can also do paddle boarding around the tiny offshore islands and cycling through small back roads. If you feel bold and unafraid, you can try a paragliding that takes you over the mountains, beaches and farmlands.
Kitesurfing in Pak Nam Pran
For the last decade, Pranburi has been one of the top up-and coming kitesurfing destinations and has held many international kitesurfing events. It has a great amount of wind all year round. Apart from that, the main kite beach is spacious and free from obstacles, making one of the best places to learn this sport. In general from October to January, the water is choppy and the wind can rise up to 30 knots. From February to June, the water is flat with sandbanks discovered, it is an ideal time for newbies to learn this sport. From July to September, it is much more difficult to predict. We recommend always checking weather forecasts to ensure you are getting the best experience. You can find schools ready to teach you what you need to know about kite surfing but without all the dangers and challenges that exist in other destinations. Thanks to the shallow waters, it's pretty easy to take up kite surfing in Pranburi Beach.
Stand-up paddle boarding down Pranburi River
The Pranburi River which runs right through Pak Nam Pran Village is one of the best places to enjoy stand-up paddle boarding. You can access the river via a few different points. One of them is Kite Cable Thailand's lake which is quite high upstream. From there you can easily paddle to the estuary and choose to explore either the river or sea.
Coastal paddle board trips are fun activities. Take your SUB and head to Khao Kalok, the shoe-shaped mountain that sits between Pak Nam Pran's southern beach and the breathtaking Sam Roi Yot National Park. Alternatively, you can try paddle boarding at Sai Noi Beach, 10 minutes north of Pak Nam Pran with a view of a picturesque cove.
Visit Pranburi Forest Park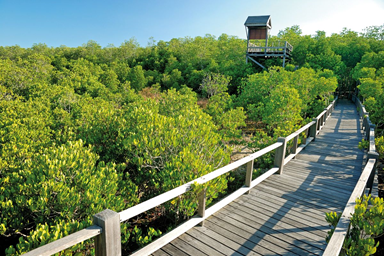 Pranburi Forest Park is known for its vast and dense forests of mangroves and twisty trails that lead visitors to all corners of the park. The mangrove nature trail is a raised wooden trail that allows visitors to walk around the forest. When the high tides come during the daytime, it is possible to do boat tours along the river and canals and even to a nearby harbour. The park is the perfect hideaway. Not only will you be surrounded by the tranquil and majestic scenery, but you'll also get to see an abundant array of flora and wildlife, many of which are exclusive to Thailand.
Spotting wild elephants at Kui Buri National Park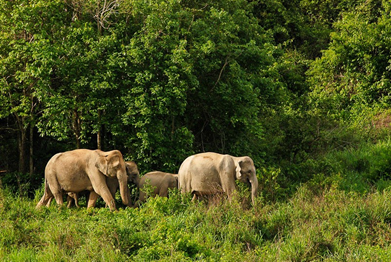 Kui Buri National park is known for the best spot to see wild and free elephants in their natural surroundings. The biggest herd of guar — also called Indian bison and largest-known wild bovine on the planet — is also native to the park. The charming barking deer and golden eagle can sometimes be seen and heard. One of the things that makes this national park special is that locals are heavily involved in the conservation initiatives. That means you can only visit with a local guide and driver. Sitting in the back of an open jeep has a feeling of a safari and is an exciting way to see elephants and other wildlife creatures. The trucks stay on designated roads and trails to avoid disturbing the animals. Rangers radio ahead when spotting big-game herds like guar or elephants wandering, swimming or socialising is high.
How to get to Pranburi
Pranburi is about 30 kms south of Hua Hin and about 3 172 hours by car from Bangkok, depending on traffic. To get there, you can take a train from Bangkok's Hua Lampong Station and then get a taxi or car to Pranburi. You can also take one of many government and private buses from Bangkok's Southern Bus Terminal.
For more news and inspiration visit www.thecoloursofthailand.com