Many are dreaming of white sand beaches, sunshines and turquios water, but still are confused where to go. With so many islands in Thailand to choose from, planning a trip can be overwhelming. The most difficult thing about travelling is about choosing a destination that fits your personality and your own needs.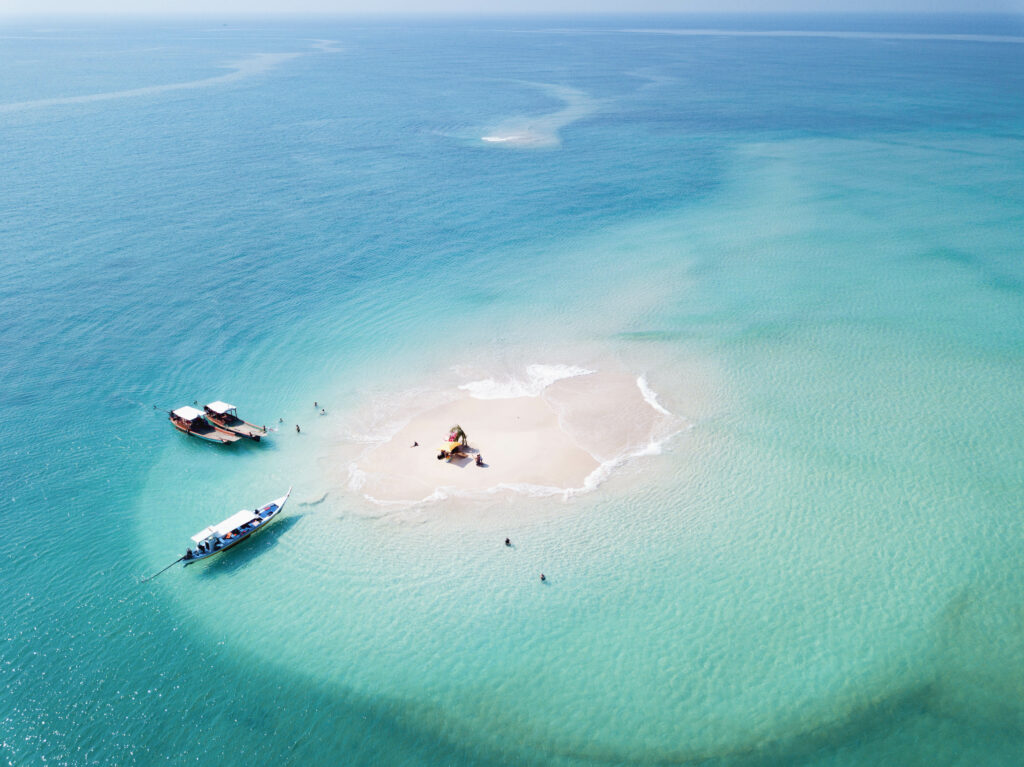 Each island has its own character and style and is suitable for different types of travellers. Wherever you are in the phase of your life, either families with children, just newly married or already in your late midlife, Thai paradise islands can offer different travel experiences for you. With this guide, we aim to give you our in-depth knowledge to help you map an island that suits your type and needs. Here is an ultimate Thailand island guide for your next vacation.
Koh Lanta – cozy and convenient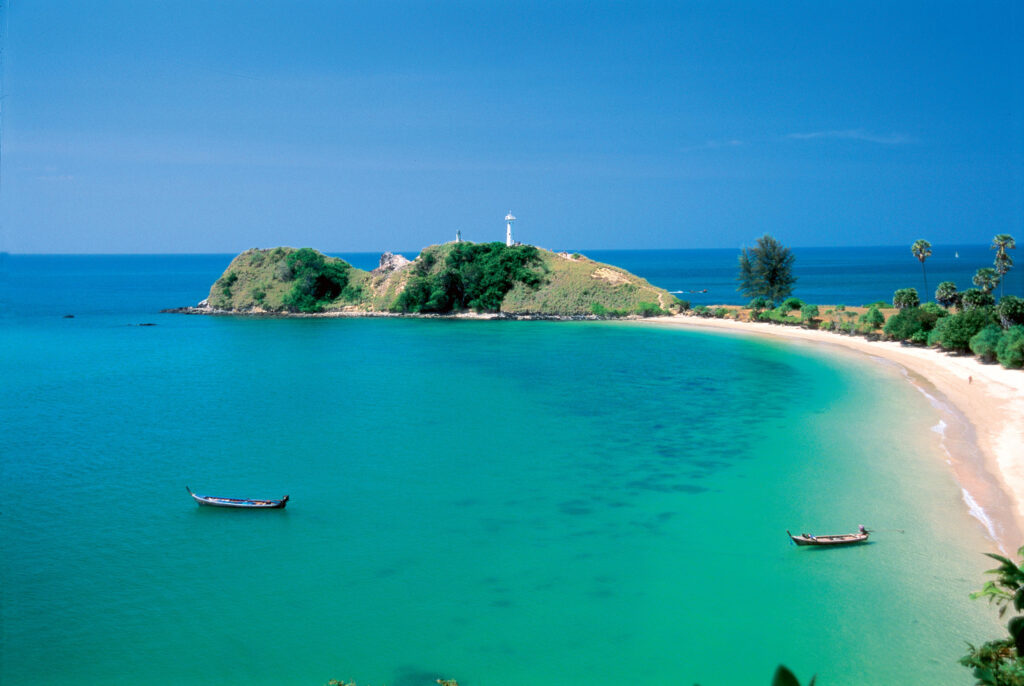 Long stretch beaches and laid back atmosphere make this stunning island a favorite island for many. Koh Lanta is not for party-goers or extreme adventurous enthusiasts. Instead the island is for those who are looking for a relaxing vacation in a local Thai lifestyle yet convenient enough to get all you need on a tropical island.
Activities
There are many activities to choose from; swimming, snorkeling, scuba diving, stand up paddle boards, kayaking, bicycling around the island or observing elephants in their natural surroundings. Interested in the local wisdom i.e. learning the versatile bamboo plants, there are a few workshops you can join.
Combine work and holiday
For those who want to combine work and vacation, Koh Lanta has a tropical and modern coworking space for freelancers and entrepreneurs with WiFi and a convenient tropical working lifestyle as well as international schools for families with children who plan to stay longer on the island and combine family life with tropical vacation, school and your entrepreneur life.
Koh Lanta Yai is the main tourist island and is about 30 km long and 6 km wide with a bridge connecting to Koh Lanta Noi. Kilometers long beaches are scattered on the west coast of Koh Lanta Yai. Most accommodation and restaurants have located mostly around seven beaches and leave four secluded beaches almost untouched. In general the bays become quieter and more secluded the further south you go. Klong Dao in the north is the most developed area and the beach is almost completely rock free and shallow, suitable for families with young children.
Koh Ngai – authentic simple island life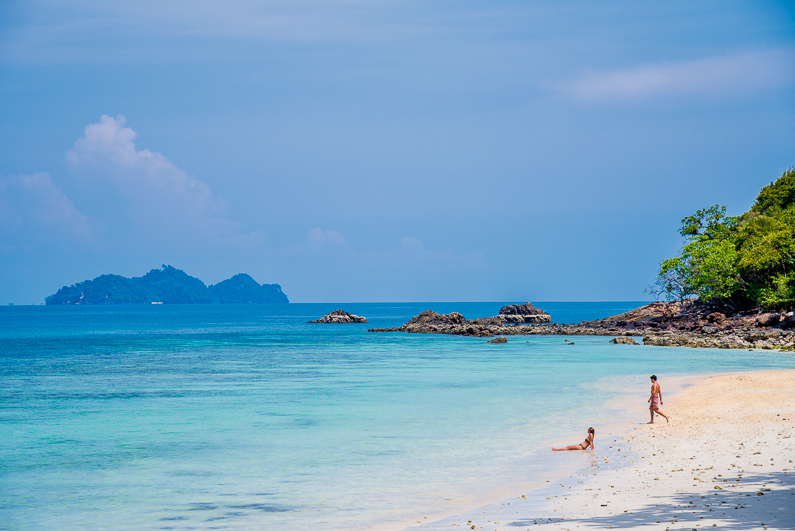 Koh Ngai (Koh Hai) is a small paradise island on Andaman Sea between Krabi and Trang province. It is an unbeatable charming island, almost nothing developed here; no roads, no cars and no 7-Elevens nor ATMs. The island is quieter than Koh Lanta and is perfect for those who are looking for some timeout or relaxing. Make sure to bring enough cash with you.
Activities
Basically, there are not many things to do on Koh Ngai but that's where it gets its charm. There is no need to plan your day. Simply get out of bed and enjoy sunrise, chill out on the beach, go snorkeling. Finish your day with a fresh coconut or a beer, hit the bed early and repeat the next day.
The main place to go snorkeling on Koh Ngai is along the east and south coasts off Main Beach and Paradise Beach. You can reach the reef directly from the sand. On the island, there are 3 main beaches. The Main Beach is about 2.5 km long and this is where you find most hotels. Paradise Beach is more secluded and located at the end of the island. Ao Muang is located between Main Beach and Paradise Beach. There is a trail connecting the beaches.
Koh Yao Noi – eco-island with a sense of luxury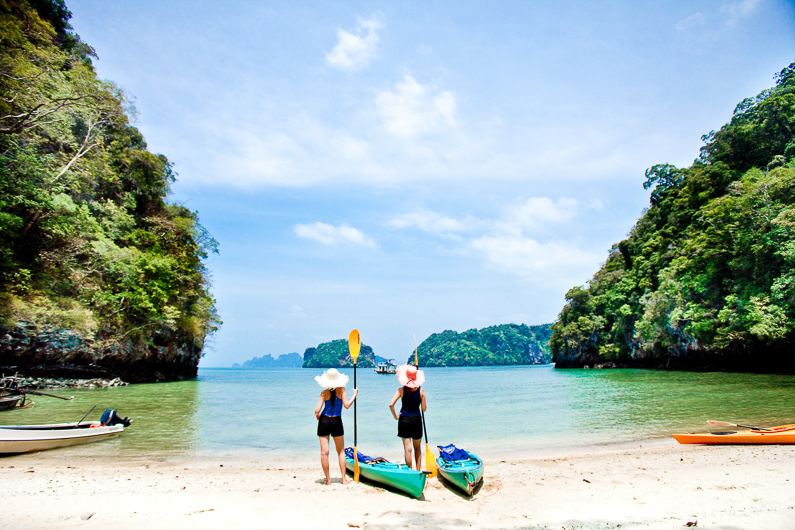 Located midway between Phuket and Krabi lies Koh Yao Noi, an idyllic and unspoilt island perfect for a relaxing vacation. There is a sense of preserved authenticity, a feel of slow, peaceful and serenity here. Koh Yao Noi's idyllic backdrop with limestone formations that juts out from the emerald water has caught the attention of honeymoons and couples who want a romantic vacation. Unlike Koh Ngai, you can find exclusive resorts and villas on this island, featuring a boho-chic island life welcoming visitors on the island.
Activities
Koh Yao Noi's beaches are appealing. At low tide, the muddy, rocky shoreline is exposed – great for chasing crabs, but not so good for swimming. Diving, snorkeling, sea kayaking and boat trips around the island and to Phanga Bay are popular activities. Koh Yao Noi also offers visitors the chance to involve themselves in local activities. You can easily spend a day with a local fisherman, learning about the life of small-scale fishers and supporting local conservation efforts. Aside from lazy beach days, you can enjoy scenic rides around the island's lightly trafficked roads on motorbike or bicycle.
Koh Samui – Bustling island with everything you want and need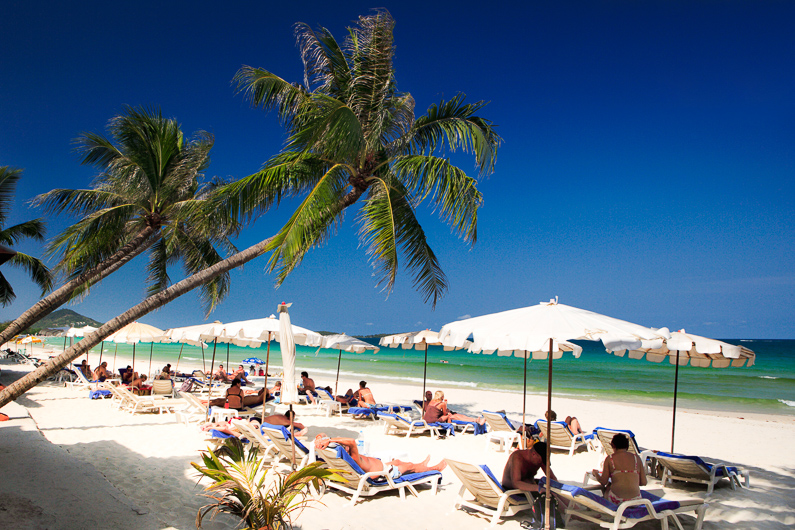 Koh Samui in the Gulf of Thailand is among the most famous tourist destinations for many. It is one of the most developed islands in Thailand with many tourists. But why are we mentioning it? It boils down to the weather. Samui is perfect to travel to in the summer. On Koh Samui, the sky is mostly clear from June to August, making Samui a perfect getaway to escape from when the summer in the Nordics gets bad.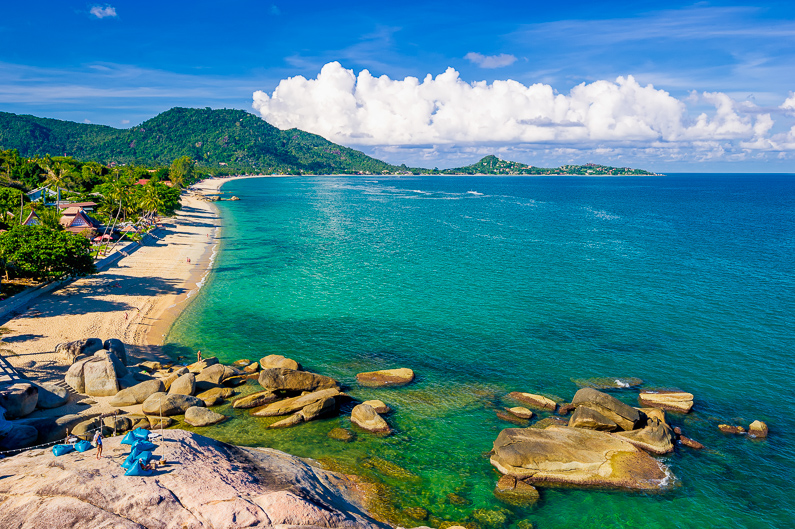 Koh Samui is a giant mix of everything. You can find from popular sunbathing beaches to deserted bays, from mediocre restaurants in one corner to typical Thai street food in the next. No matter what you are looking for, you can find it on Koh Samui. Moreover, Koh Samui is a pioneer for sustainable tourism for both hoteliers and local communities.
Koh Phangan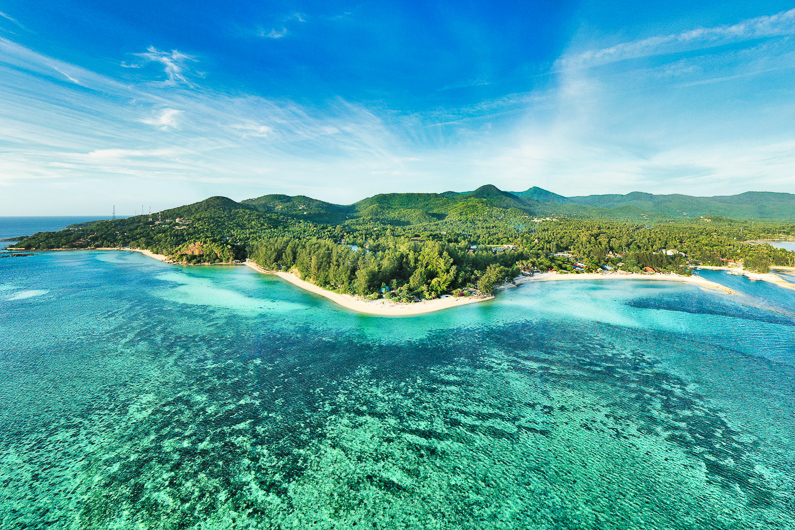 Koh Phagan is located in the Gulf of Thailand and only 20 minutes by speedboat from Samui. Unlike the developed counterpart Koh Samui, Koh Phangan has a more laid back atmosphere and is a popular destination for backpackers, dropouts and yogis as well as individual travellers and luxury vacationers. The island has been famous for its vibrant full moon party but nowadays has gained its reputation as a hub for a healthy adventure lifestyle as many yoga and wellness retreats are located here.
Apart from the famous Haad Rin where the finest sand beach lays by day and beach party rocks by night, Haad Salad Beach is one of the best beaches with pure white sand and the ocean is crystal clear. During its peak times, it is still calm. There are many cozy beach bars which place their chairs and lounges directly into the sea and thus form a cozy vacation ambiance. Here you will find a very odd shaped palm tree that juts diagonally into the water and it has become the island's landmark and a perfect spot for selfie.
Activities
Visit Chalok lum, the quiet fisherman village with a long stretch beach. This place keeps its original charms with the local lifestyle and plenty of street food. Phaeng waterfall is another well preserved nature of the island with an easy trail hike. And if you are up for a little more adventure, take a hike to Khao Ra, the highest mountain on the island and witness a panorama view in 360 degrees.
Koh Chang – Developed but with a better feel of the natural environment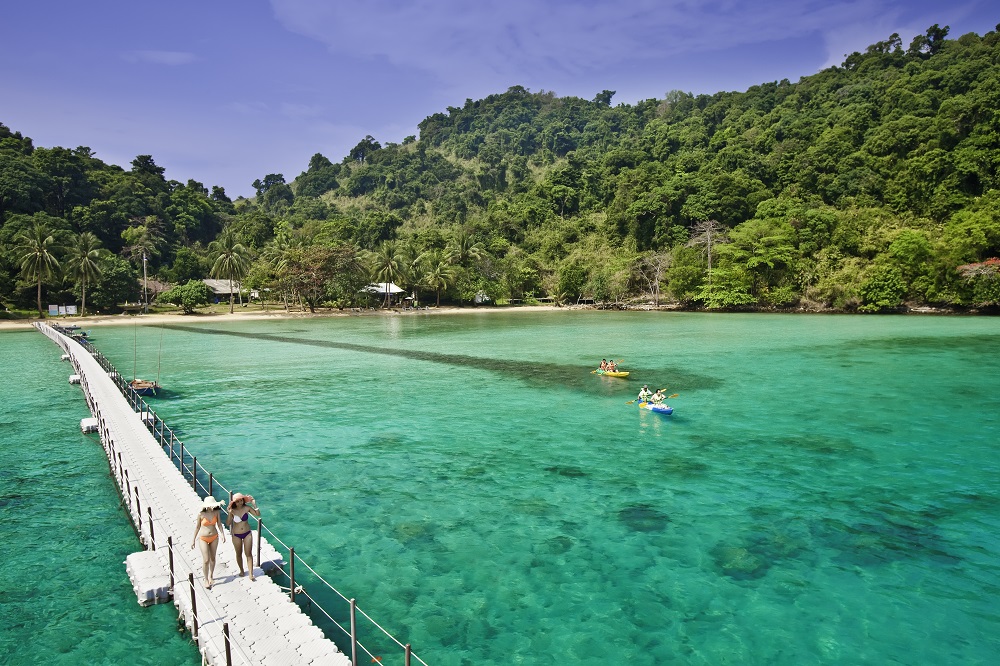 Koh Chang is the third largest island in Thailand and is a part of Mo Koh Chang National Park in the eastern Thailand. Despite its large size, it is nowhere near as developed or bustling as the two counterparts Phuket and Samui.
If you are looking for a convenient island lifestyle, but not as bustling as Samui or Phuket and not so simple and quiet as Koh Ngai or Koh Yao Noi, Koh Chang is your option. The accommodation varies from beach huts to luxury resorts There are many things to do and the atmosphere varies a lot depending on where you go and what you want to do. From the longest White Sand beach to many off-the-beaten-path islands nearby like Koh Wai, Koh Laoya, each adding a different experience. Koh Chang promises a perfect cruising ground for sea adventurers.
Activities
On land, it does not disappoint either. Jungle trekking amid wild monkeys, charming fishing villages with distinct characters, and selfies from spectacular viewpoints. There is just so much to see and to do in one single place.
Koh Mak & Koh Kood – Tranquil and low carbon islands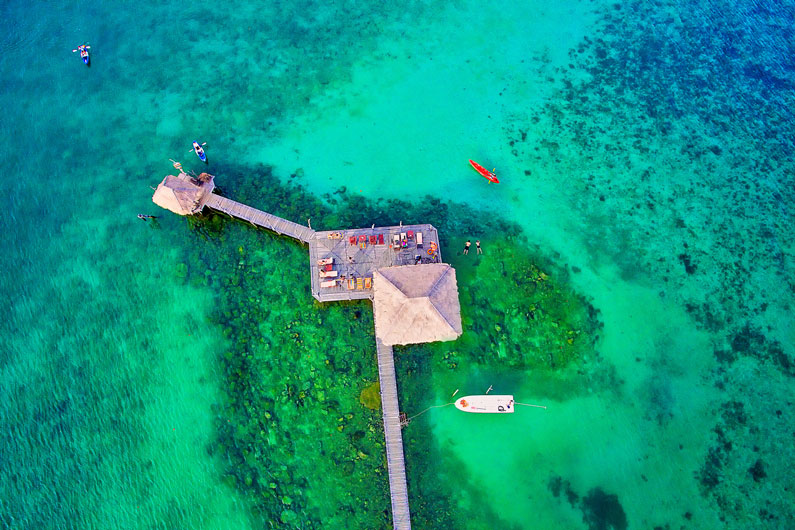 Koh Mak and Kok Kood (Koh Kut) are two off the beaten islands and are located in the southern most of Koh Chang. Koh Kood is the fourth largest island in Thailand. Despite its size, it remains unspoiled and both islands are nowadays known for its low carbon footprint. These two Thai charming and untouched islands are similar in character and that is unbeatable peace and serenity. They are perfect for family, couples and those who want a quiet and relaxing yet easy active outdoor life. The differences are Koh Mak is relatively flat than Koh Kood and easy to explore by scooter and Koh Kood is hilly and more developed yet keeps its secluded tropical paradise.
Activities
Accommodation ranges from beach huts to luxury Thai style resorts can be found on both islands. You can easily enjoy the beaches just by yourself. On Koh Kood you can trek to a waterfall. Both islands offer variety activities from lazy days on the beach to snorkeling, diving, sea kayaking and enjoy boat trips to nearby islands. Koh Kham, Koh Kradat and Koh Rayang are worth visiting for a day trip. Snorkelling and diving around Koh Rang can be one of your favourite travel memories.