How many national parks in Thailand have you been to? There are far more unexpected and gorgeous things to experience than many would believe. The world's oldest evergreen rainforest Khao Sok, the top class reefs and diving sites around the Similan Islands and the abundant wildlife in Khao Yai are just examples on the incredible diversity of the amazing national parks across Thailand.
Khao Sok National Park
Where nature meets adventure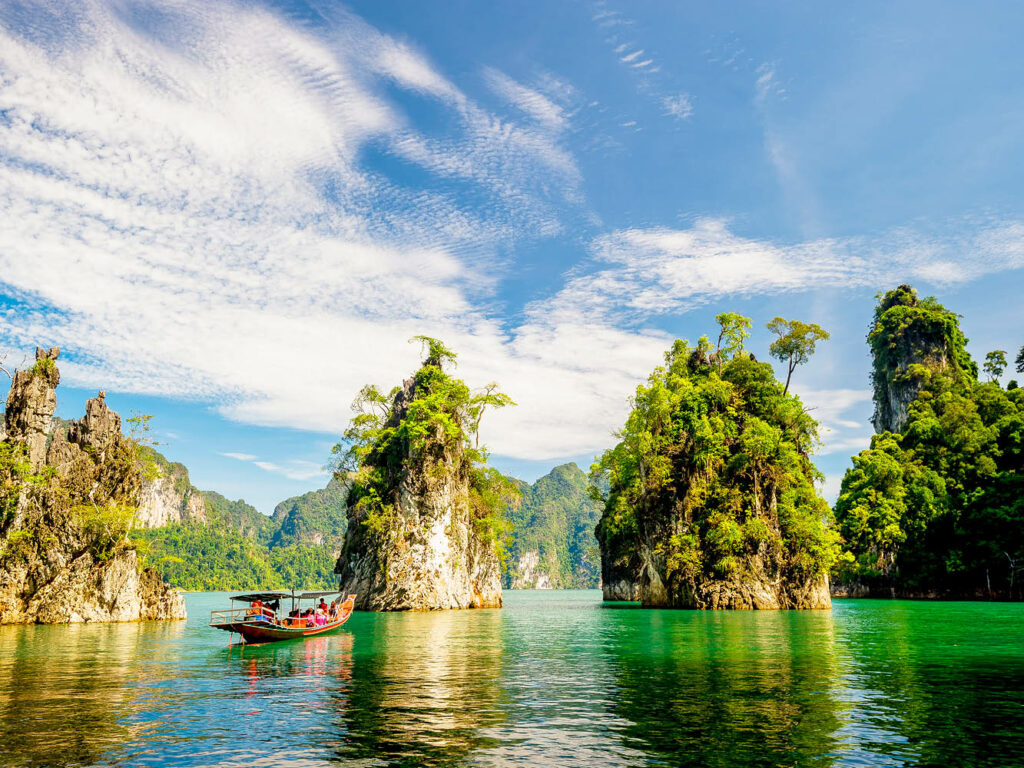 The dramatic sceneries of Khao Sok surrounded by limestone cliffs and dense rainforest have to be seen with one's own eyes to be truly appreciated. Khao Sok Lake, locally known as Cheow Larn Lake, is a stunning. It is located between Phuket, Krabi, Khao Lak and Koh Samui, in the south of Thailand. Here you can find the most unique floating hotels amid the lake and the dense of the rainforest.
The forest in Khao Sok is among the oldest rainforests in the world. It is home to hundreds of animal species including Malayan sun bears, Clouded Leopards and wild elephants. The large animals can be seen most easily by the lakeshores during the sunsuet or sunrise. During sunny weather they tend to hide in the deep forest.
Here the ecotourism plays a key role in protecting the stunning nature. A lot of visitors come to Khao Sok just to marvel the beauty of the nature, but you can also take part in some of the various activities from wild elephants encounter, jungle trekking, canoeing or boat tours.
Similan Islands Marine National Park
Stunning diving spot in the Andaman Sea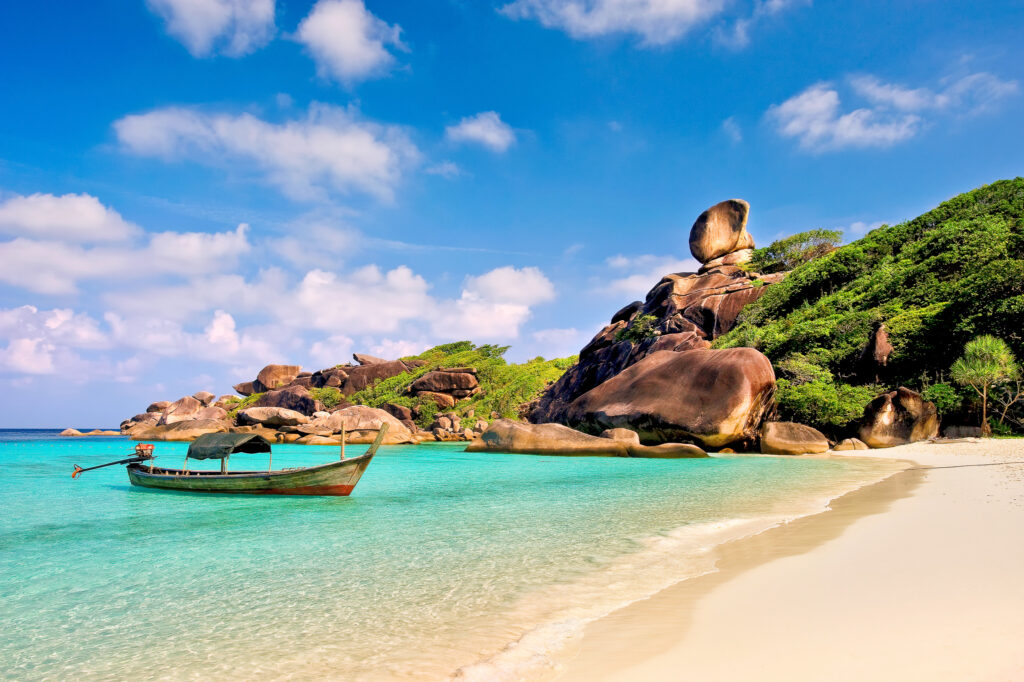 Similan Islands are an archipelago of 11 islands in the Andaman Sea, Offshore from Khao Lak. With a rich marine life, amazing coral reefs, crystal clear waters and white beaches, Similan Islands are one of the best diving sites in the world. The main characteristics of the islands are the rock formations which consist of huge boulders, shallow waters and dense tropical forests.
Diving and snorkelling are the main activities in Similan Islands. The best time for diving and snorkelling is around December to April when wind is minimal and the average water temperature is around 29 °C. The waters are clear, making it the best time for scuba diving and snorkelling. Here you might spot whale sharks and manta rays which are very rare. They occasionally show up, typically around March – April.
The Similans are open from October 15 to May 15. Time varies each year so always check before planning a day out there.
Ang Thong National Marine Park
The most beautiful snorkelling spot in the Gulf of Thailand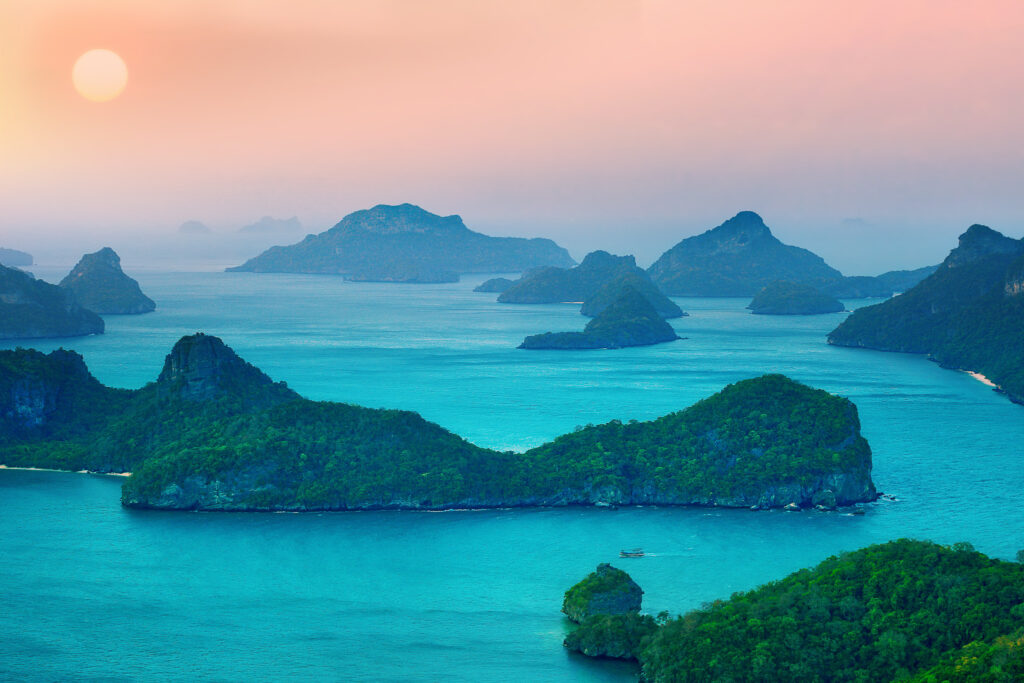 Mu Koh Ang Thong National Park is an archipelago of 42 islands, outside the Surat Thai Province east of Koh Samui in the Gulf of Thailand.
Inspired by the novel "The Beach" by Alex Garland, Ang Thong became one of the prime destinations. While the beach scenes from the movie were filmed on Phi Phi Islands in Krabi, some of the film sequences were filmed in Ang Thong Islands.
The islands and the waters around are a popular destination for day-trips from the nearby islands for snorkelling, canoeing/kayaking, enjoying the beaches, hiking and more. There are many tour companies offering both group and private tours to the islands. There are no canoes/kayaks to rent, they must be arranged via a tour operator.
A few diving sites on the northern islands are perfect for snorkeling. Diving on one of the coral gardens may give an opportunity to see marine species like green sea turtles, hawksbill sea turtles and yellow-spotted trevallies. Best time for diving is February to October with best visibility around March to April.
Khao Yai National Park
Abundant wildlife spot near Bangkok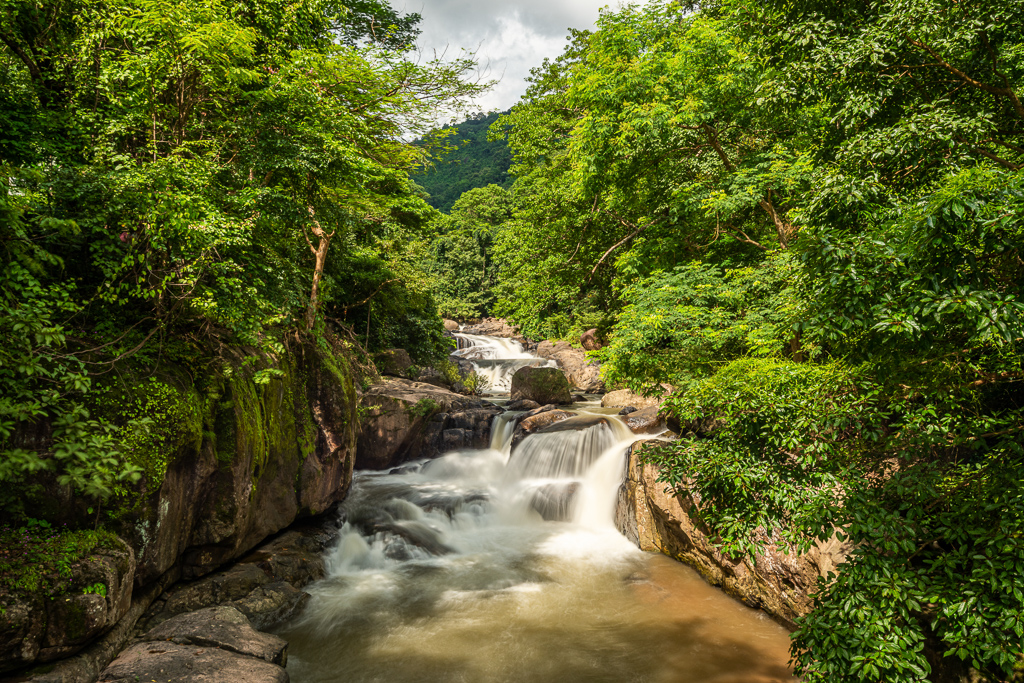 Khao Yai is relatively close to Bangkok and it gains a great popularity among Thai visitors. Here it is relatively easy to see some impressive wild animals.
Established in 1962 as Thailand's first national park, it is the third largest national park in Thailand.
Visitors who want to explore the park on their own should be aware that it is not possible to walk longer trails without a guide. It is for a good reason; easy to get lost because this is a wild jungle with wild animals. There are only a couple of trails that the tourists are allowed to walk freely; one is about 800 meters long circular trail behind the visitor center, the other is a recently opened Thai-American Friendship Trail not too far from the visitor center.
Khao Yai is famous for its waterfalls, like the 80 meter high Heo Narok and the grand Heo Suwat, which appear in the movie The Beach. The animal life here is very rich. ABout 320 species are spot in this national park, ranging from elephants, black bear, wild boar, gibbon monkeys, gaur (the largest wild ox in Asia) to an unknown number very rare tigers.
Tarutao National Marine Park
Tropical islands hideaway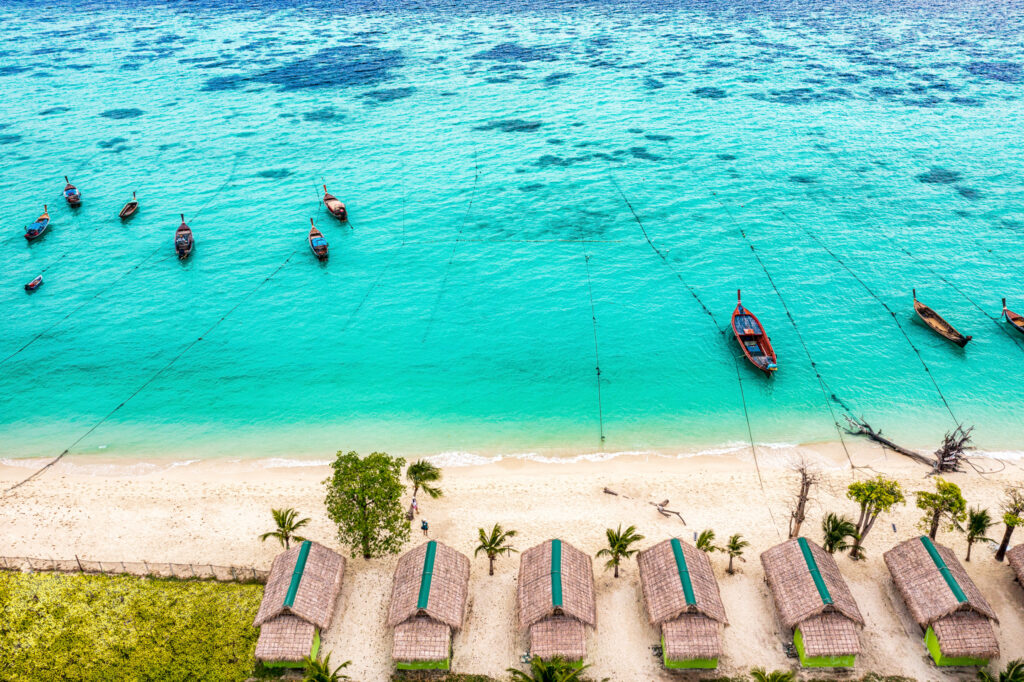 The archipelago of Tarutao lies in the southernmost part of Thailand, just next to the border to Malaysia. The park consists of 51 islands within two groups; Tarutao Group to the east and Adang-Rawi Group to the west.
Most of the islands are uninhabited, but there are some exceptions. It is perfect if you're seeking a tropical island hideaway with empty beaches and don't need nightlife or fancy restaurants. On the other hand, if you prefer your holiday to come with more comforts, Koh Lipe may fit your need. And for somewhere that falls between the two, Koh Bulon and Koh Adang are both worth considering.
Koh Tarutao
Malaria is no longer an issue for visitors to Koh Tarutao. There are wide ranges of animals. Expect to see macaques, monitor lizards, wild boars and sea eagles. Koh Tarutao is a protected island and there are no hotels, guest-houses or 7-Elevens here. Instead, it is the National Park headquarters which is at the hub of island life and where you can arrange basic accommodation.
On Tarutao, walk the 20-minute trail to the viewpoint on top of Tob-boo cliff or arrange to go with a ranger and hike some of the more demanding trails on the island and take in the waterfalls at Lu Do and Lu Pu.
Koh Lipe
A one hour speedboat ride away from Koh Tarutao brings you to the turquoise waters and dazzling white sands of Koh Lipe. Unlike Koh Tarutao and other islands in the national park, there are a lot of tourist facilities on Koh Lipe with plenty of hotels, beach bungalows, cafés and restaurants.
Koh Adang
Koh Tarutao and Koh Adang share a number of similarities. The two islands are now protected areas and the only choice of accommodation is in the form of National Park bungalows or tents. However, whereas Koh Tarutao feels remote, Koh Adang is just a short distance over the water from Koh Lipe. This means you can enjoy the quiet life, but still have the option of making a ten-minute longtail boat ride to take advantage of the range of tourist facilities available on Koh Lipe.
Enjoy the walking trails on Koh Adang, especially the one that takes you up to a series of viewpoints on Chado Cliff. It takes some effort to walk up the steps and clamber over the rocks to get there, but the views looking out over the Andaman Sea to Ko Lipe are sublime
Koh Bulon Ley
Koh Bulon Ley is inhabited by a small Chao Ley community. If Koh Lipe seems too developed for your taste and Koh Tarutao too remote, you may find Koh Bulon ideal. There isn't a huge amount to do here and that is the precise reason why Koh Bulon appeals to those seeking a relaxing holiday on a tropical island.