Text & Photo : Stefan Christensen
Far up in the northeast of Thailand, at the south end of the Luang Prabang mountain range, lies a small town called Dan Sai. This dusty little town is home to one of Thailand's most interesting festivals – the Phi Ta Khon Festival.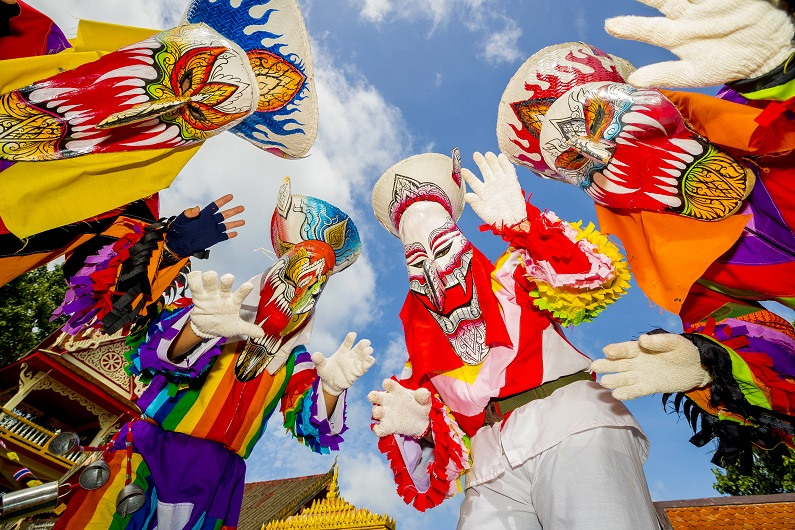 Like Halloween – But Not
Phi Ta Khon literally translates "ghosts who have eyes". It is basically a festival where the dead come alive – much like Halloween, but without the outrageous commercialization promoting tons of merchandise. It is held yearly in the sleepy little village of Dan Sai, in the northeastern Loei Province, on the first weekend after the sixth full moon. Easy enough, right?
Well, it is easier now than years ago when the village elders had to assemble and figure out the most auspicious dates to hold the festival. Now it's a three day festival starting on a Friday and ending on a Sunday, the weekend after the sixth full moon of the year. Got that?
Colors and Dancing
On Friday villagers dress up in colorful costumes with matching, likewise colorful, full-face masks and take part in a parade that proceeds through the streets of the town, ending at the temple grounds of Wat Phon Chai.
On Saturday there is a smaller parade with the temple ground still being the focal point. Here, one can participate in or witness many events among which is one where the elders set off a huge amount of small rockets. Attached are small tokens that drift through the air. As with all Thai festivals nobody needs to go hungry; there are abundant food stalls and outlets around the festival grounds. Literally, one is never more than 20 meters from a snack or meal.
Sunday, the final day of the festival, the main activity occurs at the two local temples Wat Phon Chai and Wat Prathat Song Rak. Here the town residents come to leave offerings. There are dances and a variety of stage performances. If your costume was not pre-prepared, you can even learn how to make your own "Phi Ta Khon" mask from a bamboo cone used for cooking sticky rice.
Thailand – Like it Used to Be
Dan Sai is one of those places that tourists seldom visit. Bordering Laos, basically halfway between Chiang Mai and Udon Thani, it is located outside of the standard north to south tourist trail. This is a great thing if you want to experience something new and different, something off the beaten track. This is an opportunity to witness authentic, traditional Thai life as opposed to "made for tourists".
There are quite a few places to stay within and outside of the town; most are small and simple. There are no chain hotels here. The money that you spend actually stays in the village, a win-win situation for visitors and guests.
So, have you figured it all out yet? Intrigued?
Phi Ta Khon festival in Dan Sai is held annually in June. (2021 – TBA).