Just a 45-minute drive from Udon Thani in Thailand's Isan Region, Han Kumphawapi, or Pink Lotus Lake, is an attraction that according to CNN Traveler ranks in the top 15 most unique lakes worldwide. This is a list that includes such anomalies as the Dead Sea on the borders of Jordan, Israeland the West Bank.

Named Pink Lotus Lake because one can slip into a veritable sea of beautiful pink water lilies, this unique attraction is also called Nong Han Lake. The optimal time to experience this stunning phenomenon is between October when the lilies begin to bloom and march when the lilies begin to fade. This sight is not to be missed if one is traveling to Northeastern Thailand's Udon Thani area.

Traveling to Pink Lotus Lake is relatively easy by direct flight to either Udon Thani or Khon Kaen from resort areas in southern Thailand, such as Phuket, or from the capital Bangkok. Trains from the above and other tourist's areas also are available. These will stop for debarkation at Kumphawapi Station from which it is a 20-minute journey to Pink Lotus
Lake. The best time to visit the lake is in the morning before it gets too hot; a 45-minute boat ride around the lake costs 100 baht.

Typical to Thailand, there are many places around the lake to grab a snack or an entire meal. There also is a play park complete with a bouncy castle for the children, and a handful of genuine cafes. If visiting on a weekend, several local villages will be holding market days. Can you get a bargain? Also, within the scope of a visit to Udon Thani is the Natural History Park, Phu Phra Bat. This archaeological site is a must for those interested in ancient ruins and prehistory. And one would be amiss to not mention the plethora of beautiful temples in the area.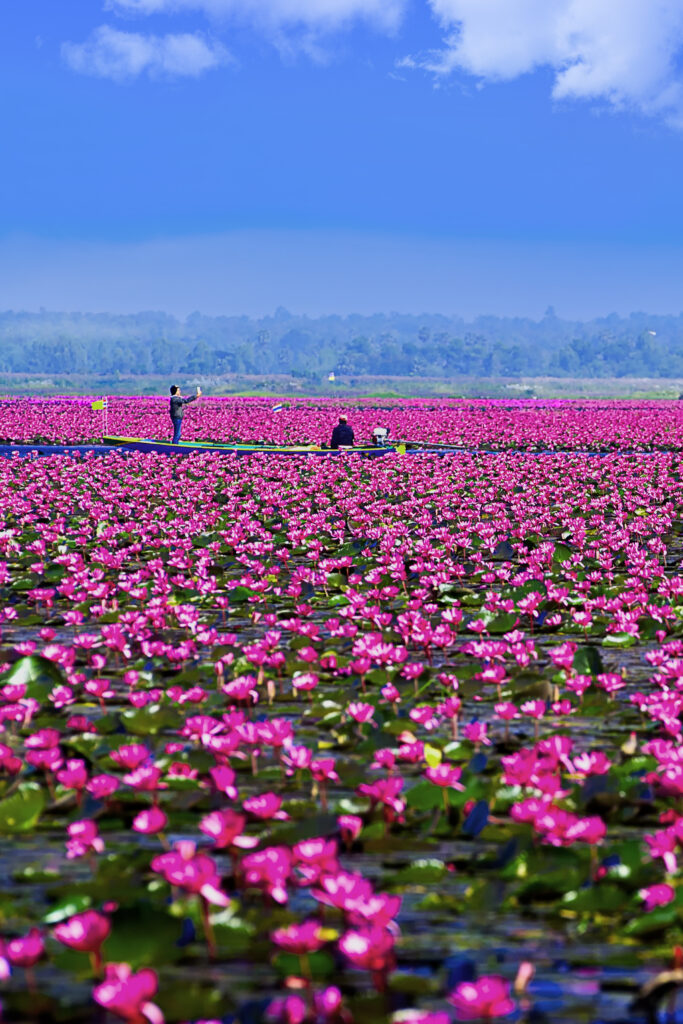 The most populous region of Thailand, the Isan Region is a collective term for Thailand's northeastern provinces. It is mostly agricultural with the dominant crop being rice. People from the Isan Region work throughout the country, mostly in tourism and hospitality. Rarely will one stay in a hotel in Thailand without being taken care of in some capacity by a person from Isan. They are kind, industrious and hardworking individuals. This internal diaspora may change as Isan becomes more developed and more a a tourist destination.
Isan is definitely a place to visit NOW for the Pink Lotus Lake, the Phu Phra Bat Historical Park, the food, the culture and the people.
Credit: Stefan Christensen, Editor in chief Destination Asien