Most of us realize the truth of the saying "Family time is quality time." Indeed, spending time with your loved ones often leads to the most cherished memories of one's life. And what better way to create memories together than to travel? Certainly, you will develop a stronger bond and grow to appreciate one another even more.
Thailand is among the most popular destinations for family vacations. This is due to the variety of family-friendly activities, ranging from adventure recreation to cultural tourism. In addition, many tourist destinations in Thailand feature universal designs, making them accessible to individuals with a wide variety of abilities and disabilities.
We have compiled a guide to help families traveling to Thailand enjoy their time together to the fullest. The guide included destinations and activities in Bangkok and the surrounding provinces.
Discover Bangkok Noi: Riverside Retreat and Thai Cultural Heritage in Baan Bu Community
Located in the historic preservation area of Thon Buri, Bangkok Noi is an ancient neighborhood along the Chao Phraya River where you can find a number of culturally significant landmarks, including Wat Rakhang, Royal Barges National Museum, and a number of old communities and local markets. The highlights of your visit to Bangkok Noi will be learning about the neighborhood's rich history and culture as well as sampling the delectable local cuisine.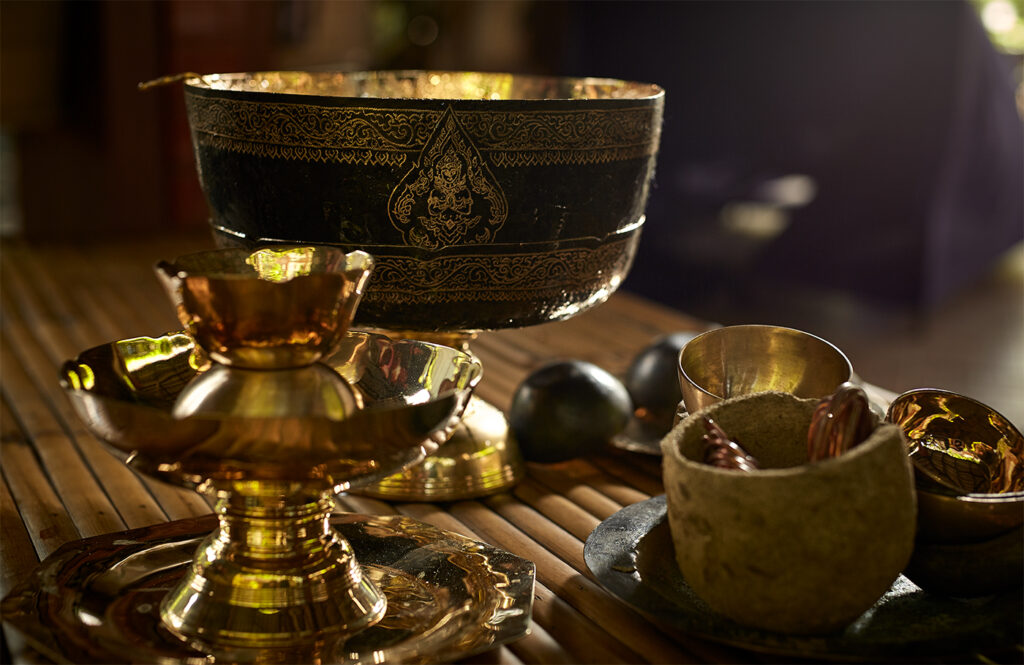 Activity Highlights
Learn how to make Khan Long Hin bronze containers in the Baan Bu community, the only place in Thailand that still employs an ancient technique dating back to the early Rattanakosin period.
See beautiful steam trains at Thonburi Locomotive Depot. Then, pay a visit to Wat Suwannaram Ratchaworawihan and appreciate the intricate mural on the temple's walls, which has been described as "an exquisite gem of Thai paintings."
Have a lunch break at Talad Rai Khan, a community market whose history dates back more than one hundred years ago. Sample many traditional dishes and rare food items while learning about the unique techniques used to build the market structure whereby neither beams nor central pillars were used to secure the roof.
Take lunch at Talad Rai Khan, a community market with a legacy dating back more than a century. Indulge in a variety of traditional dishes and rare delicacies while learning about the novel techniques used to secure the roof of the market structure, which was constructed without beams or central pillars.
Enjoy a restful stay at one of the riverside hotels in the area, where you can admire the view of traditional wooden houses along the river. Our recommended accommodations include Chann Bangkok Noi, Riva Surya Bangkok Hotel, and SCENE Bangkoknoi Hotel.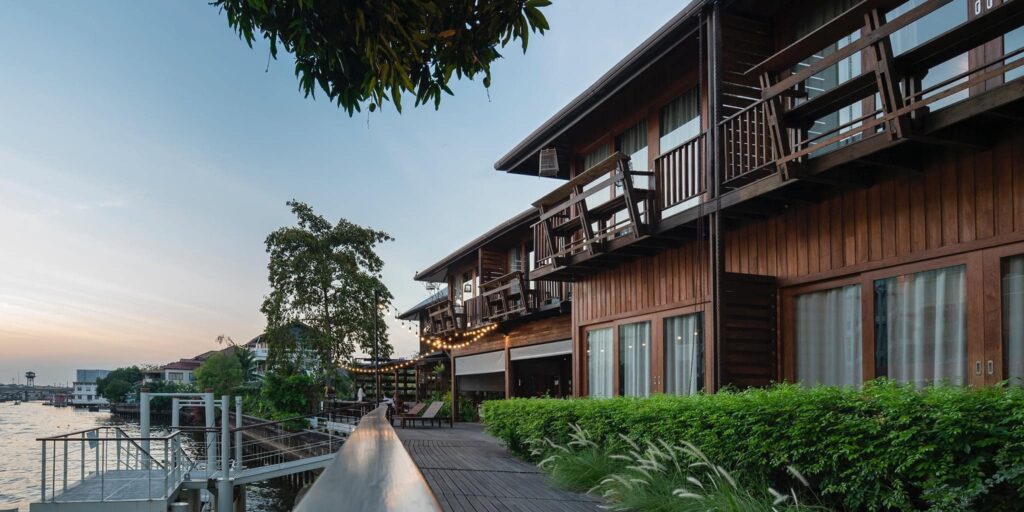 How to Get There and the Best Time to Visit    
Take a BTS sky train to Saphan Taksin station. Then take a Chao Phraya speed boat to Siriraj Pier (also known as Prannok Pier or Wang Lang Pier). The boat operates from 6:00 am to 8:00 pm, and the fee is 16-40 Baht. Then take a taxi to Baan Bu community in Soi Charan Sanit Wong 32, Siri Rat, Bangkok Noi, Bangkok. The taxi meter starts at 35 Baht.
The Bangkok Noi area is accessible year-round. Two days and one night are recommended to thoroughly experience life along the Chao Phraya River.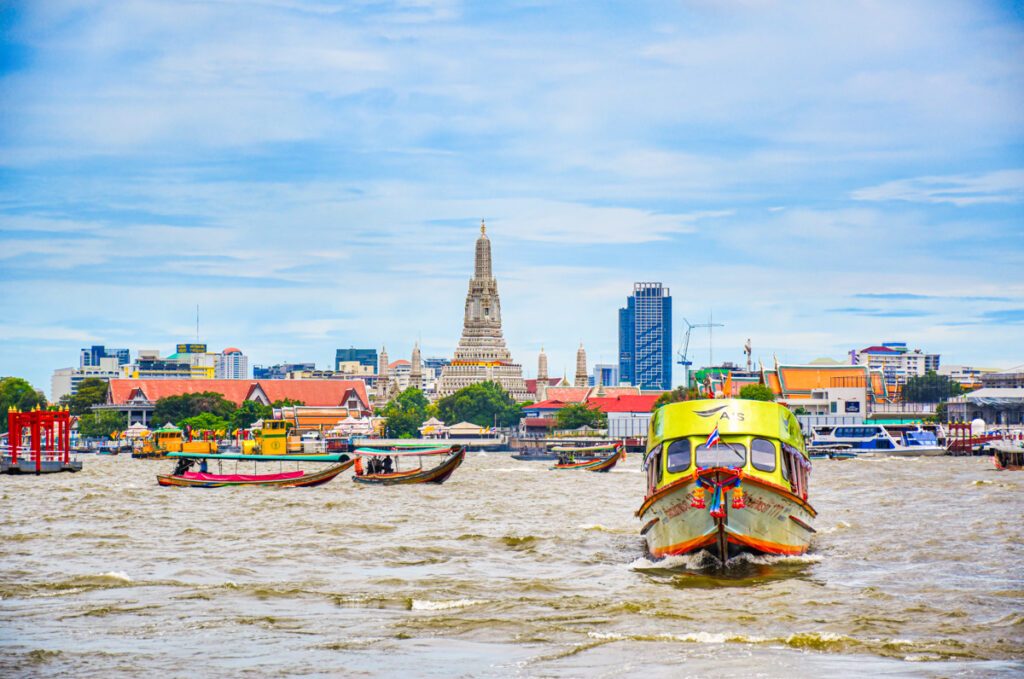 Life Along the Water: Visit three picturesque waterside communities
Numerous civilizations originated in river basins or near the coast. In Thailand, it is typical for communities to be situated close to a water source, which facilitates travel and commerce. Apart from the communities along the Chao Phraya River, there are three more waterside destinations we recommend as part of your vacation in Thailand.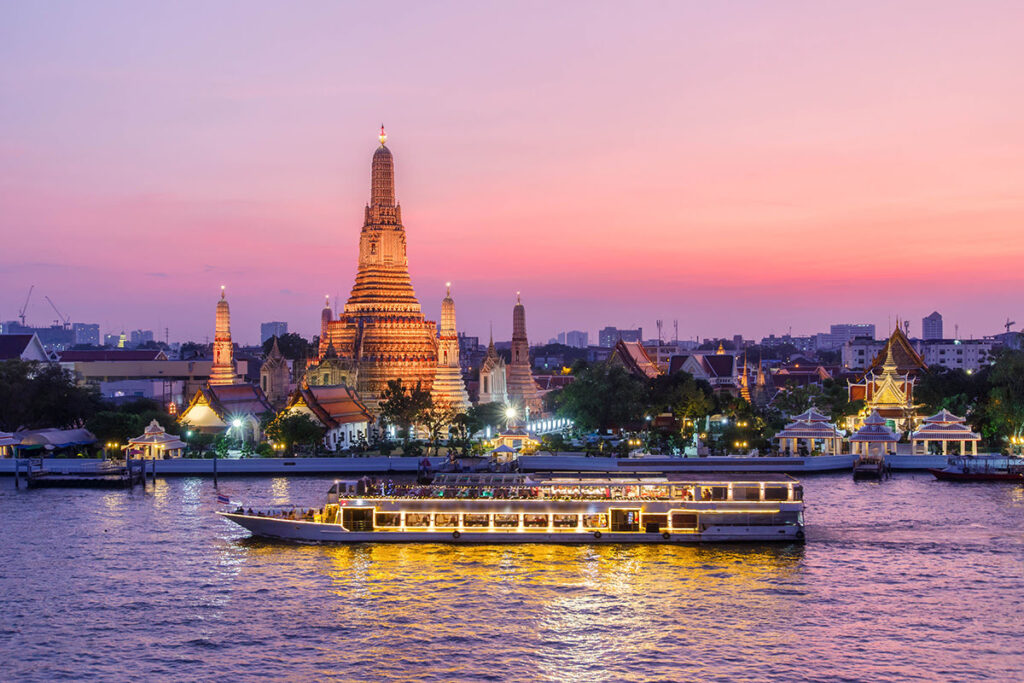 Observe Life Along the Sakae Krang River in Uthai Thani Province by Longtail Boat
The floating community along the Sakae Krang River consists of over one hundred floating houses with a total population of over three hundred people. This is the last and the largest floating community in Thailand where locals make a living by fishing and keeping fish in floating baskets, a centuries-old tradition handed down through generations. The Sakae Krang River is the lifeblood of the Uthai Thani people and is teeming with freshwater fish, particularly gigantic gourami.
Activity Highlights
Take a boat tour: see floating communities along the river and attend Sepa Hae Rua, a traditional performance in which locals sing rhythmic barge-rowing songs.
Visit Wat Uposatharam, a temple constructed during the early Rattanakosin period on the banks of the Sakae Krang River. Admire the temple's exquisite architecture.
Learn how to row boats and enjoy a swim using a life vest made from bamboo.
Get up early and visit nearby markets. Sample local cuisine prepared with freshly captured fish and shellfish from the Sakae Krang River, such as giant gouramies and river prawns.
Visit Ko Thepho: a riverside agricultural region endowed with fertile soil and fresh air. Here are cultivated many of the local vegetables and fruits, including the renowned Khao Taeng Kwa pomelo.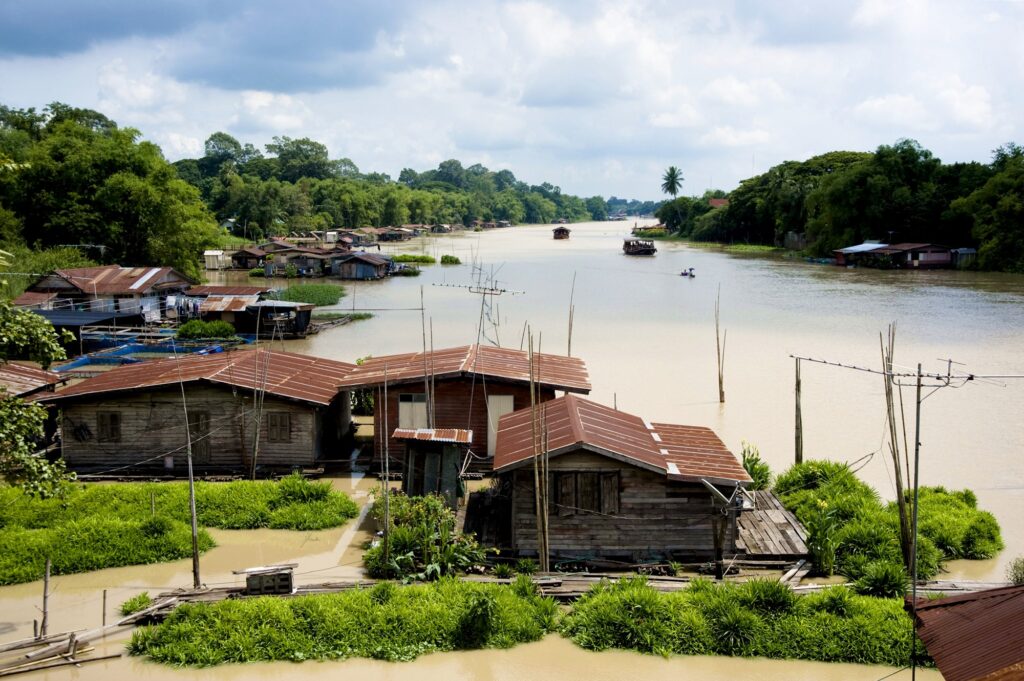 How to Get There and the Best Time to Visit    
Drive or take public transport from Bangkok to The Sakae Krang River in Muang District, Uthai Thani province. The journey takes approximately three hours.
You can visit the floating community throughout the entire year. The boat excursion lasts approximately one hour. We recommend visiting between December and February when Sakae trees and bushwillows along the river are in blossom. Spend two days and one night soaking up the simple yet memorable atmosphere of Thai riverside life.
Thai Gondola Cruise: The Best Way to Visit Mangrove Forests and Fishing Villages in Koh Chang, Trat Province
Rich in natural resources, Koh Chang in Trat province is one of the most stunning islands in Thailand. In addition to its undeniable beauty, this tropical paradise is a low-carbon destination where the natives prioritize community and environmental preservation. One of the must-do activities in Koh Chang is a cruise on a Rua Mad, the local wooden canoe also known as the Thai gondola. Rua Mad is produced by manually hollowing out an entire tree trunk, a craft that is becoming increasingly rare.
Activity Highlights
Explore the Salak Khok community. Get to know the local fishing villages in Koh Chang. Savor delectable seafood freshly prepared by the fishermen.
Take a Rua Mad gondola ride along brackish water canals connecting to the sea. Observe local mangrove forests, which cover more than 100 hectares and are home to marine life including catfish, mullets, and seabass. Observe the breathtaking sunset in a tranquil location.
Walk the nature trail into Salak Phet Mangrove Forest, the largest mangrove area in Koh Chang.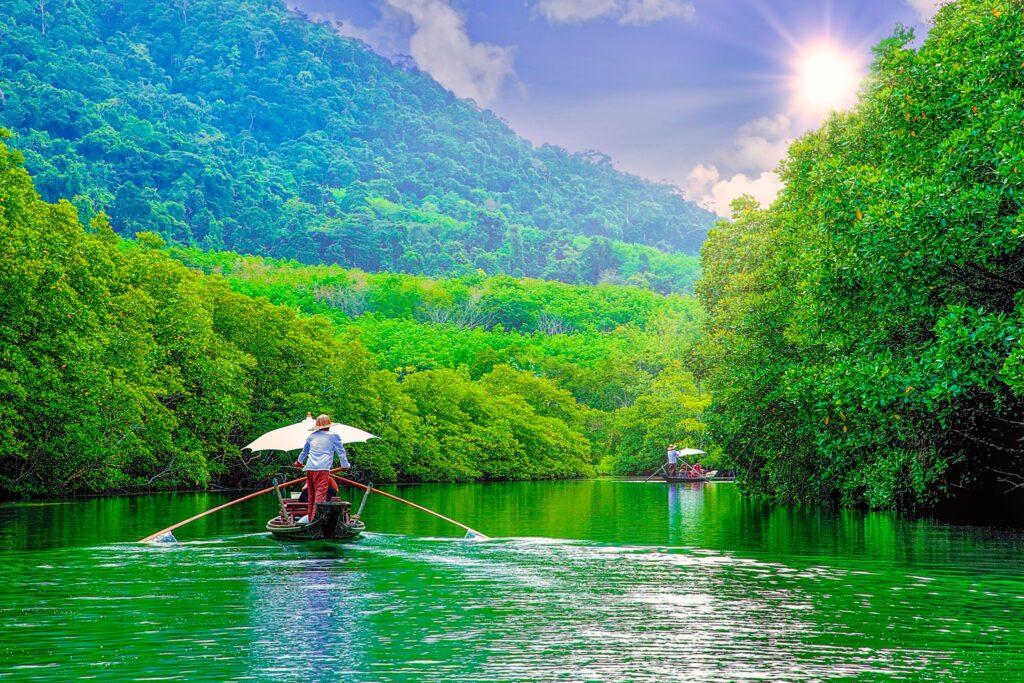 How to Get There and the Best Time to Visit 
Take a flight from Don Mueang International Airport to Trat Province. Alternatively, drive or take public transport from Bangkok to Natural Bay Pier in Khlong Yai, Laem Ngop District, Trat province. The journey takes approximately six hours. The duration of the ferry ride to Koh Chang is 30 minutes.
The best time to travel to Koh Chang is in the summer, from March to July. In addition, we recommend going on a Rua Mad gondola cruise either at dawn or twilight, when the temperature is cooler and you can view the sunrise or sunset. The cruise lasts roughly forty minutes. Three days and two nights on Koh Chang will allow you to experience all of the island's best activities.
The Ultimate Nature Tour: River Rafting, River Swimming, and Bathing with Elephants
Located in Sai Yok National Park in Kanchanaburi, the origin of Kwai Noi and the Kwai Yai Rivers comes from the tropical rainforests deep in the western border between Thailand and Myanmar. This area is the birthplace of "wet rafting" in which you board a bamboo raft that gently floats along the river – a fun adventure that is family-friendly and brings you closer to nature.
Activity Highlights
Go rafting and swimming in the Kwai River. Enjoy the breathtaking views of the surrounding forest, limestone mountains, and sand islands in the middle of the river.
Take a trip to elephant sanctuaries: bathe with elephants in the Kwai Noi River and visit the Longneck Karen village to learn about their distinctive culture.
Explore the history of the Bridge over the River Kwai, which was part of the railway lines built during World War II. It is the most prominent historical site in Kanchanaburi and is regarded as the symbol of peace.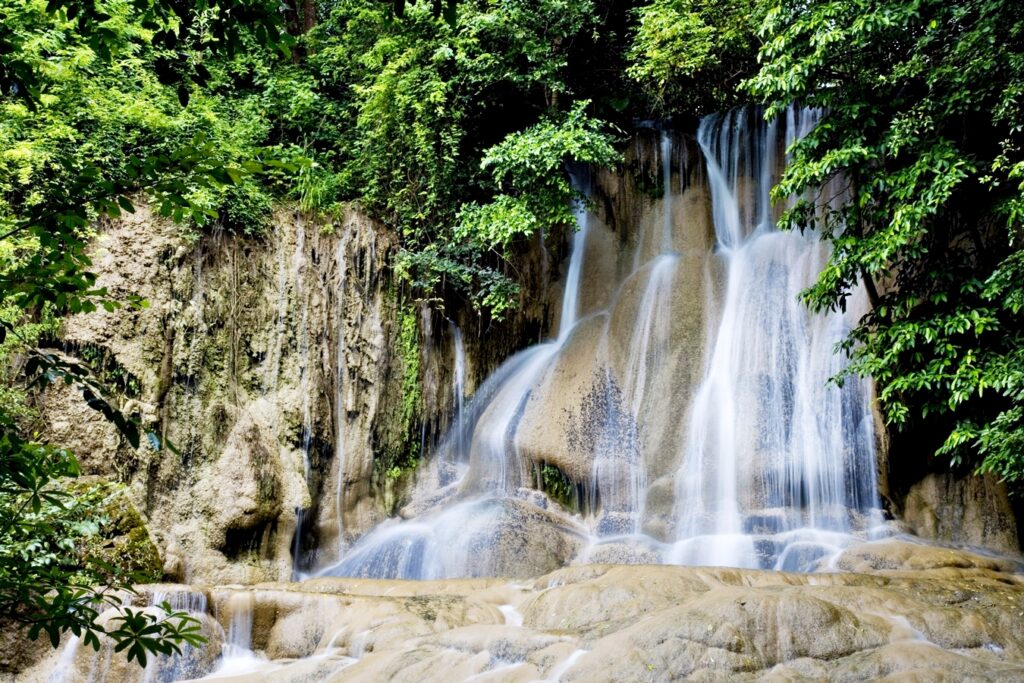 How to Get There and the Best Time to Visit 
Drive or take public transport from Bangkok to the Kwai River, Sai Yok District, Kanchanaburi province. The road trip takes no more than three hours.
The best time to visit is in the summer, from March to July. Plan your stay for 2 days and 1 night to fully relax in nature.
Let Children Learn through Nature
Learning is endless. And traveling as a family is a wonderful opportunity to take your children on adventures that not only provide them with enjoyment, but also help them develop skills such as communication, socialization, and healthy self-expression. Here we recommend a destination near Bangkok that is an excellent learning center for children.
Learn How to Farm, Play with Mud, and Harvest Chicken Eggs at G Farm in Sam Khok, Pathum Thani Province.
G Farm is located on a three-acre plot of land near the Chao Phraya River in the province of Pathum Thani. Intentionally designed as a space for families to learn about farming, it is a wonderful place for children to spend time in nature, which helps develop their imagination and creativity.
Activity Highlights
Take a farm tour. Learn about soil and growing vegetables.
Plant rice seedlings in paddies and play with mud.
Touch creatures such as frogs, fish, earthworms, field crabs, chickens, and baby chicks.
Harvest eggs from chicken coops. Make pickled eggs and take some home.
Have fun playing swings, crossing rope bridges, and visiting treehouses.
Feed tortoises, goats, fish, rabbits, geese, and ducks, among other animals.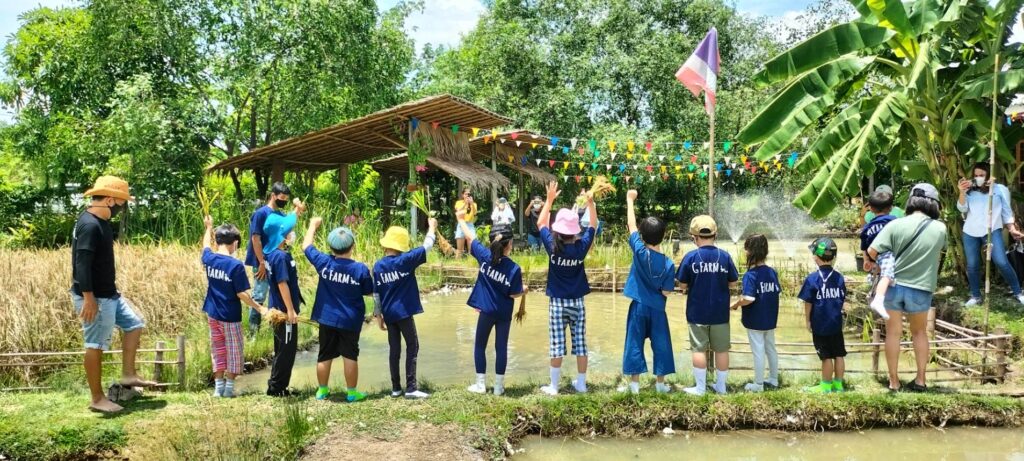 How to Get There and the Best Time to Visit        
Drive or take a taxi from Bangkok to G Farm in Krachaeng, Sam Khok District, Pathum Thani province. The road trip takes about 50 minutes.
You can visit G Farm all year round. The farm is open daily from 9:00 am to 7:00 pm except on Mondays. For more information, please visit https://www.facebook.com/gfarm.samkhok/
Photo Credit: