Chiang Mai has regularly featured in lists of the world's best cities to visit. Thanks to the relaxed atmosphere and the recent development to become an eco-friendly city, Chiang Mai draws backpackers and travellers of all kinds, not to mention golfers, retirees and expats.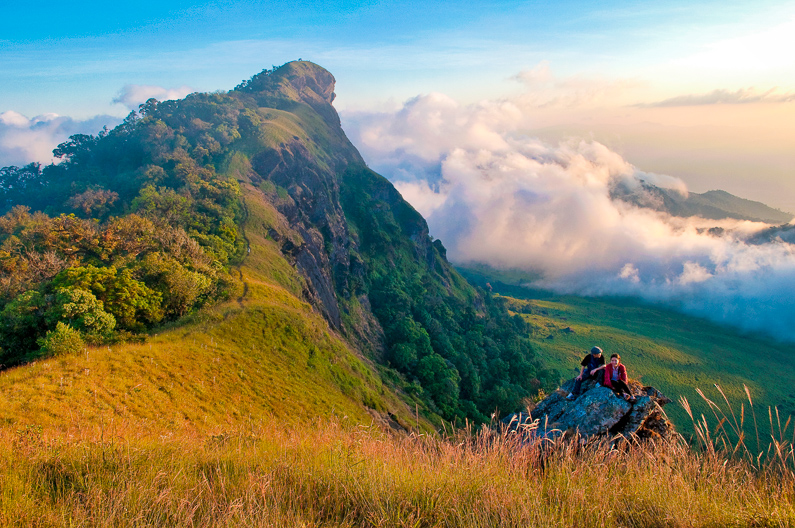 Here is our bucket list to help you plan your next holiday.
Known as the "Rose of the North", Chiang Mai is a modern city with a deep root in its history of more than 700 years old. The city has tastefully adapted to modern life without losing its unique heritage and charm.
Part of the beauty of Chiang Mai is exploring the natural attractions and enjoying the great outdoors. With a vibrant city, forested mountains, winding rivers and idyllic rural landscapes, many of the best things to do in Chiang Mai are easily accessible.
Most importantly, Chiang Mai is a hub for sustainable tourism. For the eco-oriented traveller, this means having a more immersive experience basking in nature, learning about heritage, while helping preserve them.This makes the city and the north the ideal complement to a beach holiday and provides an example of the amazing diversity that Thailand has to offer.
1. Embrace temples wonder
The locals say, 'you haven't seen Chiang Mai until you've seen Doi Suthep', or Wat Phra That Doi Suthep. The temple is one of the holiest temples in the north of Thailand and also one of the most photogenic. It is located on the mountain. And talking of temples, there are countless temples (or Wats in Thai) dotted all around Chiang Mai. Notable ones to visit in the Old Town include Wat Chedi Luang, Wat Phra Singh and Wat Chiang Man.
The most unique temple in Chiang mai is Wat Umong (The Tunnel Temple). It is unique because of its location on the foothills of the dense forests and its system of tunnels. The look is extremely ancient. This is due to the impact of the weather and the ruined, rusty things resulting in the timeless beauty of Wat Umong. Outside the temple grounds, everything is covered with moss colour.
2. Have a Responsible Elephant Experience
Visiting an elephant sanctuary is an activity you should not miss out on while in Chiang Mai. It is an amazing way to interact with these animals, ensuring the interaction is happy and safe for them.
In those early days of elephant tourism, riding was coming. That has changed. There is an increasing movement towards more responsible tourism in Thailand. Among them are an increasing number of responsible and ethical elephant sanctuaries in or near Chiang Mai. They are working towards bringing as many elephants as possible back to their natural habitat. In Chiang Mai, you can visit Patara Elephant Farm, Chang Chill, Elephant Nature Park, Kindred Spirit Elephant Sanctuary.
More details about Elephant Sanctuary in Thailand.
3. Get a massage by a Prison Inmate
The Women's Correctional Institution is the type of a prison that teaches its inmates a variety of vocational skills, including massage. This is to ensure to increase their chances of acquiring a job upon release. Across the street from the prison is the vocational training centre, where you can go and get yourself a massage by an inmate training. Those working in the massage centre are due for release within six months. The money earned from these treatments goes directly to the prisoners for use after their release.
4. Hike Kew Mae Pan Nature Trail, Doi Inthanon
Kew Mae Pan Nature Trail is the most popular trail in Doi Inthanon National Park. The Hmong people maintain and manage the trail. They also work as guides. The trail is clearly marked and easy to find on your own. Taking a guide, however, is compulsory and provides the local Hmong people with some extra income.
You will be trekking through the nature of the evergreen forest over the highest peak of Thailand. The 2.78 km long trail takes you to the beautiful green forest, passing giant Rhododendrons, waterfalls and streams which leads to a cliff where you can enjoy breathtaking mountain views.
Take note that Doi Inthanon National Park is opened all year but Kew Mae Pan Nature Trail is open during the dry season from June November until May.
5. Hike the scenic route at Op Luang National Park
Open to visitors all year-round, Ob Luang is a fascinating place for naturists, geologists, and historians. If you are afraid of heights, you should avoid this. Famous for its tall and narrow canyon, carved out by the Mae Chaem River. The canyon is steep-sided and about 300 metres. The rather high and narrow bridge take you over the raging waters below. This is an incredible experience for family members of all ages.
Following the path upwards to the left, you'll find yourselves in the refreshing forest, traversing near tremendous boulders. The path will take you past a prehistoric burial site and prehistoric rock paintings too.
6. Cycling in Chiang Mai
Cycling is a great way to keep you active and see more of Chiang Mai. To see and discover more of Chiang Mai, take a look at the cycling tours offered by specialist companies with half-day or full day trips to multi day adventures.
For family fun, Chiang mai Family Explorer is a great way to combine cycling with other activities like visiting caves, cooking class, visiting farms, crafts and hot springs. For experienced ones with high cycling skills who look for trails, Chiang Mai Trail Experience, might be a good option. The journey from the edges of bustling Chiang Mai to deep into tribal territory. Push through tight jungle trails through pine forests and spend your nights in tented river camps and remote tribal lodges with fantastic views. For road cycling enthusiasts, you can tailor your route together with the local experts.
7. Golf in Chiang Mai
Chiang Mai is one of Thailand's perfect destinations for a golf holiday. There are plenty of high quality golf courses and most of them are within an hour of the city centre.
Just a short ride from the city of Chiang Mai, you will find yourself in stunning tropical forest, gushing waterfalls, bubbling hot springs and small, rural villages. It has a more calm and laid back atmosphere than other regions of Thailand. An elevation of more than 300 metres, surrounded by mountains and lush countryside, the golf courses around Chiang Mai are very picturesque.
Best time to visit is during the dry season between November and April and the best time is between November to February. If you are visiting Chiang Mai to play golf between December and January, you may want to bring some extra clothing early in the morning and in the evening, as the temperatures can be much cooler than you would expect.
More details about golf in Chiang Mai
8. Art & Craft
Chiang Mai is famous for its unique artisanal arts and crafts. It has a rich history of artisanal traditions that have developed over hundreds of years. Today these traditions using local materials and indigenous craftsmanship are utilising modern technology and knowledge of world's trends to bridge the gap between old and new.
The ceramic studio Prempracha, located on the old Chiang Mai-Sankamphaeng Road, produces a wide range of both modern and traditional ceramics. While visiting the gallery, you can watch how the staff mould, paint and glaze ceramics by hands.
Thailand Creative Design Centre (TCDC) is Thailand's leading body when it comes to showcasing the nation's best art and design. The Chiang Mai branch was their first regional resource center. It reaches out to entrepreneurs, designers, students, offering them the knowledge and tools toturn original, innovative ideas into reach economic returns. It has vibrant atmosphere and modern design, housing over 9,000 volumes of design publications, 80 periodicals, 1,000 items of design resources in multimedia formats.
Maiiam Contemporary Art Museum features an outstanding private collection of art. The 3,000 square metre museum is home to over 200 pieces of art — paintings, sculptures and multi-media — from the Beurdeley–Bunnag family collection. Maiiam became the first art museum in Thailand to be awarded the Best New Museum of Asia Pacific — often known as the 'Oscar of the museum industry'. For those into architectural design, the front wall is an amazing sight, made up of thousands of mirrors reflecting the blue skies and green tree lines in front of it.
9. Eat Khao Soi
Chiang Mai is a delight for foodies. Whichever area of the city you are staying, you won't have to venture too far to find local favourites such as khao soi, the signature dish of Chiang Mai and the region. This creamy curry broth combines soft and crispy noodles with a choice of chicken, beef or pork. Wash it down with a glass of iced lemon tea for the quintessential Chiang Mai lunchtime dish. You'll find khao soi served at various locations around Chiang Mai. Head to Khao Soi Khun Yai stall (Grandma's Khoa Soi) near the Chang Phueak area. But it can be notoriously tricky to find if you walk past too fast; located between the temples Wat Rajamontean and Wat Khuan Khama. You get a bowl of curry noodles and a side plate with the normal garnishing of pickled mustard green, chopped red onions, lime and roasted chilli flakes.