Story by Aleenta
Two and a half hours south of Bangkok is the lovely Hua Hin district, a popular family destination with myriad activities and attractions everyone in the family can enjoy.
Hua Hin is a beach resort town and is focused on food, fun, and relaxing family-oriented attractions. Take a foodie tour to sample all the native delicacies. Splash around at the Black Mountain Water Park. Stroll through the Cicada Market for a shopping experience unlike any other. The possibilities are endless.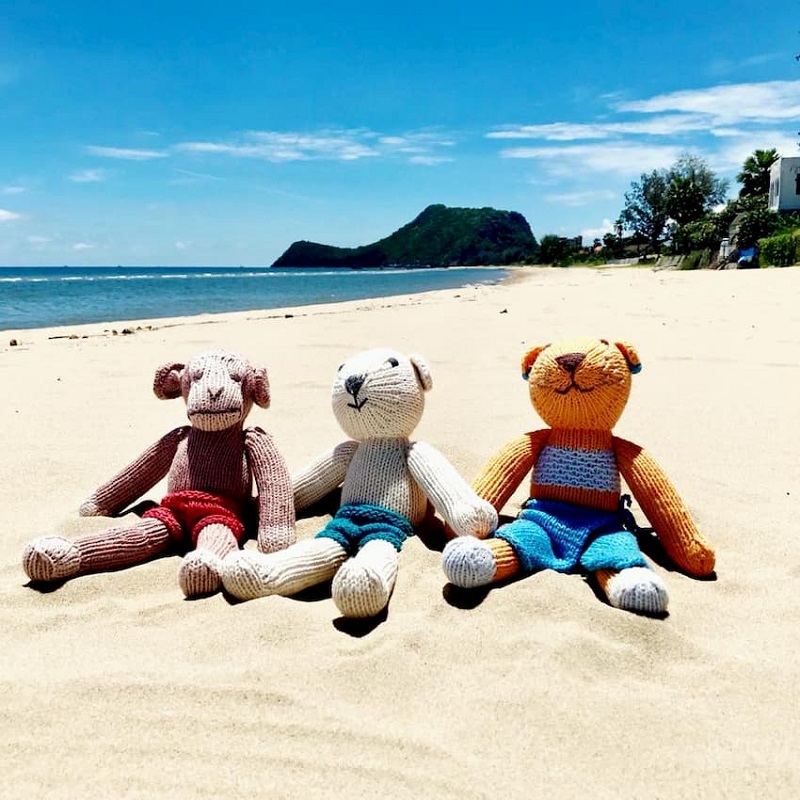 FUN THINGS FOR KIDS
1. Hua Hin Beach
This gorgeous beach is exceptionally clean too, making it a great choice for a day with the kids. Swim the day away in the warm blue waters. The water is shallow with sand bars throughout.
If you prefer, walk along the vast stretch of beach and stop at one of the cozy stands for a cold drink and snack. Splash in the tide and examine the shells and tiny particles in the water.
Read more: Best Beaches in Hua Hin
2. Amphawa Floating Market
Approximately an hour from Hua Hin is the Amphawa Floating Market. Take a small wooden boat along the river in the Samut Songkhram Province. Shop for souvenirs, local dishes, clothes, and toys from the floating vendors. Walk along the canal for more shopping and visit the petting zoo.
Children delight in the boat ride and the many candies, desserts, and sweets along the way. A visit to the mini zoo gets them a close up look at deer, ostriches, boars, goats, and peacocks. It is a wonderful photo opportunity amid the gorgeous flora and fauna.
When dusk arrives, it brings with it a cascade of fireflies that brighten the canal with their flickering lights. Children are awed at the fantasy twinkling effect. You can find a day tour from your Hua Hin resort whenever you're ready.
3. Black Mountain Water Park
What kid can resist a water park? Black Mountain Water Park has 55 feet slides, a wave pool, a river, a children's pool, and the biggest wave in Thailand. Ride a wave board, slide down all nine of the slides, and do a few laps in the pools. No matter how your family likes to get wet you can do it here.
The wake park is a fun experience for bigger kids. There is a golf course too for the families that play together.
4. Hatsadin Elephant Foundation
At this foundation, guests can walk alongside an elephant and feed it. Families can touch and talk with an Asian elephant and experience its majesty first-hand. You can even shower the elephant when your visit is over.
There are also educational activities if your little one is afraid of being too near the animals. If you're the adventurous sort you can buy a 20-minute bareback ride and a basket of fruit to feed it afterwards.
5. For Arts Sake 4D Museum
This museum that lets you be part of the art is as fun for adults as it is children. It's OK for kids to not only touch the exhibits here but step inside and be part of them. The large two-level facility is divided into several interest zones suitable for various age groups.
Each art exhibit is suitable for photos. You will go home with pictures of your family in a chilly winter snow globe and reaching for the mouth of a giant gumball machine. Use the photo of your children as boxed Christmas dolls as a holiday card. Your friends back home will be astonished at a photo of you barely escaping the jaws of a Great White shark. The fun here is endless.
6. Khao Luang Cave Tour
Inside this huge natural cave, you will find a huge Buddha sculpture and many smaller statuettes throughout. The light shines through the rock exterior giving the place an even more ethereal ambience. The golden Buddhas, cast by order of King Chulalongkorn, shine in the dappled sunlight and make extraordinary picture opportunities.
Visitors come to this quiet and serene cave to pay respect to the Buddha with candles and incense. It is a perfect chance to admire the beauty of a culture while learning something new.
7. Swiss Sheep Farm
Children are always enraptured by animals. This scenic attraction features a windmill, green meadows, milk churns, sheep and other farm animals. Children can pet the sheep and ride a pony. Interact with goats, chickens, horses, rabbits, alpaca, and even fish.
Kids learn how a farm works and how animals contribute to society. There are quick lessons in milk and butter churning as well. You can easily spend an entire day here.
8. Monkey Mountain
Another fun animal adventure is a trip to Monkey Mountain. This mountain is known for its many monkeys and the giant shining statue of Buddha visible from Hua Hin Beach. At the top of the mountain is Wat Khao Lad temple. It is known as the monkey temple for the hundreds of monkeys that live there.
Visitors can get to the top by road via tuk-tuk, a taxi cab, or ride a bike. A more picturesque way to the top is to take the stairs. The trip up offers many stunning views of Hua Hin. There is also a Chinese temple with ancient Chinese paintings. This trip is a unique way to enjoy nature and learn about the culture and environment together.
Hua Hin is an amazing place for children to explore. The many attractions offer both entertainment and education. Whether it's frolicking on the beach or becoming a piece of art or even walking with the elephants, there is something that every child can enjoy in this serene and beautiful province of Thailand.
Read more ALEENTA HUA HIN