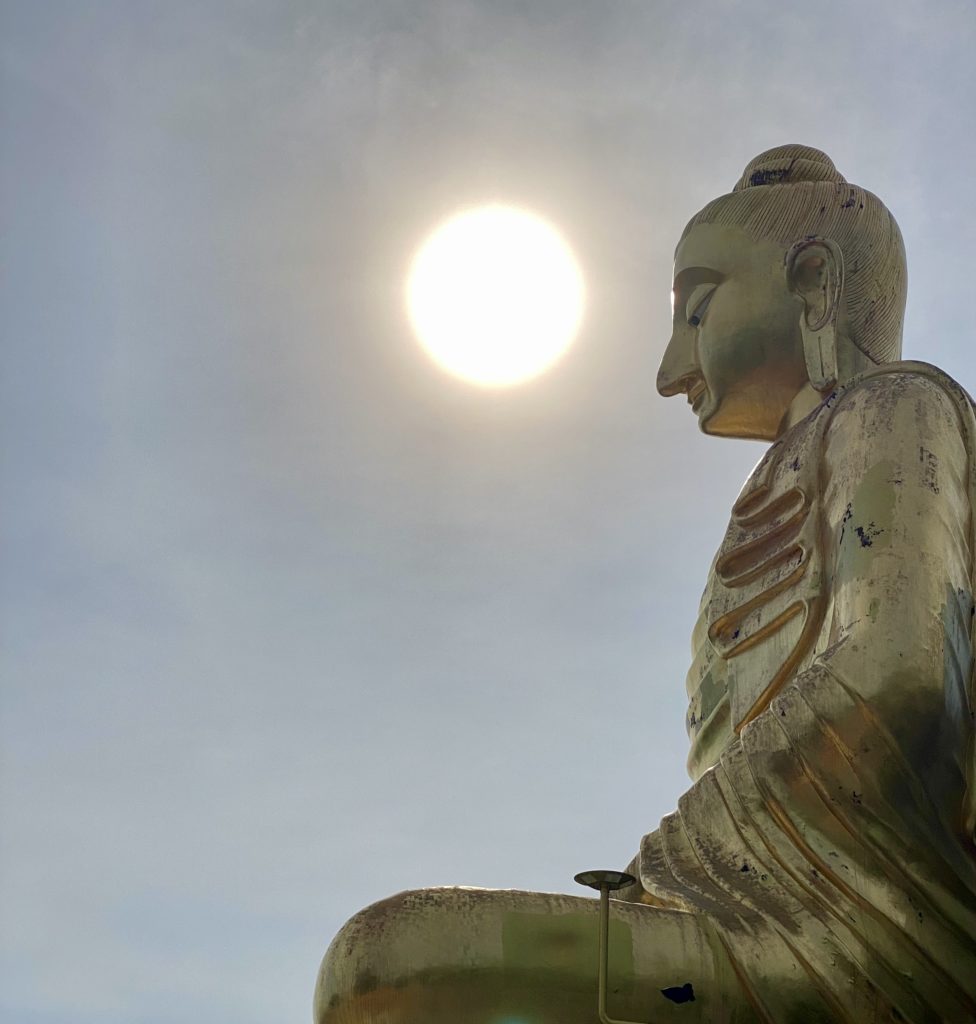 Text & Photo : Stefan Christensen
Khanom krok?
The vendor I ask at the Phunphin Railway Station, AKA Surat Thani Railway Station and to most people, looks puzzled when I ask her about a minibus to Khanom. She obviously thinks I'm asking for the very popular Thai coconut pancakes. She starts asking the other vendors where I can buy these treats. As usual, when you are speaking with Thai people, the conversation eventually ends up focused on food.
Beach, Not Food
I finally manage to convince her that I want to go to Khanom Beach and don't want a khanom krok right now. She doesn't really know how to help and so points in the direction of a minivan driver who has several people boarding his van. The van is heading for Don Sak Pier and the islands further out.
He agrees to drive me to Khanom after he has dropped off the other passengers at the designated pier. Heading to various islands in the Koh Samui Archipelago, the other customers curiously ask where I am going.
Khanom, I say. Khanom what?, they reply.
They have no clue that on the mainland about 30 minutes from the pier is a destination with miles of almost empty beaches waiting to be enjoyed. Most people know little to nothing about Khanom.
In Alex Garland's book The Beach there is a well known passage about such secluded places. "Once it is out in the Lonely Planet Guidebook, the place is ruined." That was true back in the day, but today Lonely Planet has been substituted by Facebook and Instagram.
A Public Secret
In spite of being an open secret for many years there is still no trace of mass tourism on Khanom Beach. Those who have found this unspoiled site tend to save the pleasure for themselves. In one sense, this place deserves more tourists – the kind of tourists who seek relaxation, who want to swim at an almost deserted beach, who enjoy delicious Thai food and who do not mind that the night life closes before midnight.
There are no large hotel chains on Khanom Beach. There are smaller local hotels that range from the luxurious Finnish owned Aava Resort and Khanom Hill Resort to simple guesthouses with a fan. The nightlife is resort based or local. Locally, you can choose between a small or a large bottle of beer– but not the variety of hops you might prefer. Simple. Easy. Lovable. Khanom.
Khanom is straightforward. You sleep well in your hotel, eat you breakfast, walk 50 meters down to the beach with a towel in one hand and a good book in the other and park your bum in the shade of a palm tree. The easy life.
Pink Dolphins
If you are lucky, you might be treated to the sight of pink dolphins frolicking in the ocean right in front of you. This is one of their favorite playgrounds. If you do not spot them from the beach, there are boat trips available in the area that explore both the archipelago and the pink dolphins.
After a few days, when you have caught a few rays you might choose to go kayaking in Khao Luang National Park. This trip goes through the mangrove swamp and provides the opportunity to spot rare birds and other of nature's smaller creatures. Round out the day at the 7-tier Krung Ching Waterfall, also in the National Park, before heading back for that small or large beer.
Keep the Secret
The city center of Khanom is just a cluster of houses along a handful of roads. Once past this small town, you are out in the scenic landscape once again. Fortunately, Khanom town still provides the opportunity to get most of what you would need, either in the market or in the small shopping centre. You can even get an espresso coffee!
Life is easy in Khanom. To spend a few days here is a balm to the stressed out soul. Come here, spend some time, but please do not tell too many people about it. It is our secret.
Location click here