Hans Christian Andersen, a renowned Danish author, once said, "To Travel is to Live." This statement cannot be far from the truth for most travelers. There are a variety of motivations why people travel, including seeking adventure, finding friendship, learning about other cultures, or simply for relaxation.
With its natural abundance and world-class spa, Thailand, the Land of Smile, ranks among the top destinations for travelers seeking opportunities to unwind in beautiful nature while indulging in world-class services in beauty and wellness.
Therapy in Greenery: Top 3 Destinations to Benefit from the Positive Powers of Nature
We recommend three of the most popular places to experience the healing powers of Thailand's natural wonders. Imagine lush forests and colorful flowers in bloom. These three destinations are Benchakitti Park in Bangkok, Nong Nooch Tropical Garden in Chon Buri, and Doi Tung Tree Top Walk in Chiang Rai.
Benchakitti Park:
An expansive green space in Bangkok's business district that encompasses a total area of 179 acres and is divided into two primary sections: the forest and the wetland. Benchakitti Park is a sanctuary to relax, unwind, and absorb the healing force of nature, as it contains nearly 9,000 plants of 300 species. Here are a few of the park's most prominent characteristics:
On this 5.8-kilometer trail, you can learn about the ecosystem of freshwater wetlands and observe native birds, fish, and amphibians, as well as the ever-blooming pink lotuses.
A 2.8-kilometer running path and a 3.4-kilometer cycling path.
A 1.6-kilometer "skywalk" or elevated walkways that connect to Lumphini Park, an adjacent public park.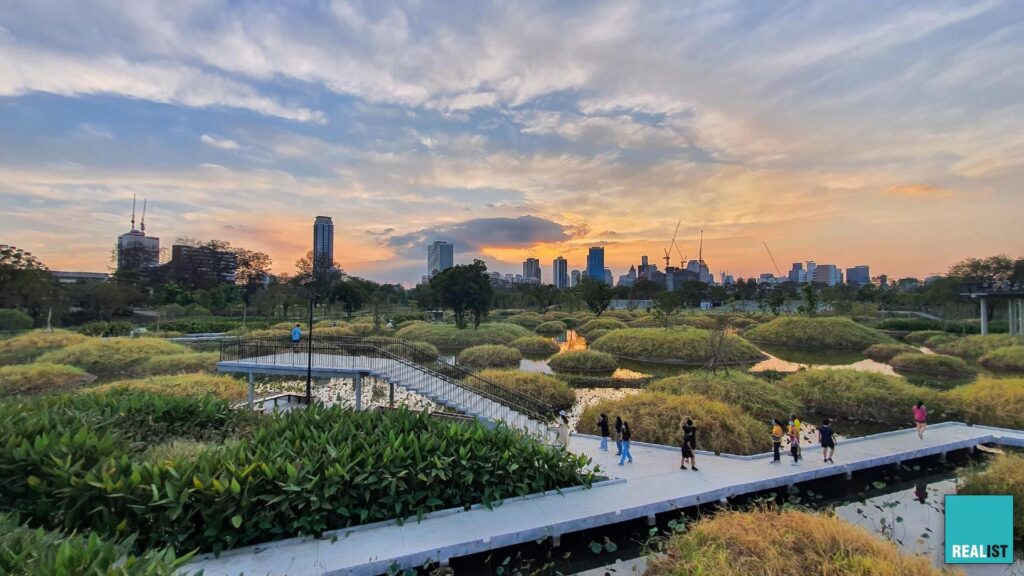 Opening Hours: The park is open daily from 5 am to 9 pm. 
How to Get There: The park is on Ratchadaphisek Road in Khlong Toei District, Bangkok. You can take a BTS sky train to Asoke station, or take an MRT subway to either Sukhumvit station or Queen Sirikit National Convention Center station.
Nong Nooch Tropical Garden:
Dubbed one of the most beautiful gardens in the world, this 672-acre tropical garden is located in Pattaya, Chon Buri province.The garden is divided into different parts, making it an ideal place for families:
A world-renowned tropical garden with over 18,000 plant species. It has the world's largest collections of palms, cycads, hoyas, heliconia, and bougainvillea.
A large collection of 50 beautiful gardens such as Hibiscus Garden and Garden in the Sky. Each garden has its unique theme and design.
Dinosaur Valley, a 9-acre property adorned with cacti, palm trees, and cycads, is home to more than 814 dinosaur sculptures representing 230 species. This is a wonderful environment for children to learn and expand their imaginations.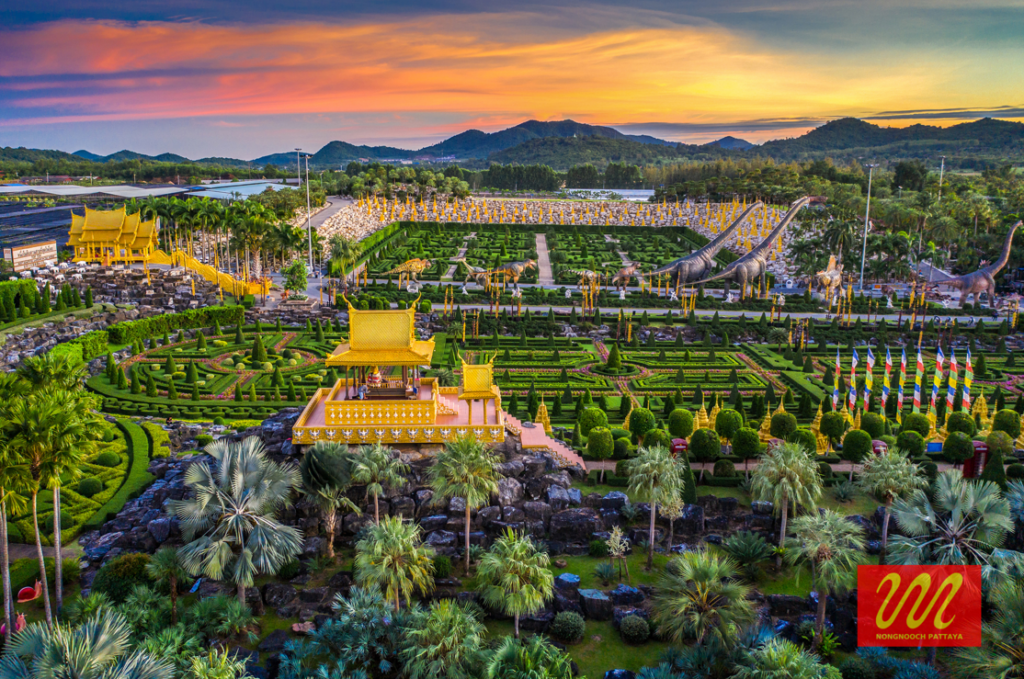 Opening Hours: The park is open daily from 8 am to 6 pm. 
How to Get There: Nong Nooch Tropical Garden is in Na Chom Thian, Sattahip District, Chon Buri province. From Bangkok, you can drive or take public transport. The road trip takes approximately two hours. You can also visit the city of Pattaya, which is 20 kilometers away.
Doi Tung Tree Top Walk:
A 297-meter suspension bridge that leads to one of the country's best-preserved forests. Located in Mae Fah Luang Garden in Chiang Rai province, Doi Tung Tree Top Walk features:
A suspended wooden bridge designed to blend in with the backdrop that is the forest of Doi Tung.
A great opportunity to learn about seasonal plants such as amaryllis, blood lilies, rain lilies of varying hues, ferns, Indian rhododendrons, and wild orchids.
A breathtaking birds-eye view overlooking coffee plantations, vetiver fields, and the mountain of Doi Chang Mub, the mountain that defines the border between Thailand and Myanmar.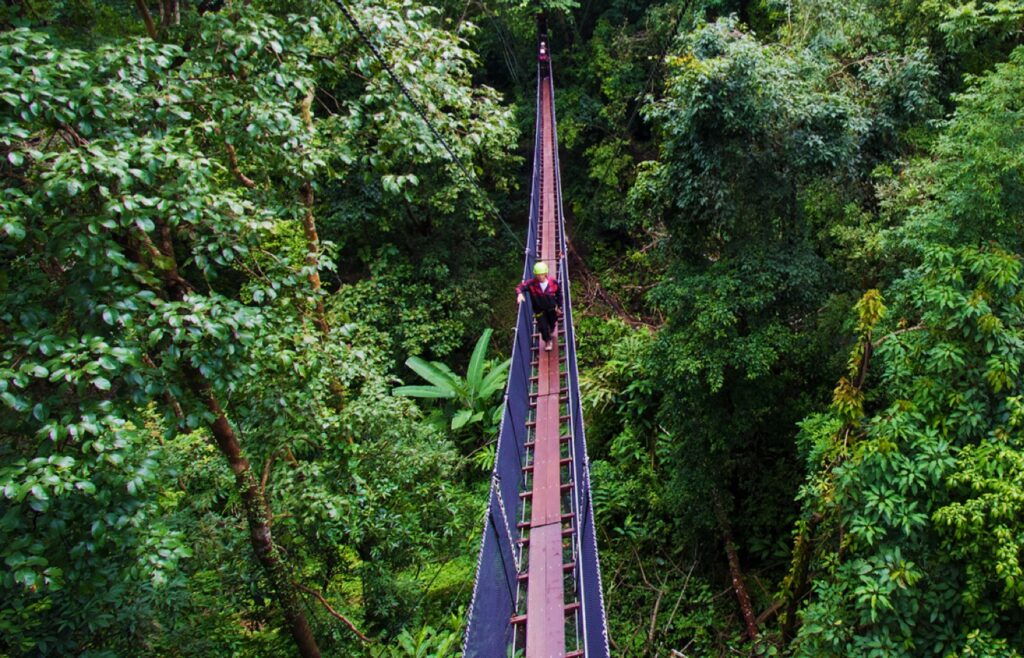 Opening Hours: The bridge is open daily from 7 am to 5.30 pm. 
How to Get There: Take a flight from Bangkok's Don Mueang International Airport to Chiang Rai International Airport. Then drive or take public transport to Doi Tung Palace, Mae Fa Luang in Huai Khrai, Mae Sai District, Chiang Rai, which is about 49 kilometers from the airport. Alternatively, drive from Chiang Mai to Doi Tung Palace, Mae Fa Luang. The road trip takes about four hours.
Sea Therapy: Recharge Your Body and Mind in Thailand's Oceanfront Paradises
When surrounded by tranquil nature, most of us can genuinely relax and let go. Away from the bustle, it is during the calm hours that we can find peace and reflect on what truly matters in life. We recommend two gorgeous seaside destinations with the finest facilities for relaxation and rejuvenation. These are Koh Samui in the province of Surat Thani and Hua Hin in the province of Prajuap Khiri Khan.
Koh Samui, Surat Thani province

Koh Samui, the third largest island in Thailand and one of the most beautiful islands in the nation, is known as the tropical paradise of the Gulf of Thailand. Among the island's attractions are the Hin Ta Hin Yai rock formations, the 6-kilometer-long Chaweng beach with clear blue water and powdery white sand, coconut groves where you can sample fresh coconut water, and Ang Thong National Marine Park, renowned as one of the best snorkeling locations.
Numerous wellness resorts and five-star hotels are located on the island of Koh Samui, making it one of the best places to calm and unwind. Here are some activities that will make you feel happy during your trip:
Digital detox: reduce the use of electronic devices. Practice being mindful and living in the present moment.
Try some wellness programs such as acupuncture, Indian-style head massage to reduce stress, skincare spas to enhance emotional well-being, and diet plans to restore balance in the body.
Unwind in the hotels' vicinity, most of which are located on the hills facing the ocean where there are constant breezes. In addition, some hotels are built with natural materials which can contribute to a restful atmosphere.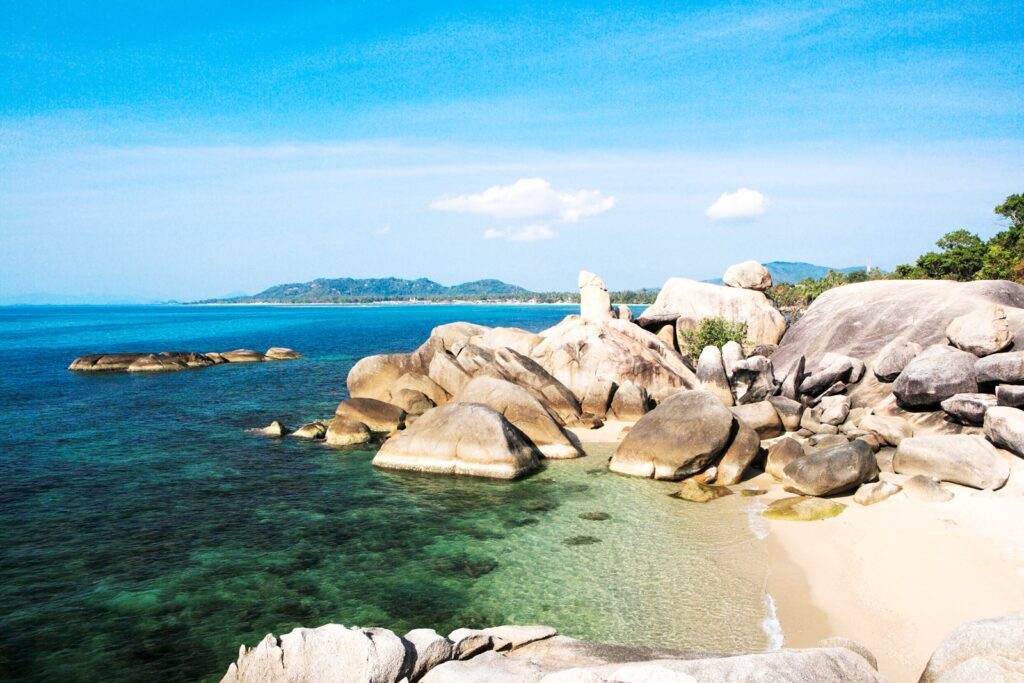 Best Time to Visit: January-May when there is no monsoon
How to Get There: Take a one-hour flight from Bangkok to Samui International Airport. To get around on the island, you can rent a car, a motorbike, or use public transport.
Hua Hin, Prajuap Khiri Khan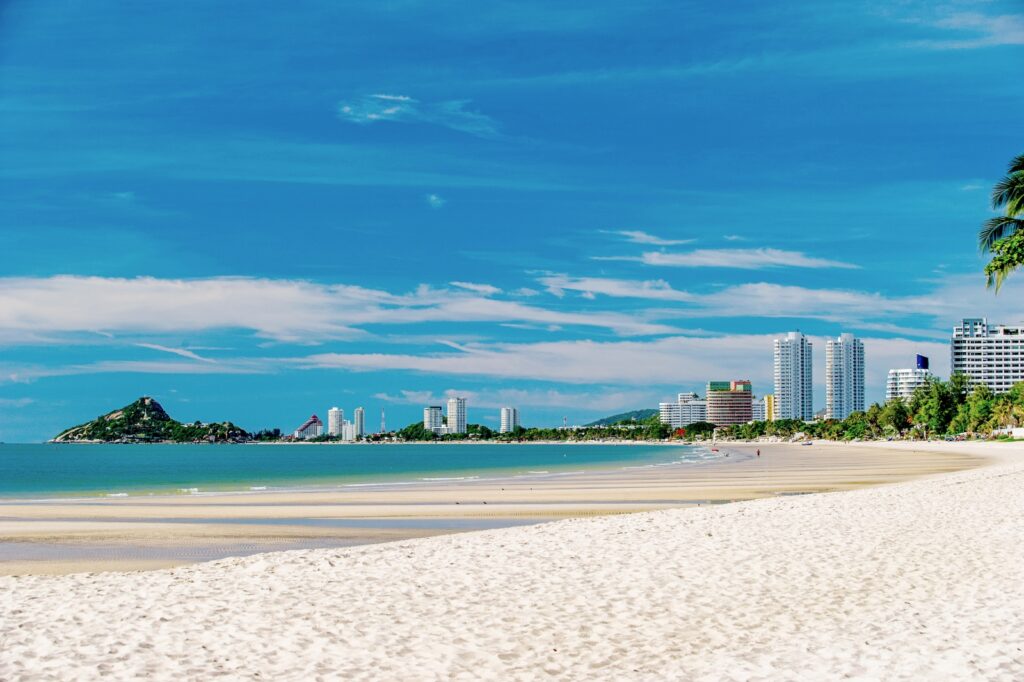 A coastal city endowed with stunning scenery and an abundance of recreational opportunities. This popular vacation destination is only a brief drive from Bangkok and offers a variety of activities that would satisfy most visitors. Surfing at Khao Takiab beach and Hua Hin beach, going on a safari tour to see wild elephants at Kui Buri National Park, visiting Mrigadayavan Palace and admiring its picturesque colonial architecture, and sampling street foods at Hua Hin Night Market are among the highlights of a stay in Hua Hin.
Most of the beachfront accommodations in Hua Hin are private and tranquil. In addition, many world-renown spa resorts offer activities to help you restore the body as well as the mind:
Schedule appointments with health professionals who will evaluate your physical and mental health and develop relaxation programs tailored to your objectives and needs.
Participate in massages, spa treatments, physical therapies, fitness sessions, and consultations with alternative medicine professionals.
Stay at lodgings that best suit your interests and preferences, the majority of which provide services that can promote your overall health and relaxation.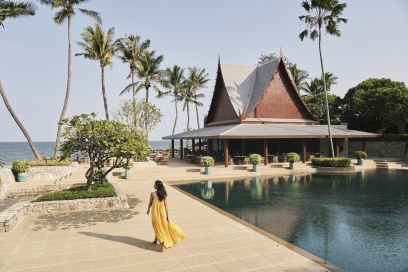 Best Time to Visit: November-May
How to Get There: From Bangkok, drive or take public transport to Hua Hin District, Prajuap Khiri Khan province. The road trip takes about three hours. On the way to Hua Hin, you can stop at Samut Sakhon province, a seaside town on the bank of the Tha Jin River – a great area to sample local seafood.
Authentic Thai Massage at Wat Pho, Bangkok
The experience of receiving a Thai massage is an absolute must on any travel to Thailand. Where else could compare to the epicenter of a traditional Thai massage? Wat Pho, also known as Wat Phra Chetuphon Wimon Mangkhalaram, is a royal temple that houses a massage school. It was founded more than 60 years ago and its massage classes adhere to the 167-year-old Royal Medical Handbook.
Highlights at Wat Pho and other destinations in the area:
Try two of the most famous traditional Thai massages: Ruesi Dat Ton (Contorted Hermit Exercise) and Herbal Compress Massage.
See the murals around the temple pavilion engraved with the knowledge of traditional Thai medicine and traditional Thai massage.
See contorted hermit sculptures around the temple grounds.
Pay homage to the Reclining Buddha within the Reclining Buddha Vihara.
Visit the Tha Tien community and adjacent markets to experience life in the Old Town; the Grand Palace in all its splendor; Pak Khlong Talat, Thailand's largest flower market; and the glorious Prang (stupa-like pagoda) at Wat Arun (the Temple of Dawn).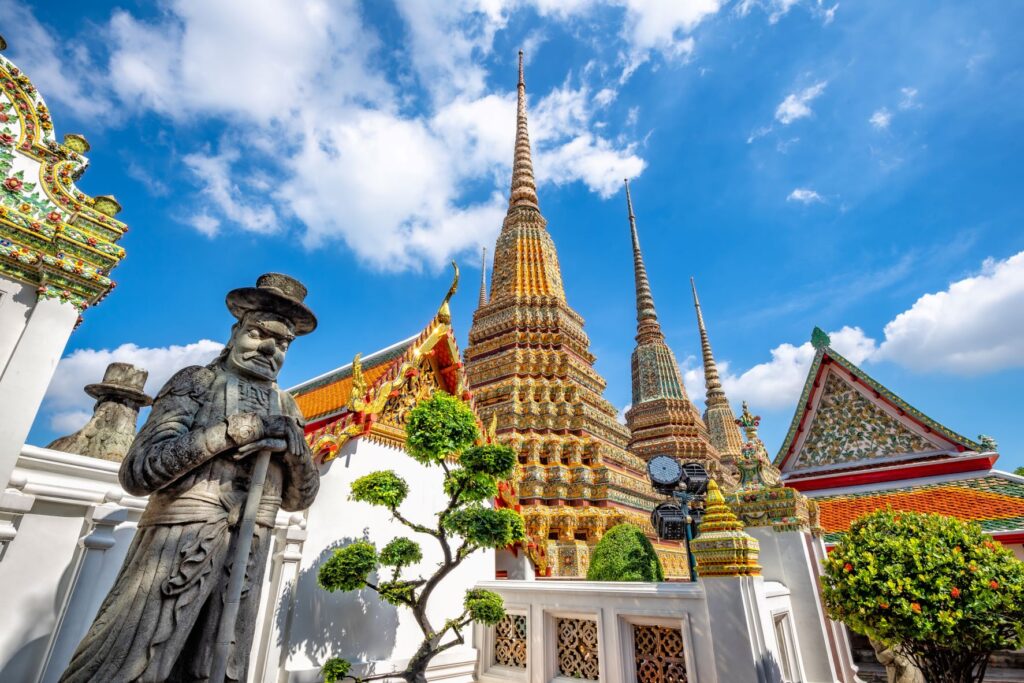 Opening Hours: Daily from 8.30 am to 5.30 pm.
How to Get There: Wat Pho is located on Sanam Chai Road, Phra Nakhon District, Bangkok. You can take buses no. 1, 4 or 48. Alternatively, take an MRT subway to Sanam Chai station or board a Chao Phraya speedboat to Tha Tien pier or Wat Arun Pier.
Photo Credit: