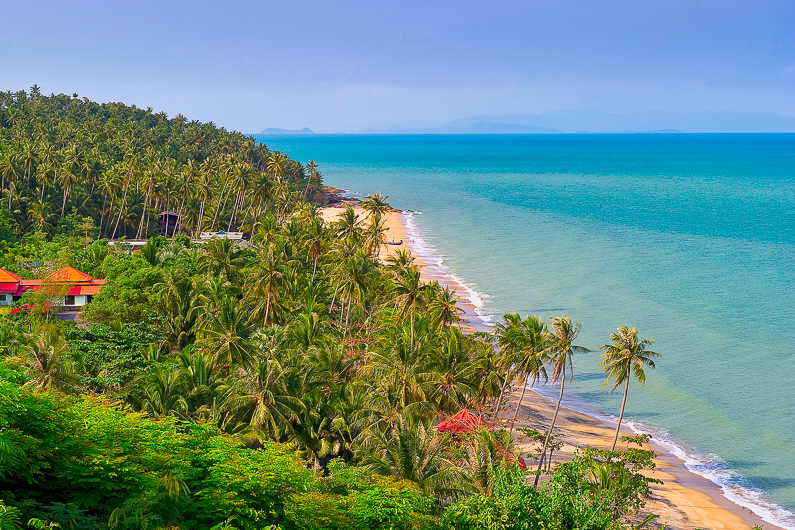 Text & Photo: Mette Solberg Fjeldheim
Drrr, drrr, drrr … I'm in a fishing boat, surrounded by the sea, jungle covered hilltops and armed with a camera. What we're looking for? The famous, pink dolphins of Khanom!
The boat has just made a stop and the only sound we can hear, is waves rocking the boat and a slight breeze of the wind.
– You see there? Our guide breaks the silence. – A baby dolphin! This one is grey, as they have to grow older to get that characteristic pink look. But seeing a baby means the mother is close by, our guide explains. – If we wait here, at a distance, we will see more dolphins.
So we wait. And we see: Yes, they are pink!
Some time ago, I visited Khanom, a less touristic area in the South of Thailand. This is an area in the province Nakhon Si Thammarat, away from mass tourism. Khanom is a beach town where local fishermen and farmers reside and only few have turned to tourism. Some of them take tourists like us out to see the pink dolphins. Others run smaller boutique resorts, like Natasha, whom I met visiting her boutique resort Le Pes Villa.
– This used to be a banana plantation, she explains.
She tells me she was only 26 years old when she returned home from studying abroad. She decided to start building a small resort with restaurant and coffee shop. Situated in the hills, a short drive from the beach, it gives a jungle-like, secluded feel to the place.
We're walking and talking in her garden, tended by her mother. Small signs are planted next to colorful flowers offering words of wisdom, like "Live your life and forget your age". It gives a certain personal touch to it all.
At her restaurant she serves homemade, local dishes decorated with flowers. Before leaving, I head to her small coffee shop and order take away as if I was in a big city.
Yet, Khanom seems to be far, far away from the busy, bustling city life. And it is. The beaches here are quiet, the nature wild and green. Many of the resorts are small, family run and the food is simply delicious. With restaurants offering traditional Thai food based on locally grown vegetables and fresh fish from the ocean, you can't go wrong.
While staying the night at the even more secluded Baan Thong Ching, which seems far away from any other resort, it feels like I am stranded on an isolated island. The French co-owner, Max, serves us the catch of today with a bottle of wine. The interior is a mix of traditional Thai and European shabby chic style. The lit light bulbs give a certain unmissable cozy feel.
With my feet in the sand, underneath the starry sky, I feel miles away from any overcrowded touristic hotspot. As I fall asleep to the waves hitting the shore, I can't help but look forward to waking up to yet a sunny sky, a long stroll by the beach and a swim the next day. A morning swim to start the day, in the blue ocean surrounded by jungle clad hills and soft, sandy shores.
How to get there
By plane to Nakorn Si Thammarat, which is an hour flight from BKK. Then a 1,20 min. drive from the airport.