Koh Phangan is the word that will always be associated with full moon parties. Which is a full moon beach party. But the island is of course far more than that, for those of you who want other experiences as well. The island is also known for yoga, nature, sustainable farms, its fishing village and good food. Always ready to travel gives you lifestyle tips for hotels, restaurants, nature activities – and an organic farm with some products mosquito-prone Norwegians can buy a lot of.
Koh Phangan can also be easily combined with a holiday on Koh Samui and Koh Tao. More about transport and how to get around at the end of the article.
1. Sleep: Princess Paradise Koh Phangan
It's easy to fall head over heels for Princess Paradise Koh Phangan. Only 20 rooms, all with a view of the sea to a greater or lesser extent. From the bathroom, you can also pull the wooden hatch aside, and have a complete view when you shower. Large and nice rooms, with desk and sofa. Minibar with two free bottles of water every day, as well as fruit. Bathrobe, beach bag and slippers. An umbrella is ready outside the door. Bath tub on the terrace, here there is also a small sofa. Tea and coffee are free. A wooden elephant is standing on the bed waiting for you. If you remove it every morning, you signal that you are keeping bed linen and towels. Part of the sustainable strategy, which is also on its way into Thailand.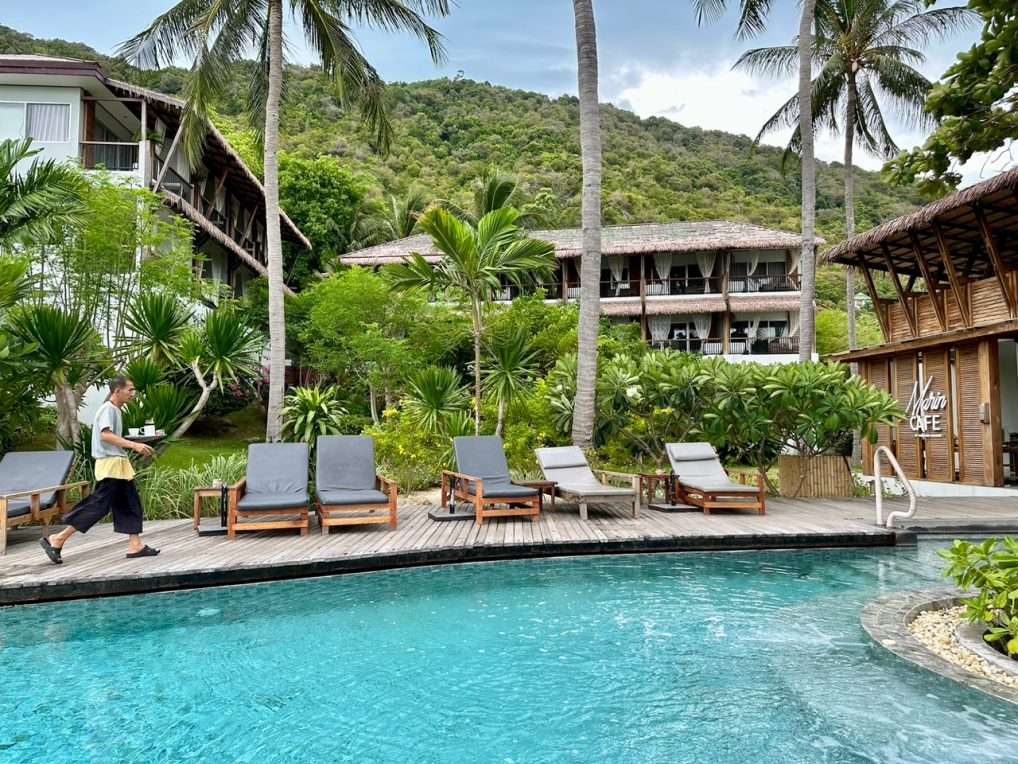 The restaurant has a sea view.
♻ 💚 Enjoying green life: Breakfast is mostly from the menu, and the portions are small and delicious whether you choose French toast, omelette or pancakes. The buffet is small, with fruit and baked goods. This reduces food waste. The dinner menu is also small, but good. The food waste is recycled or composted.
The hotel also has kayak hire. No motorsport activity. So if you would rather enjoy the pool or the beach in peace and quiet, you can. Small bar by the pool, here there is also a shower.
Note: The beach is very shallow and you must wear swimming shoes. No sharp edges here. Generally not a hotel for families with children. Otherwise, the hotel is very much on its own, so you can't go to anything – other than, of course, nearby hotels on the beach that also have restaurants.
Address: 117/11, M. 6, Bantai, Koh Pangan, Phone: +66 (0) 77 914 423
2. Eat real Thai food: Dear Phangan
With this couple at Dear Phangan, there is room for 10-12 people. And it should preferably be one group that comes. They only use products from local producers, and specialize in dishes that are also ultra-local. So here you really get a taste of the original Thailand. Dear Phangan has become a big favorite among Thais. This is not a place you just pass by. It is located in a residential area, and the couple themselves also live on the top floor. There is an open kitchen, so come early and follow the process. There is also a small shop here, with clothes and interior design.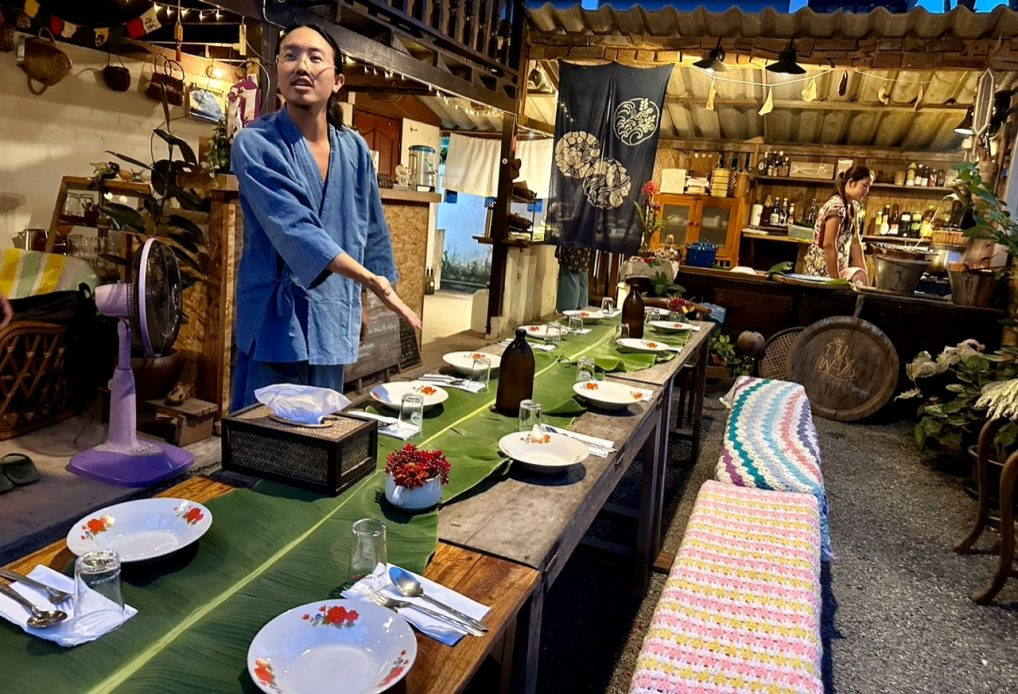 ♻ 💚Green life enjoyment: Nothing is imported of food. The food is determined by the day's catch and what is available. Sharing dishes. Focus on zero food waste. Read and see more on the Facebook page .
Address: 202/29 M.1, Soi Paladsheen, Don Sai, Koh Pa-ngan, Phone +66 (0) 89 114 3302.
3. Eat organic and cheap: Seed to feed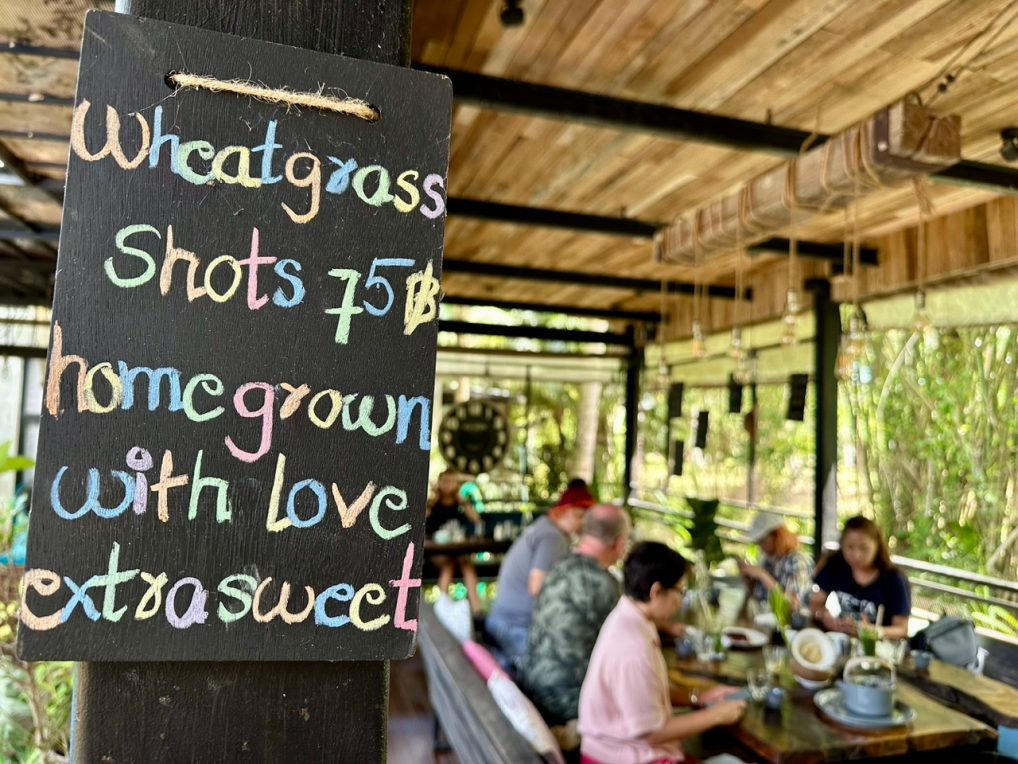 Seed to feed restaurants and farm products on Koh Phangan is another really impressive place. The owner first wanted to grow all the greens they needed for the restaurant, before she started it. Now, 7 years later (2023), it is doing very well, together with the hostel they have started. Here, both vegans, environmentalists and everyone else will thrive in very informal surroundings. You sit outdoors, far from the sea – but under a roof and with good fans around your neck. The farm is right next door.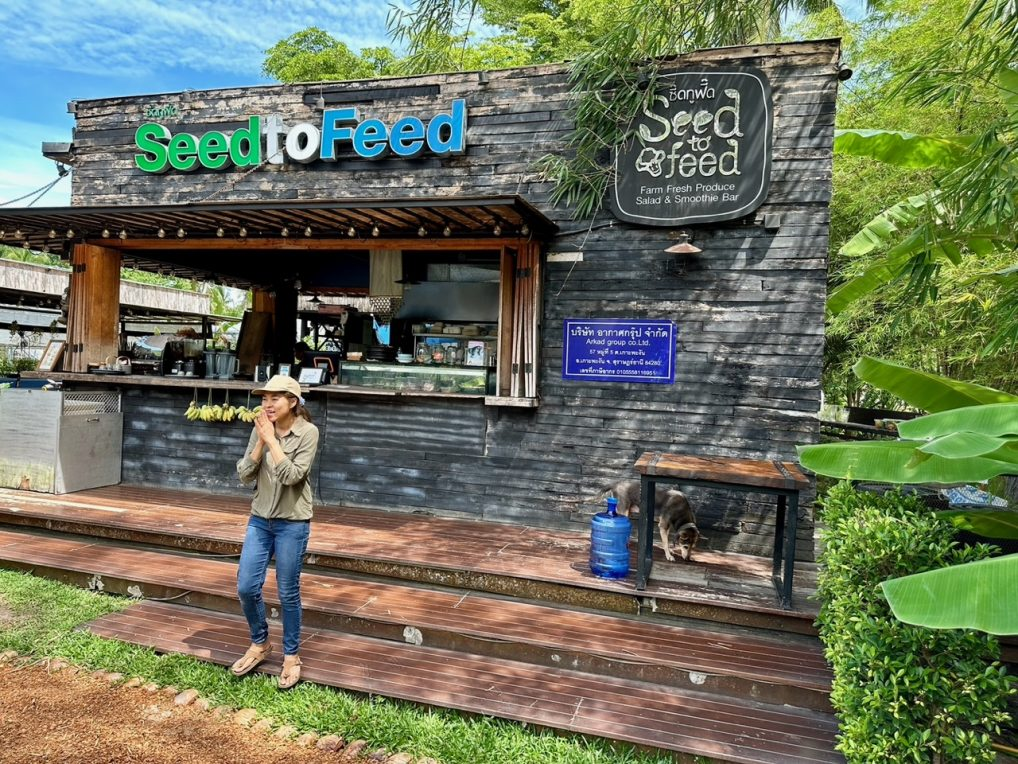 ♻ 💚Green life enjoyment: Zero waste. Nothing goes to waste here. Everything is recycled in one form or another. Here is non-traveled and short-traveled food. Select the coconut menu. They use everything on the nut, and I can promise you the world's best coconut ice cream for dessert. As well as a lovely lemongrass tea. And otherwise lovely vegetables such as Thai olives, herbs, fish and chicken. A fusion between west and east. See more on the Facebook page .
Address: 57 Moo 5, Koh Phangan, phone +66 91 803 1000
4. Than Sadet National Park Koh Phangan
Than Sadet National Park is an interesting place. It covers 2/3 of the island and some outlying islands such as Wao and Hin bai. The name means royal river , as Rama V enjoyed himself very much here. The highest point is 727 m above sea level. The longest trip takes an hour.
The park is actually best known for its waterfalls, which we Norwegians would call streams. The term skogsbading/forest bathing that is being talked about – refers to walking in the forest in silence and using all your senses. Smell, taste, see, feel and hear. Pure bathing is not recommended here. But the stream flows into a real beach. At Than Sadet Beach, there is also an incredibly cool and laid-back restaurant with only Thai food on the menu, and which also operates a Zero Waste policy. There are also some beach bars here.
Glory Travel is a serious sustainable player, and also organizes the Full Moon Party here. That is, not a beach party. But when darkness descends, you are taken here and then, as you know, nature really comes to life… A completely different moon party!
♻ 💚Enjoying green life: An activity that does not pollute. Besides the car trip up here. I overcame my fear of snakes and was here for 1 hour in silence. I saw dragonflies and other insects, fruit and heard bird sounds. Unfortunately, I didn't see any monkeys, but those who have been lucky enough to see them are. Instead, I saw a snake. Fortunately it was dead.
The beach by the park is otherwise not very touristic, as there is only one resort here. So can be a decent beach day trip if you live somewhere else on the island.
What animals are found in the national park? More than 200 ! Turtles, birds such as the Brahmin dragon and the ground myna, the spectacled monkey and the funny animal sloth loris . And yes. There are also king cobras, pythons and green cat snakes. I am not linking to these….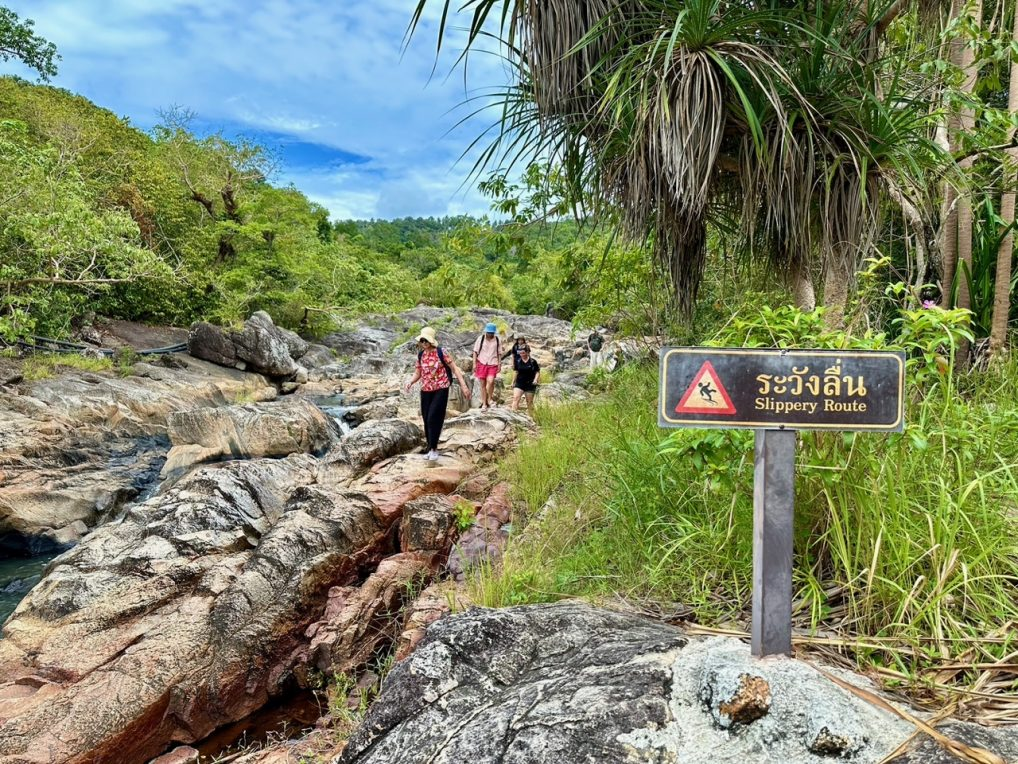 GPS. 9.7455384, 100.0590181 . You can take a taxi here or ride a moped, the road is paved all the way. You can also take a longtail boat. Then you get to the beach, and have to go up to the entrance. Entrance 100 baht (2023). There are toilets at the entrance.
5. Shop and see: eco-farm Rai Tia Wiset
Zero waste, zero waste. It is also the motto Rai Tia Wiset Organic Farm on Koh Phangan lives by. Take a trip here, get a tour, taste a raw food brownie and spend some time in the store. Among other things, various types of mosquito repellent are sold here. Both the real citronella oil, which requires an incredible number of plants to get oil out of – as well as flammable mosquito repellent inserted with kaffir lime. So they both smell good and are practical. It has been tested in Norway afterwards. Here they also have tea, coffee and hair and body products made with natural ingredients for cheap.
Contact the farm , or join an organized tour.
Address: 101 Koh Pangan, telephone +66 (0) 83 102 4706
♻ 💚Green life enjoyment: Everything is green here, whether you buy food or products or join one of the courses they have. The couple behind it have a genuine passion for taking care of nature, and are happy to talk about all the measures they have taken and are taking.
Getting to Koh Phangan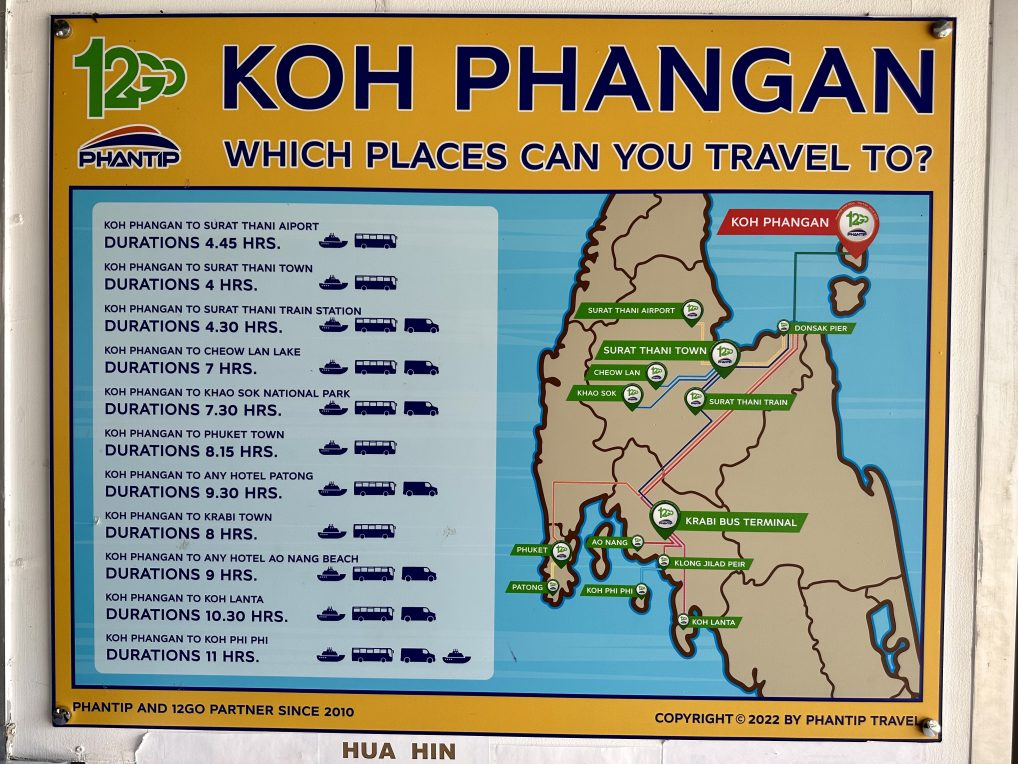 There is no airport here. A boat is a means of transportation. They often go between Samui, Tao and Pha Ngan. The one we took swallowed up a lot of people, had three floors and a small kiosk. On the other hand, there may be small but heavy waves on the 1-2 hour trip depending on how far you are going.
I swear to Marzine, that motion sickness tablet has made me cope with everything so far at sea and I didn't before. And I've tried most everything, from pressure bracelets to sniffing jasmine to just about every other tablet. I have experienced being so bad that I just wanted to be thrown into the sea. Then I was lying on the deck of the sailing yacht Christian Radich in Norway, while everyone else was enjoying the "sailing weather of the ages"
. So if you're going here, bring something against motion sickness. And sit outside if you can. Down in the boat, you feel the waves more.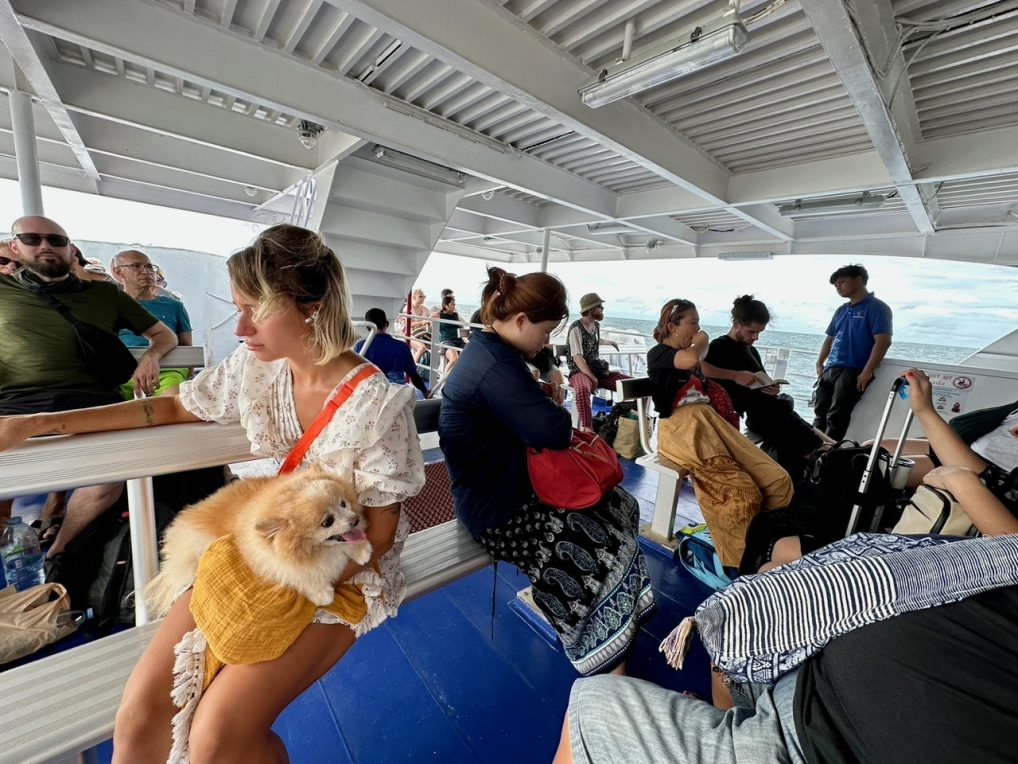 Facts about Kho Phangan
Rainy season: Monsoon approximately September to mid-December. Temperature between 24 and 33 degrees. May is generally the warmest month. Least rain in February and March.
Figures: Thailand's 5th largest island. 12,000 inhabitants. No airport. Estimated perimeter: 40 km From the mainland: approx. 55 km. From Ko Samui: approx. 15 km. From Ko Tao: approx. 35 km Main city: Thong Sala. Koh Samui is in the south with over 50,000-300,000 inhabitants and Koh Tao with 5,000 in the north. The figures are a bit unstable, as there are many foreigners living here as well as employees in the tourism industry.
Practical: Always carry cash. There are many ATMs on the island. Koh Phangan is also spelled Ko Phangan and Ko Pha-ngan.
More green island life? Visit Koh Tao
Tourism in Thailand, together with the authorities, has a desire to become more sustainable, both on land and islands. Danske Rejsekompasset has produced a good review of green measures . Tourism Thailand brings many people with it. Little Kho Phangan has many initiatives to deliver sustainable solutions. There are also good forces at work on the diving island of Koh Tao. The owners of the diving resort Ban's Diving resort have taken control of everything, and are almost self-sufficient in most things. Even the gas they cook with. So Ban's diving resort is the place to live green on Koh Tao.
Text and Photo by Ann-Mari Gregersen