Text & Photo : Stefan Christensen
Train travel…one mode of transportation that has gone from obsolete to chic in only a few years. Many years ago no one wanted to travel by train. Now, at least the environmentally conscious travelers and those wishing to avoid the hassles and time consumption of airport security, are seeking travel solutions and trains have much to offer.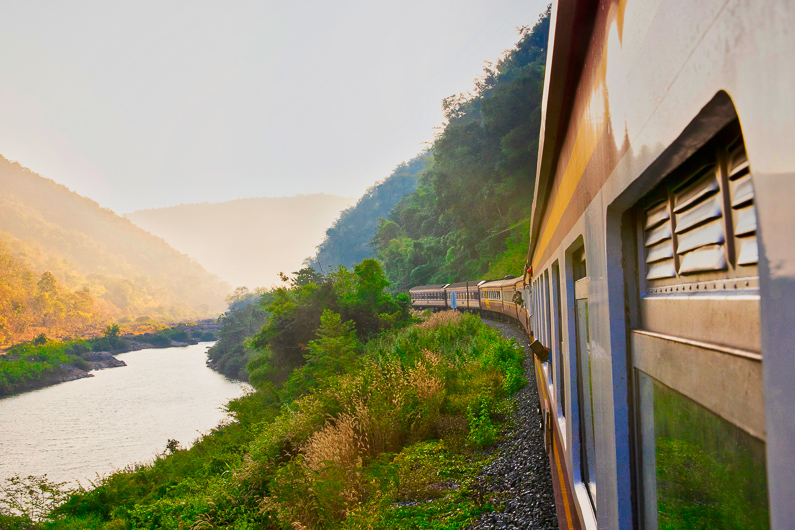 Railways came to Thailand during the reign of King Chulalongkorn (reign: 1868-1910). Many railway lines were soon stretching out from Bangkok in several directions. Today, there are basically four directions one can travel by train from Bangkok. The main task for the railways in the early days was hauling freight as opposed to passengers. This remains true today.
Many Choices
Today, all rail lines in Thailand are run by the State Railway of Thailand. They provide transportation in first, second and third class. There are also options of Special Express, Express, Special DRC Express, Ordinary, Local and more. Unfortunately, none of the different train options is especially fast.
In first and second class there is the further option of air-conditioned or not. The air-conditioned option usually means no possibility of opening a window for better photographs or just because the air-conditioning is extremely chilly. This traveller usually opts for a second class seat with a fan. In third class, air-conditioning is not available and adding to the discomfort of the heat, some of the carriages still have wooden seats. So you might end up with a sore bum and a sweat soaked shirt after a few hours ride. The upside is, it is dirt cheap.
Ticketing
Buying tickets presents its own challenges. Not quite yet in the 21st Century, one cannot buy train tickets online. The only options are to head down to the station and buy them there or go through a travel agent. Added to this challenge is the fact that third class tickets cannot be purchased in advance.
Train schedules are generally published online, but again if you want to buy a ticket you need a travel agent to help or you head down to the station yourself. The homepage of the State Railway of Thailand is not exactly user friendly and is more focused on procurement – all in the Thai language. So best to skip that.
Food Along the Way
Trains in Thailand generally do not have restaurant carriages. But food is rarely far away in the Land of Smiles. There is usually a lady walking up and down the train aisles with food, drinks and snacks to sell. Another food option is to wait until the train reaches a station; Thai trains still stop at most stations and with a wait at each stop. This is an occasion for a swarm of food vendors to enter the train or simply to sell you some delicious "Khao Pad Gai" through the train window. You won't be starving when traveling on a Thai train.
Going North
Chiang Mai is the obvious end destination on this line that also services interesting places like Lampang, Ayutthaya and Phitsanulok. The overnight train on the northern line is one of the most modern in Thailand. The Bangkok to Chiang Mai journey takes from 13 to 16 hours, depending on the train type.
Going Northeast
The northeastern line branches off in the middle of nowhere at the Khaeng Khoi junction. From there, one line heads to Ubon Ratchathani passing places like Surin, Buri Ram and Si Sa Ket. The second branch continues north through Khon Kaen, Udon Thani and ending up in Nong Khai by the mighty Mekong. Ends up is not really true, since a few years ago the line was continued into Laos and its capital Vientiane.
The Eastern Line
This line used to connect Bangkok with the capitol of Cambodia. In recent years, this line has been closed on the Cambodian side; thus, the journey ends at the border town of Aranyaprathet. The Cambodian section is planned to be reopened for traffic again soon, so train travel will resume between the two capitals. There is an additional rail line that branches off heading south, but it basically is used for transporting freight to and from the big ports.
Going West
The West line will eventually end up in Nam Tok close to the Myanmar/Burma border, passing through the amazing scenery on what is commonly known as the Death Railway and over the River Khwai. For this route, the train originates at the small Bangkok Noi Station. It is a flat fare of 100 THB in the third class all the way to Nam Tok. Trains leave twice each day from Bangkok Noi Station, hauling 10 – 12 carriages total but with passengers enough for only one. This mystery is resolved at Kanchanaburi Station where day-trip tourists climb onboard for the trip over the famous bridge.
Heading South
The southern line connects Bangkok with Singapore passing through Kuala Lumpur in Malaysia. Between the two end points are many interesting places in Thailand worth exploring. The most obvious is Hua Hin, but from south of Hua Hin to Chumphon is home to many small stations where there are nice beaches and small resorts on the coast. This is ideal for those wishing to escape the large masses of tourists.
There are four branch lines heading further south – one that heads to Butterworth and destinations further south, one that goes to Sungai Kolok on the eastern part of the Malaysian Peninsula, one that ends up in Nakhon Si Thammarat and one that ends at the Andaman seaside town of Trang.
The thing I enjoy most about train travel in Thailand is the opportunity to meet Thai people outside the big city. Don't hesitate to engage with these friendly, welcoming people. They will share their thoughts while offering advice, smiles and laughter, all while enjoying train travel in Thailand.