Food is the heart of the Thai culture. Nowadays many restaurants in Thailand put more effort into sustainably-sourced produce and cooking foods that support local communities. More and more restaurants shift their focus into care for the environment and on healthy dishes, vegan and plant based made with locally sourced organic ingredients.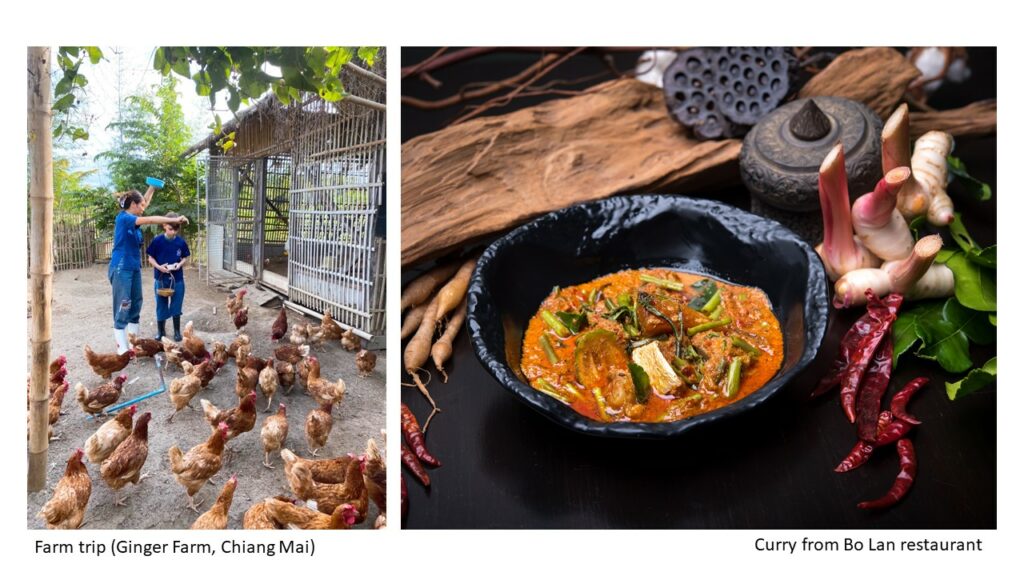 Thailand can be divided into five culinary regions; the north, the northeast, the south, the central plains and Bangkok. Each region has its own cooking style according to available ingredients and local tastes. You might find your culinary instincts relate better to some areas than others. This, in turn, might give a clue where you would like to travel and taste Thai food at its locally best. Here is a guide to help you map your culinary journey with good conscience in Thailand for your next visit.
Food of the North
Northern Thai food, also known as Lanna food, is influenced by Yuannanese, Shan and Burmese cuisines and is characterized by mild and occasionally salty and sour flavours. River fish and meat of all kinds are more common, along with various vegetable dishes (both cooked and raw). Sticky rice is preferred to boiled jasmine rice and is eaten together with local spicy dishes. The most popular dishes in the north are Khao Soy (creamy coconut curry noodle soup) and Sai Oua (spicy herbal northern sausage) and a must try when you visit North of Thailand.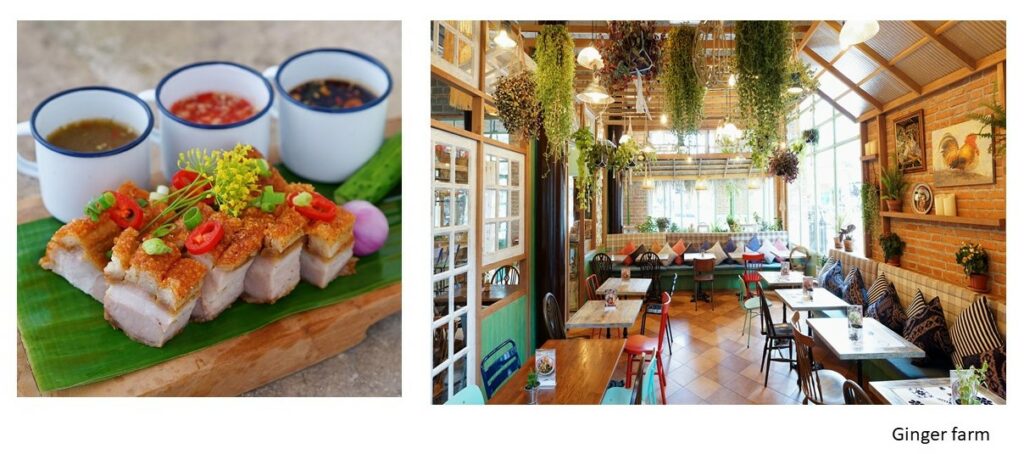 Visit: Ginger Farm, Chiang Mai
The concept of Ginger Farm takes on an "urban farm concept, bringing their GINGER FARM for city-dwellers who enjoy home-cooked meals. The food is served with focus on traditional home-cooked dishes from the North and some Western inspired dishes. The restaurant uses whenever possible organic and free range ingredients either from their own farm or selected providers. The ambition is to ensure that what goes on the plate is safe and good for health. Their vision is also to support local farmers who produce their crops in an ethical and sustainable way. gingerfarmkitchen.com
Food of the Northeast (Isan)
The northeastern (Isan) part is the region where international tourists rarely visit. Isan food is recognizable in Bangkok as the street food vendors who grill chicken over a smokey charcoal barbecue. It has its own distinct style and is characterized as rustic food. The flavours are typically balanced between spicy and salty with lack of sweetness. There are a few ingredients that seem to predominate: chili peppers, lime, peanuts, dried shrimp, Thai anchovies Aka Pla-ra, fresh fruits and vegetables, sticky rice, cilantro, mint, and other fresh herbs. The flavours are very complex, but food preparation is often quite simple. Curry dishes are not common in this region. Fresh flavored savory salads form the backbone of Isan cuisine. Simple marinated grilled or fried meats and sticky rice is often accompanied by one of the region's many "tams," or salads. The best known dish is papaya salad or Som Tam.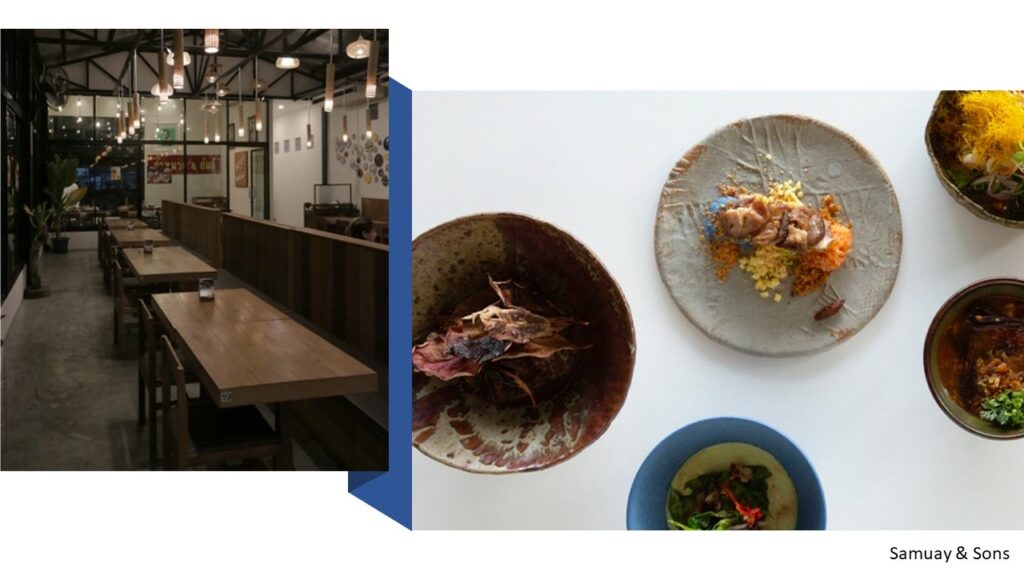 Visit: Samuay & Sons, Udon Thani
Nestled in Udon Thani province, Samuay & Sons is a small restaurant focusing on using indigenous, sustainable and foraged produce and supporting organic farming and local artisans. The restaurant is a flying flag for foraged food in the fields of Northeastern cuisine in Thailand.
The restaurant is run by two brothers, Chef Weerawat "Nom" Triyasenawat as head chef and his brother Chef Voravut "Joe". Chef Nom has the background of working in One Michelin Star restaurants in Sanfrancisco, California and Bangkok before deciding to open his own restaurant in 2014 in his hometown Udon Thani.
The restaurant is considered a highly contemporary Isan restaurant with focus on traditional Thai cuisine recreated using the twists and turns of modern technique. The sensational savoury of each dish comes from carefully sourcing the best available meat, vegetables and herbs either locally or across Thailand. Each ingredient is carefully picked for the health benefits as well as for the flavourful combinations. With innovative cooking techniques combined with rediscovering forgotten foods and plants from bygone eras, the chef aims to bring the past to the present in order to shape the new chapter of the Thai cuisine.
The food philosophy could be compared to the food approach of René Redzepi of Noma or Magnus Nilsson of the now closed Fäviken have done; seeking hyperlocal and seasonal foodways, foraging half-forgotten forest plants and herbs, promoting ethical animal husbandry and then cooking with great skill and technique, and plating like a Michelin-starred restaurant.
The food of the South Unlike the milder dishes in the north and the rounded and tone downed flavours in Bangkok, the southern Thai food is not shy with packing the heat and spices. The southern food is influenced by Java and Malaysia, where the chilli pepper takes the lead in giving dishes a spicy kick. As the south is where the majority of the country's coconut plantations are, thick rich curries are a staple here along with fragrant jasmine rice and plenty of fresh vegetables.
With the Gulf of Thailand and the Andaman Sea on each side of the southern region, fresh fish and seafood is cooked all kinds of ways; baked and grilled, made into soups, put out in the sun to dry as well as pickled and fermented for sauces and condiments.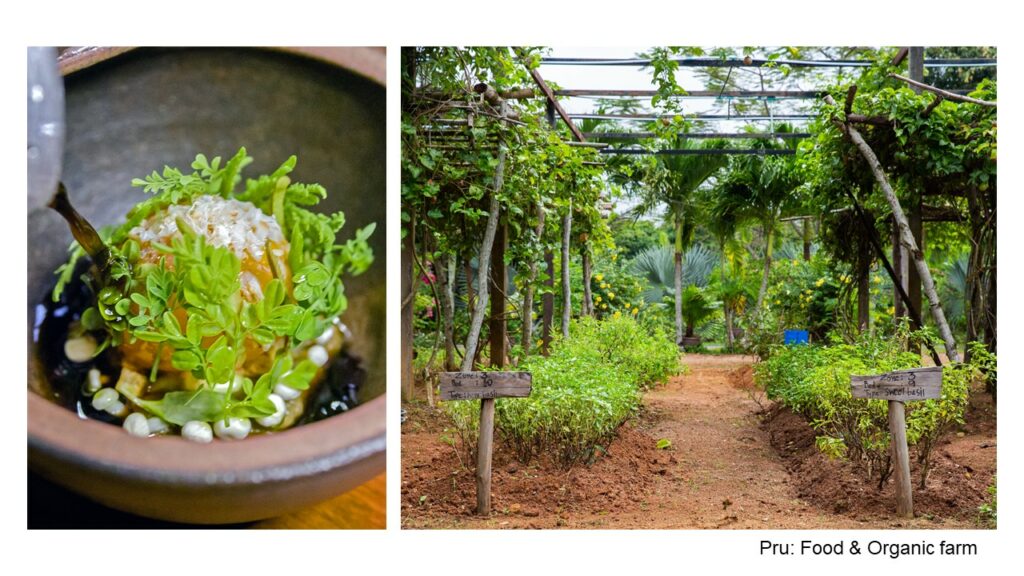 Visit: PRU, Phuket
The One Michelin Star PRU is Thailand's first Michelin Green Star Award winner. Set in a luxury resort Trisara in Phuket, PRU which stands for "plant, raise, understand" opened in 2016. It is ran by Dutch chef Jim Ophorst with the concept of eco-friendly restaurant. He attempt to taking good care of every step of cooking in a sustainable way, from planting, to harvesting and properly cooking.
PRU's culinary style is inspired by Western influences combined with the exotic and adventurous local cuisine. The dishes are made with 100% ingredients entirely sourced from within Thailand and many ingredients from their own organic and chemical free Pru Jampa Farm. The menu features dishes made from familiar ingredients like kale and Phuket lobster. But it is cooked in an innovative way, using widely unconventional ingredients like locally sourced pine needles and sea grapes (a kind of seaweed caviar) which made it more interesting and unexpected.
Food of the Central
The central plains make up the heartland of Thailand and is home to the Chao Phraya River and other smaller waterways, coming together to form a basin. With rich soil and plenty of water, it allows much of the land to be filled with rice paddies, orchards and vegetable gardens. The food here offers a wide range of flavours.
Coconuts are abundant and are used to thicken and flavour curries and soups, as well as being grated as a garnish. Fried dishes are common. The cuisine here tends to be balanced in flavours or well-rounded flavours although this is often tempered by a squeeze of lime.
The Central Region cuisine probably comes closest to what visitors view as 'Thai' food. Tom Kha, coconut milk soup, is also a staple, along with Gaeng Kiew Waan, green curry and the famous Pad Thai.
Bangkok seems to revolve around food. Everywhere there are indoor and outdoor eateries, as well as fast-food stalls on most street corners. Many Michelin Star restaurants are located in Bangkok. There is something about Bangkok that calls out the foodie soul out of almost everyone. As the capital city of Thailand, Bangkok is a hub of all senses, a vibrant range of tastes from local street food to fine dining.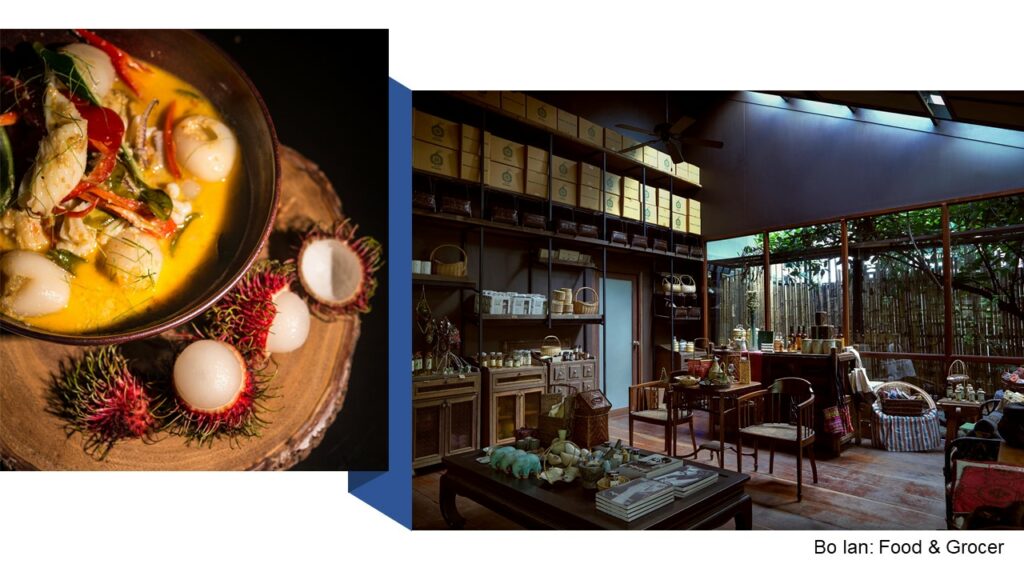 Visit: Bo.Lan, Bangkok
Bo.Lan, One Michelin Star restaurant, has been on Bangkok's scene for over a decade. After the turbulent last year with the global pandemic, the owners Dylan and his partner, Duangporn "Bo" Songvisava renewed the concept of their venture. Bo.Lan becomes home to three new concepts; Bo.lan Grocer, Err (the causal sister's restaurant) and exclusive Chef's table.
Over a decade, the couple has gained a global reputation for hardcore committment for local ingredients with a focus on ancient Thai recipies as well as their tireless pursuit of a zero-carbon footprint as well as support for the local communities. Their true soul commitment to the local and organic ingredients still remains.
Bo.lan, the fine dining and One Michelin Star has been reinventing itself to make room for three new concepts curated by the same team. The more casual sister restaurant Err is relocated from Chinatown to Bo.Lan's location on Sukhumvit Soi 53. Guests can shop for dry goods, vegetables from local farmers, fresh curry pastes, natural wine, organic coconut cream as well as their own brands of fish sauce, palm sugar and salt at Bo.lan Grocer. If you are still dreaming of fine dining, then find solace at the executive Chef's table, available 2 times a week. Bo.Lan