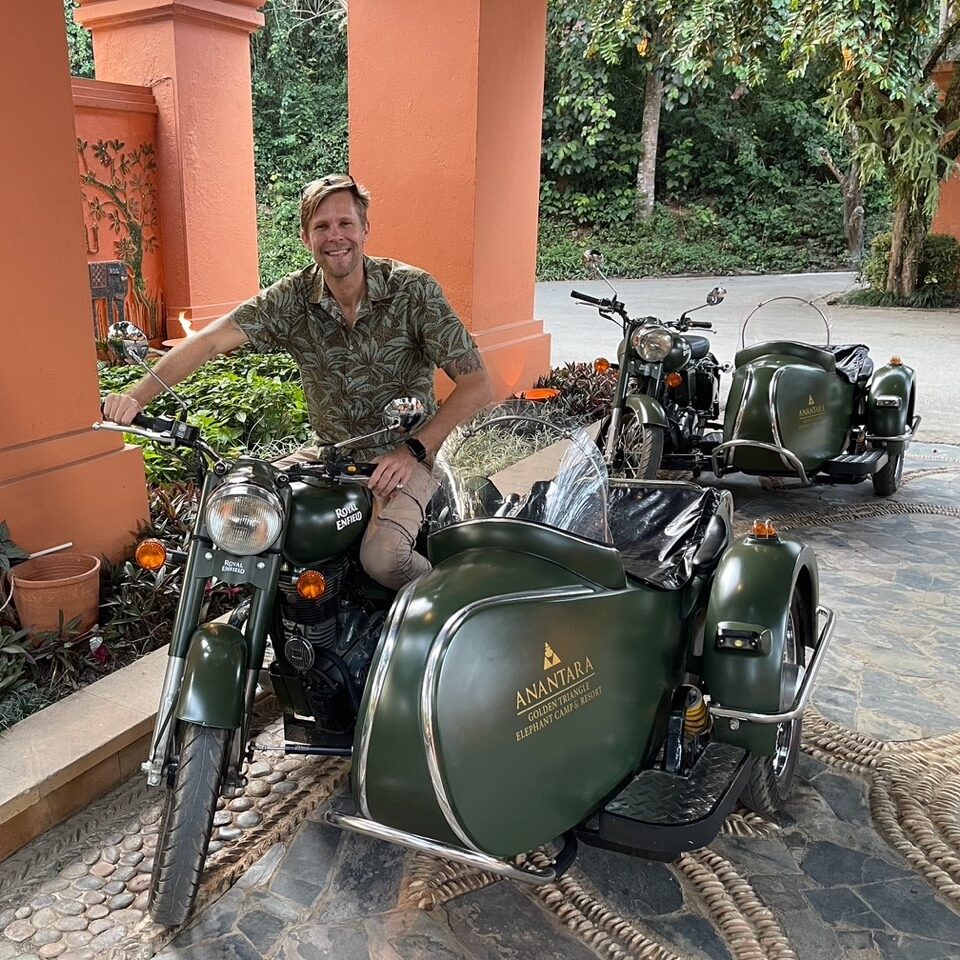 Mika Itavaara
Nationality: Finnish
Occupation: Asia Specialist
The first time Mika Itavaara visited Thailand was 26 years ago when he was a tourist management student and decided to come to Thailand to complete his internships at three different resorts. Since that time, Mika has developed a deep affection for Thailand and the rest of Asia, and he has launched a career in the travel sector as an expert on Asia.
Mika has lived in many various regions of Asia throughout the course of his life, but in the last couple of years, he has found himself moving back to the place where it all began…Bangkok, Thailand.
Why do you think Thailand is such a popular destination for Finnish and other Nordic people?
I think it's the climate. The main tourist season here is October-March, which in Europe is the winter. It's dark and cold there so people want to go somewhere where they can enjoy the sun and the warm weather. When it's summertime [in Nordic countries], people don't want to go anywhere because our summer only lasts for 2-3 months. Great weather. So they want to enjoy it back home. But winter is the peak time to come here.

Of course, most people want to go to the beach. But we [as a tourism company] like to offer something a bit more active like cycling, going to national parks, etc. There's so much to see here. You have great nature, hill tribe villages, nice places to stay, etc.
What would your suggestions be for first-time travelers to Thailand?
Come with an open mind. Embrace the country for what it is. Don't expect things to be the same as back home. There will be traffic jams in Bangkok and maybe in other places too. Food will be spicy, but you will survive. And you should try all the local things. I think when you go on a holiday somewhere, you have to try the local cuisine and embrace the local culture. Or you might as well go to the Canary Islands in Spain and eat meatballs there [laughter].

If you learn a few Thai words, then people are going to smile. They appreciate that a lot. Some basic Thai words you should know are Sawasdee Krub ("Hello"), Kob Khun Krub ("Thank you"), Sabai Dee Mai ("How are you?"), and Aroi Mak ("Very Delicious")
Are there any specific items or things that Nordic travelers should bring with them to Thailand?
No, you can buy everything here and even more than you might have imagined [laughter], and for less cost than back home. Maybe bring some cash. Don't rely on one bank card because if it doesn't work then you're in trouble. But in general, everything is pretty easy and convenient here.
Are there any differences between Thai and Nordic cultures that travelers should be aware of?
Well, I might be biased because I'm white on the outside but yellow inside [laughter]. I've been here for a long time and I like spicy food and Asian ways. So I'm quite used to it but I suppose if you're polite, friendly and patient, you can survive anywhere. Some people can get frustrated when they have to wait for too long. Or if Tuk Tuk drivers or vendors are pestering them too much, then they might get angry or be aggressive. But you don't see Thai people losing their temper that way unless they're drunk [laughter]. But that's not part of the local culture. People tend to keep their cool.

And then there are dos and don'ts. For example, no pointing with your feet, no petting head, and when going to temples dress respectably and leave shoes outside, etc. People should study the cultural dos and don'ts there so they can be respectful and considerate. So on that note, no topless sunbathing here [laughs]. But then Thai people are so tolerant it's not much of an issue anymore. But it's certainly not the tradition. I also think the [Thai] culture has become more westernized and more accepting because there have been so many visitors for so long. I remember going to a local beach and people would swim with their jeans and shirts on. So that's their comfort level and when somebody's going topless then that's not appropriate [laughter]. You need to have some cultural sensitivity. It's important.

Usually that comes with mass tourism everywhere. But my company Discovery Dmc (https://discoverydmc.com/) is not into that at all. We're the opposite; we like more local experiences and sustainable tourism. We want our local guides to tell the stories about their country, not foreign guides. So that's with all our tours everywhere you go. Some companies have local guides but they are not allowed to talk, which is kind of an insulting thing for a career tour guide because they're very good at their job. But then they have to listen to a foreign guide telling tourists about how Thai people live or what they like to cook, and the local guide would just sit there and listen.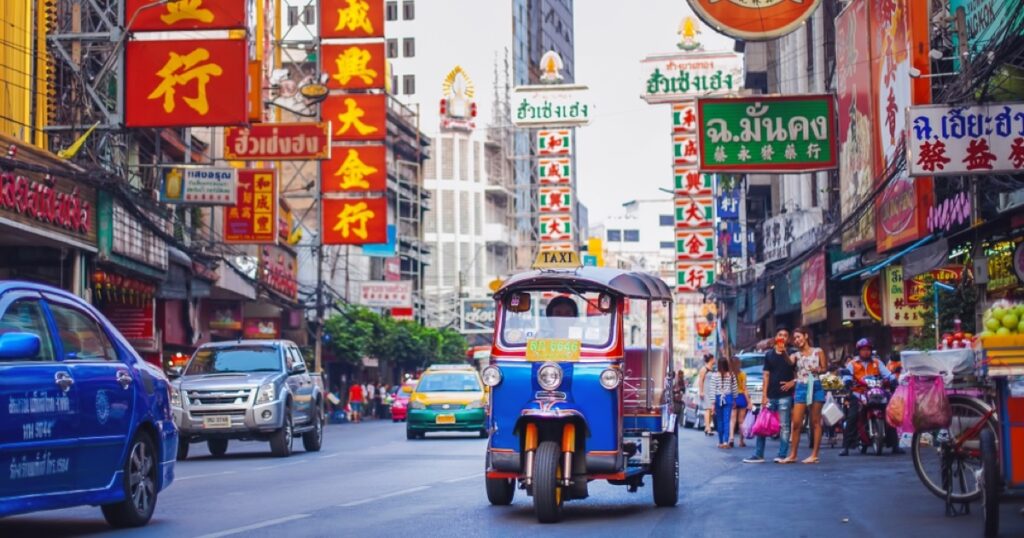 What is your recommendation for traveling in Thailand like a local?
In Bangkok, hop in a tuk tuk and explore Chinatown street food eateries you will not be disappointed. BTS and MRT public transport are now everywhere you need to go in Bangkok. Use these so you can avoid traffic jams. Also, Klong (the Thai word for canal) boats are a great way to explore the city. If you travel to islands then rent a scooter. It is the best way to explore islands. Take a train ride for at least a few hrs to explore Thailand. And bicycles are a great way to experience destinations too. Please note that in order to drive in Thailand, you would need your driver's license along with an international driving permit.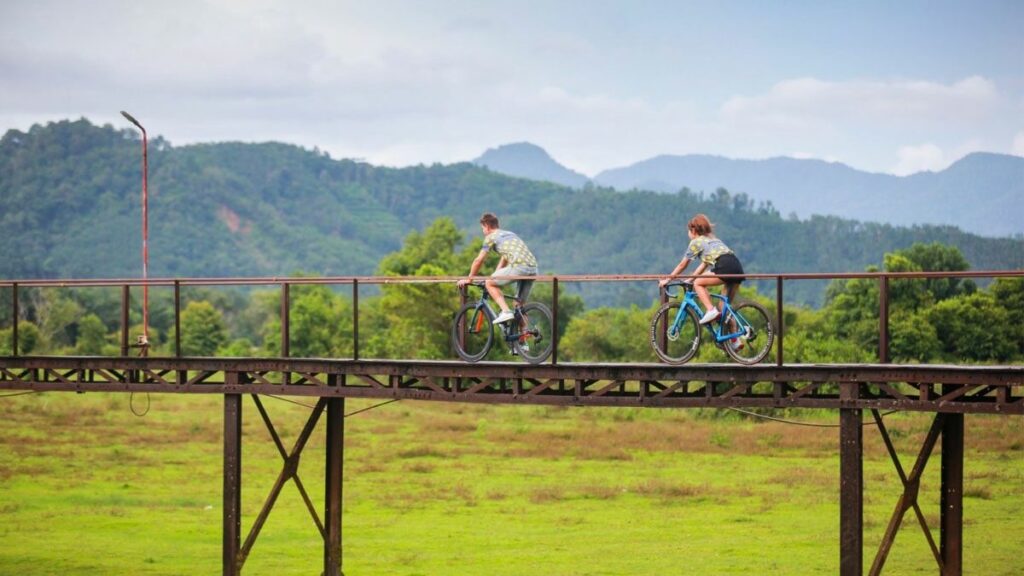 Do you have any recommendations for hidden-gem destinations – places not well-known to most tourists?
I like Mae Hong Son. I went there for the first time recently. The hills are amazing. There are waterfalls and caves. The whole area from Chiang Mai to Pai is very nice. The mountain regions have a lot of nature and minority villages, and you can have a great road trip on a motorbike or a car.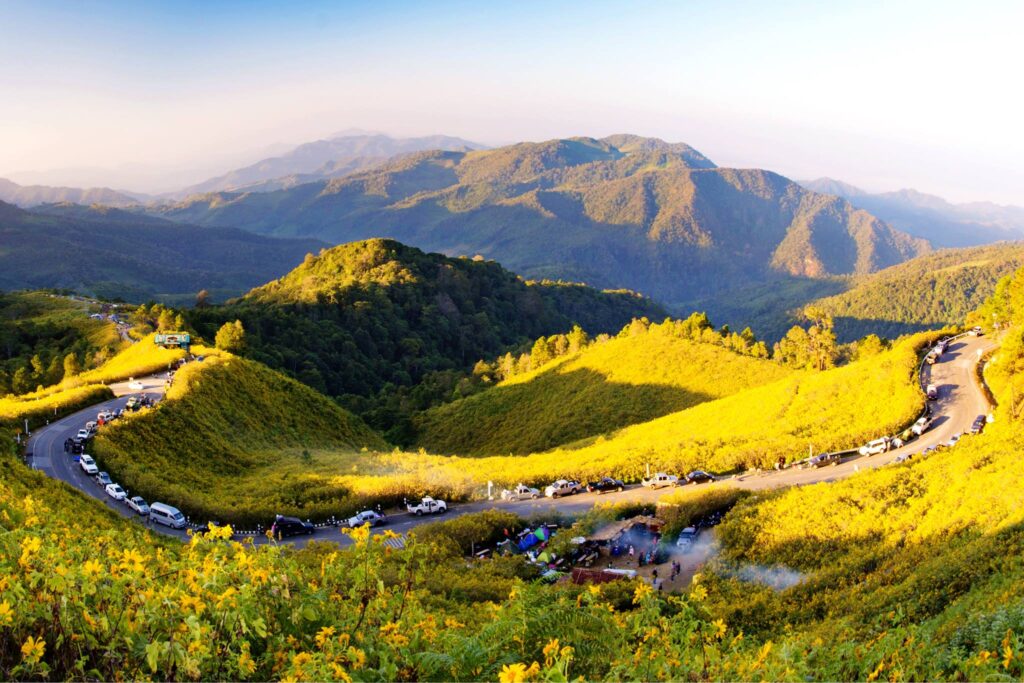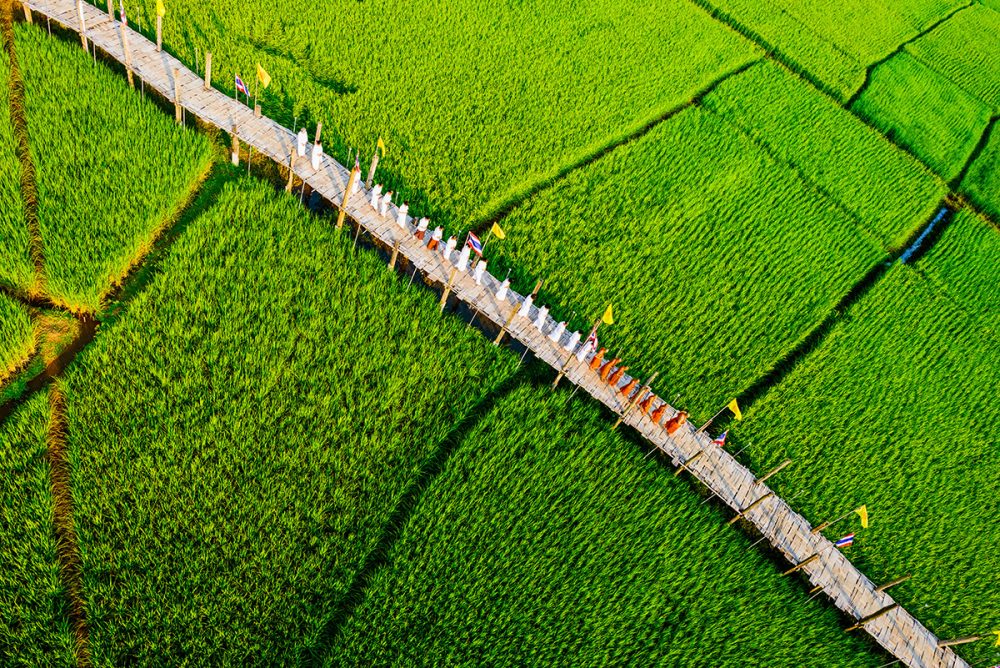 Another place I still like is Koh Pha-ngan. Not so touristy. A little bit of a different vibe. Those who are my age and went there 25 years ago still go there [laughter], so there's still something for everyone there. You can find nice villas to stay in. There's still no traffic jam. Nothing too crowded. Still low-key. There's also an underdeveloped jungle area in the middle of the island. But it can get busy too during the Full Moon Party. So maybe skip that period. Koh Tao is also very nice. I still have some friends who live there. One friend is a professional diver and took part in the cave rescue [the Tham Laung cave rescue, Chiang Rai province, 2018]. He got a medal from the King for his help in rescuing the boys.

Another unique place is Koh Phra Thong Island. There may be 3 resorts on the whole island. There's a very long beach. Just a fantastic and unique nature getaway. There are not so many

places like it. Then there is Surin Island for snorkeling. Similan is also very beautiful. Krabi and Railay areas are stunningly beautiful. And I remember Hong Island is fantastic. And I like Phi Phi Islands on the national park side, but the town itself is not very attractive. Too touristy and too tightly built. You cannot stay there very long unless you're very young and just want to party all night long [laughter]. Another beautiful site is Koh Kradan.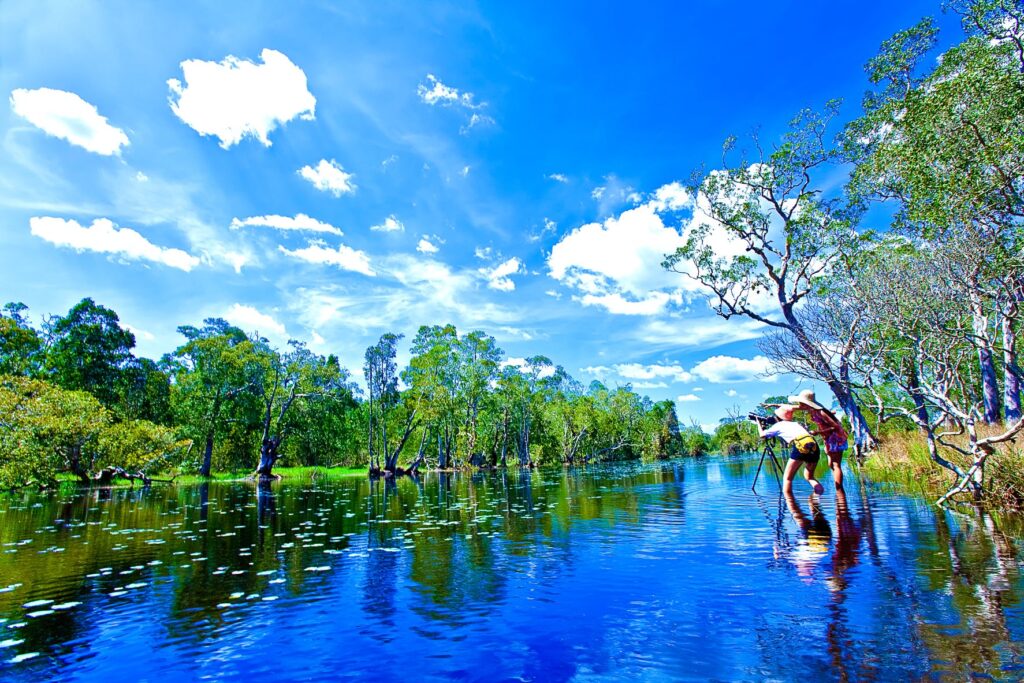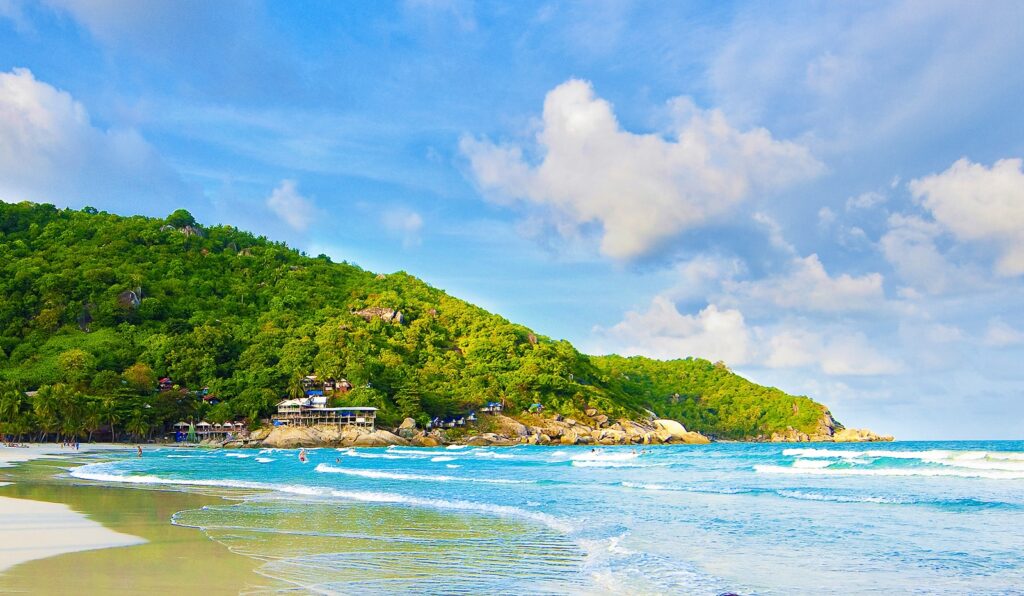 During the lockdown, we stayed for 6 months in Phuket with some friends. And it was a nice base. During that time, you could rent a villa for an affordable price. I like Nai Harn and Rawai areas. Lots of activities. You have Thai boxing gyms, yoga, massage places, and healthy food. I think that's why a lot of expats like to stay there. And Nai Harn beach is lovely. There are no hotels built behind. And in the summer, you can surf and do paragliding. You can also hike up to the black rock viewpoint. There are a lot of nice things about Phuket. The Old Town is also beautiful. They just renovated the area. Great gelato shops there [laughs]. Also, great cafes, bars, and restaurants with tasting menus. The night market is quite nice too. I think the main issue with Phuket is that there are too many tourists. But then it's great to see tourism on the rise again because [during the pandemic] some people were completely hopeless; they lost everything.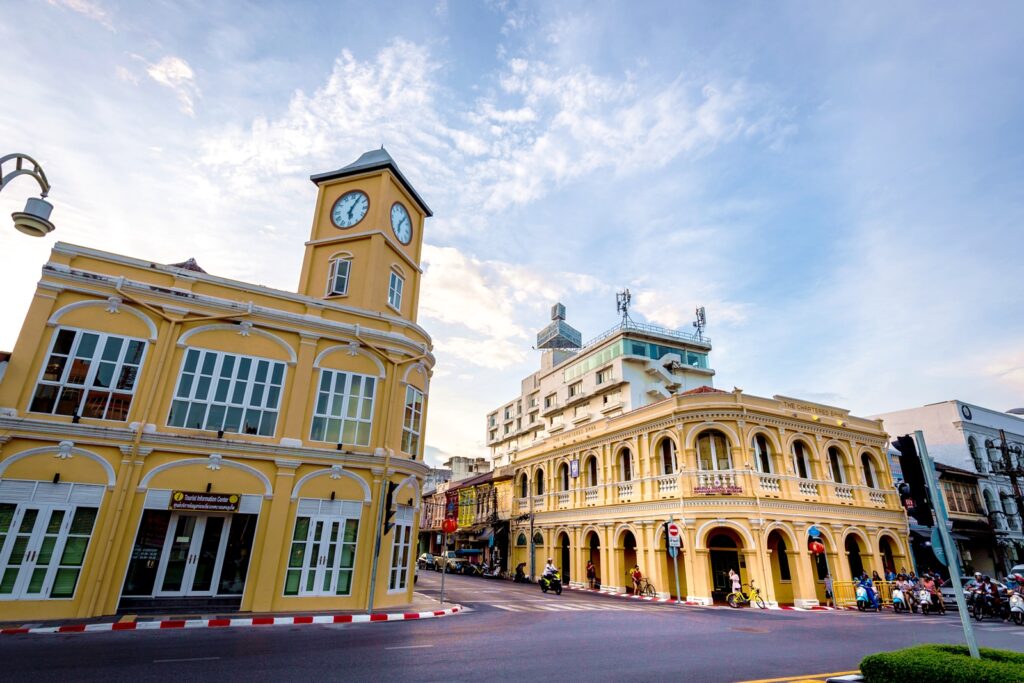 Which Thai dish (es) do you recommend as a must-try for visitors?
There are so many [laughter]. You should try Som Tum (papaya salad) at least once, even though not everybody would like it. It might be too exotic for some. I think many people's favorite dishes are Chicken with Cashew Nuts and Green Curry. But we do get a lot of these back home. My dad lives on these cubes with rice and curries. He just puts them in the microwave [laughs].

But you cannot easily find papaya salad back home. Some restaurants have it but it doesn't taste the same. There are some good restaurants [at home] but some ingredients are not so easy to get. Back home we get the Italian basils with thick leaves instead of the Thai basil. And corianders don't taste the same as the ones you have here.

I suggest people try street food. In general, the hygiene is very good here. You can pretty much have anything anywhere as long as it's cooked. Eat everything and taste everything, even if it might look a bit weird. That's part of the experience.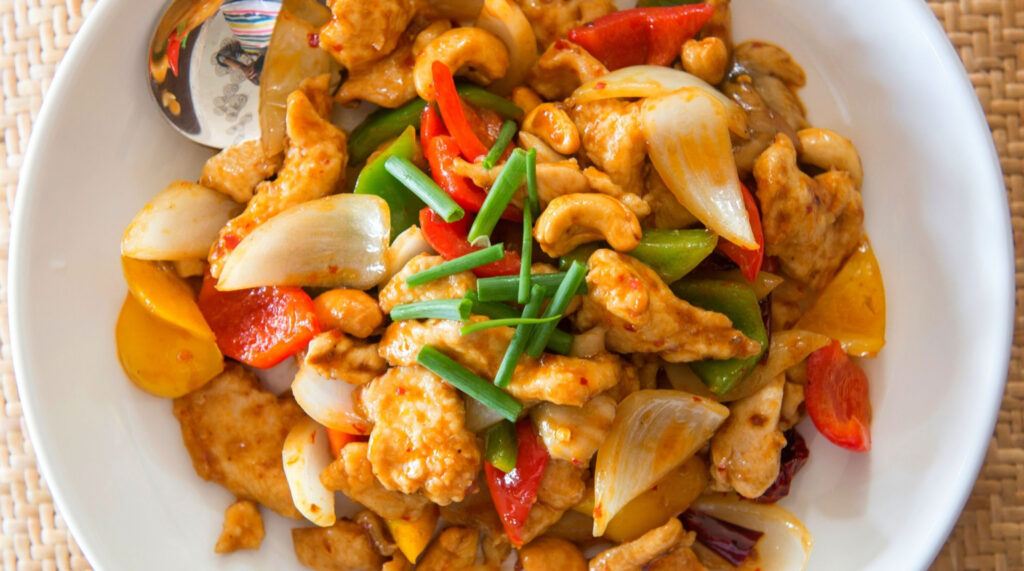 What were your most memorable or meaningful travel experiences in Thailand?
The trip to Hong Islands during the covid lockdown. We hired a private speedboat with friends. And we had our own catering. And we rode to Hong Island before other people and had a wonderful climb to the viewpoint on top of this paradise island. And it got you thinking … a time like this would not be repeated because all visitors would be coming back. This was the moment to enjoy and remember. I did go back there again with some friends this year and it still wasn't that crowded. Still very nice.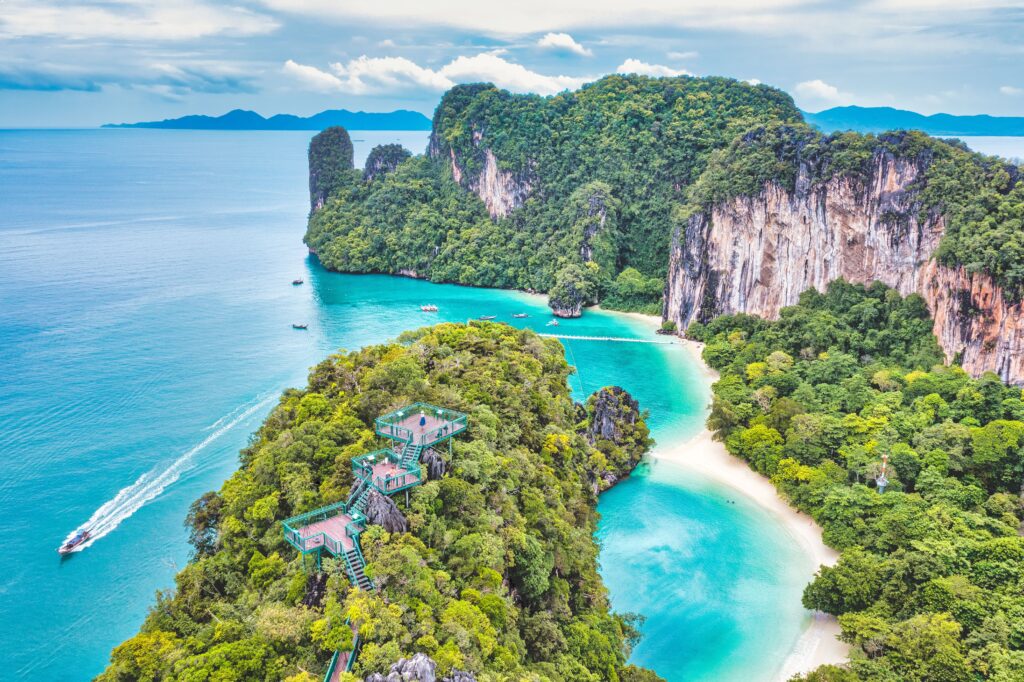 Any advice to fellow Scandinavians on things you should not do in Thailand?
Be open to new experiences. Leave your hang-ups at home. Be always polite and friendly, and be an ambassador for your country and people. A positive and fun attitude will get you through any situation. Things will always work out somehow. There is a system behind the seeming chaos at times. A piece of good advice also is not to go for the cheapest as you rarely get good quality at the lowest prices if that is what you hope to get. Bargaining to the last penny may be nothing to us but can be important income for the seller. So do it right.
What are the best Thai souvenirs for visitors to buy?
Memories. Spend in experiences that will last a lifetime. The only thing you can't get back is time. So, make the most of your holiday and see, do, and taste the best Thailand has to offer. What applies to most in life never goes for the cheapest, it is never the best.
Photo Credit: