Despite widely known for its exotic beaches and marvelous cuisine, Thailand is also famous for beautiful nature with over 120 national parks throughout the country. Beautiful mountain ranges in north, amazing beaches and islands in the east and the south and many well-preserved tropical rain forests across Thailand offer breath-taking spots to enjoy. Here we recommend 7 hidden nature spots to travel to while on vacation in Thailand
1. Tha Pom Klong Song Nam – Blue lagoon in Krabi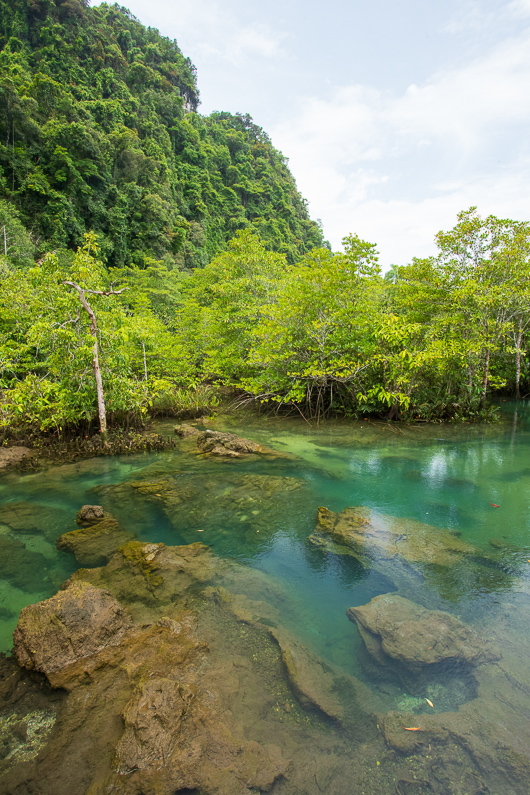 Tha Pom Klong Song Nam is a national park and marine reserve located in Tumbol Kao Kram, Amphoe Mueng, Krabi Province. It is best known for the clear water, where its Thai name can be translated into English as "River of the Two Water" as the water becomes freshwater during low tide and turns into salt water during high tide.
The unique here is its water that rotates from brackish to fresh and transform from slightly murky to emerald-green clarity. As the water miraculously turns crystal clear, a forest where the dirt becomes transparent and everything below the ground is clearly revealed. Being able to see the root structures of huge trees, bushes, and plats, was fascinating. To discover the serene landscapes, the park has built an elevated wooden walkway for visitors to enjoy the spectacular if its beauty.
How to get there. About 40 minutes' drive from Krabi Town and about 45 minutes from Ao Nang.
Location: click here
2. Kui Buri National Park – wild elephants spotting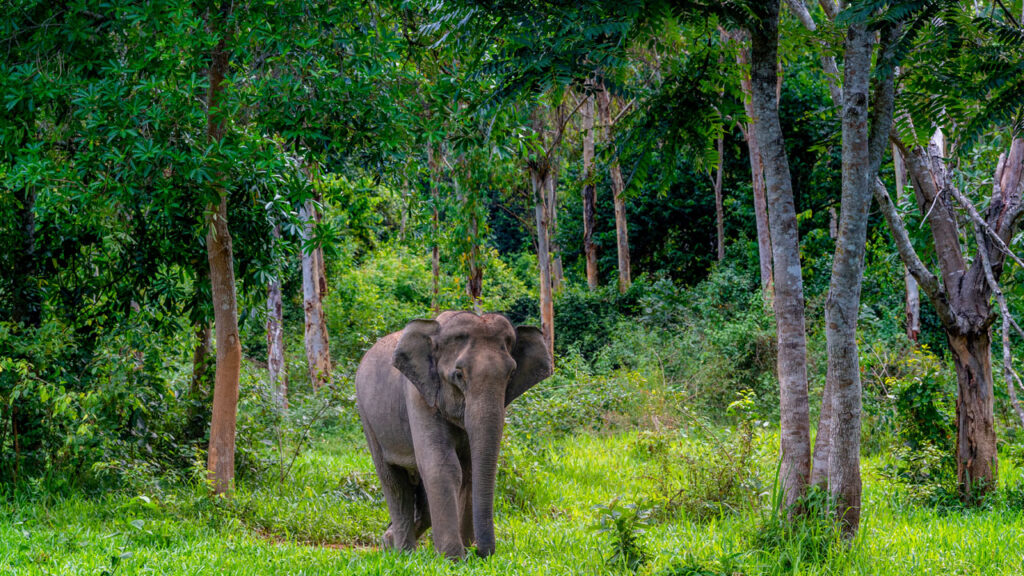 If you are a wildlife and nature lover, Kui Buri National Park is the best place in Thailand to spot wild elephants. It's likely 90% you will see them. Add to the likelihood to see the rare gaur, hornbills, and other wildlife. A visit to Kui Buri becomes compelling.
You can visit the national park with a local guide and a driver. Sitting at the back of a pick-up truck helps create a safari-like feeling and the anticipation depends each time when the truck slows down.
Locals work as drivers and guides, taking visitors to the landscape they have known for many years. This provides income for local families, which in turn makes villagers keen to take part in conservation and protection efforts.
How to get there: About 1 1/2 hours drive south of Hua Hin.
Location: click here
3. Namtok Phlio National Park – Spectacular waterfall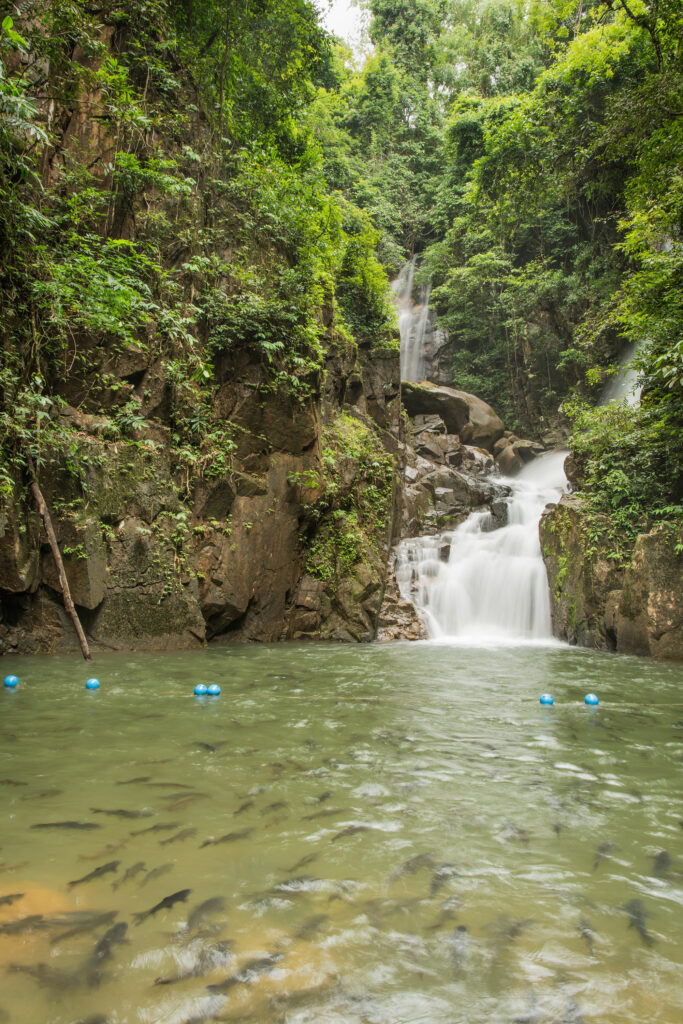 Known for its beautiful waterfall, it has three levels and a pool of fresh and clear water. You can see fish swimming in there. The waterfall is most impressive during rainy season when the falls are so powerful that mist fills the air as far away.
How to get there: Located about 14 km in Chantaburi province or about 3 hours by car from Pattaya.
Location: click here
4. Thung Salaeng Luang National park – Savannah of Thailand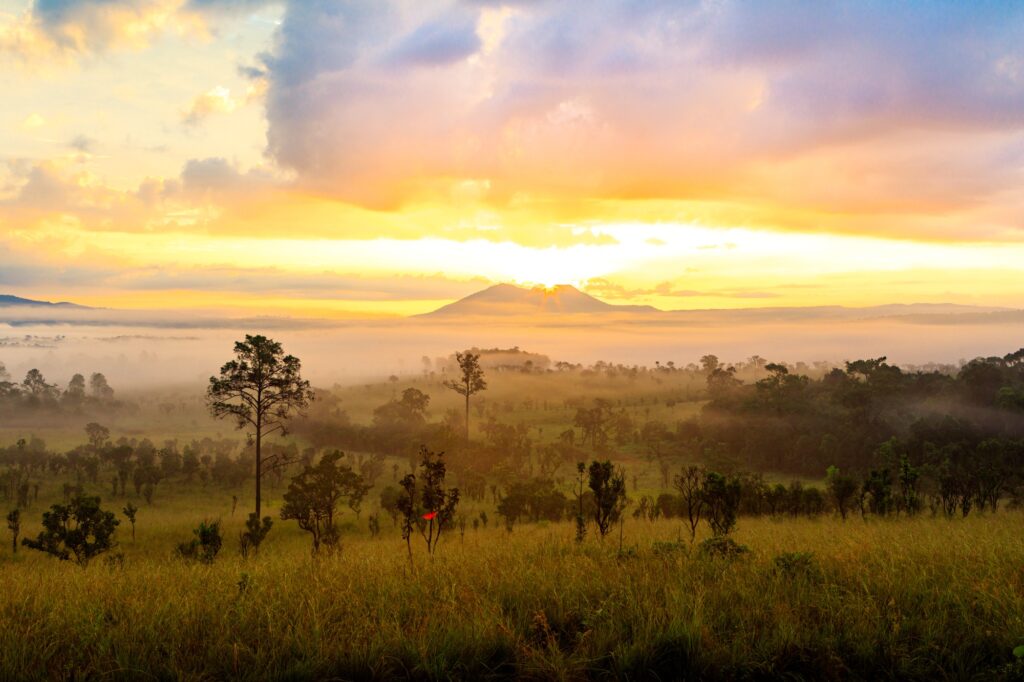 Imagine Savannah grassland but in Thailand, this is probably the best way to describe Thung Salaeng Luang. It is known for spectacular views, especially early in the morning, when the golden light gradually shines to woods, coloring the national park. The camping area has a nice view over a savanna, in early morning often covered in mist.
Here you will find bird-rich grasslands and the stunning waterfall, Kaeng Sopha, Thailand's mini Niagara Falls due to its similar aesthetics. Worth a visit from June to August and November to December. The falls dry up to a trickle from January to May.
How to get there: The entrance fee is 500 Baht. No public transportation is available to the park. The best way is by car. Drive to Phetchabun province and about 40 km from the town.
Location: click here
5. Noen Chang Suek – a great spot to view Thailand-Myanmmar border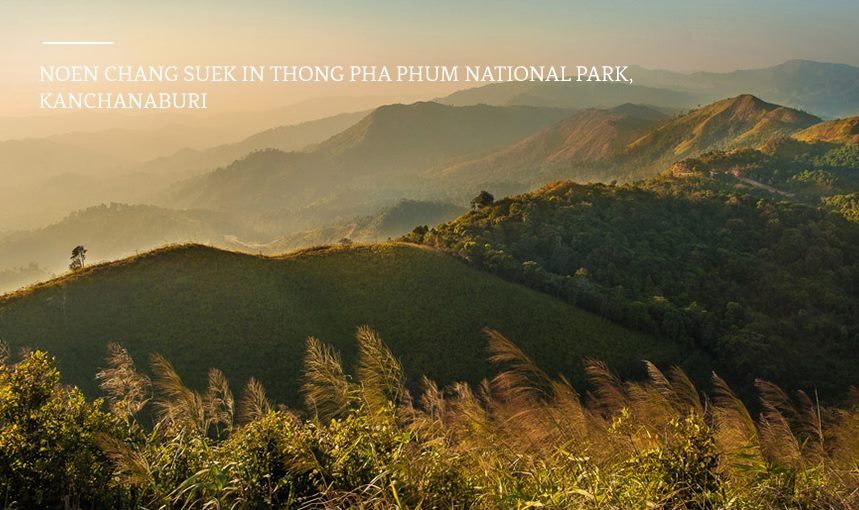 Located in Thong Pha Phum National Park in Kanchaburi, this is a great spot to enjoy the scenery Thailand-Myanmar border. On the Thai side, you can see the E Tong village in the valley below. On the Myanmar side, the scenery stretches from the mountains and forest to the Andaman Sea. The camping area is available for visitors. The climate is chilly at night on the hilltop, jackets, tents, and other equipment are recommended to bring with you.
How to get there: By car or a yellow taxi from E Tong village in Kanchanaburi
Location: click here
6. Pha Hin Kub – Challenge hiking and cliff camping under stars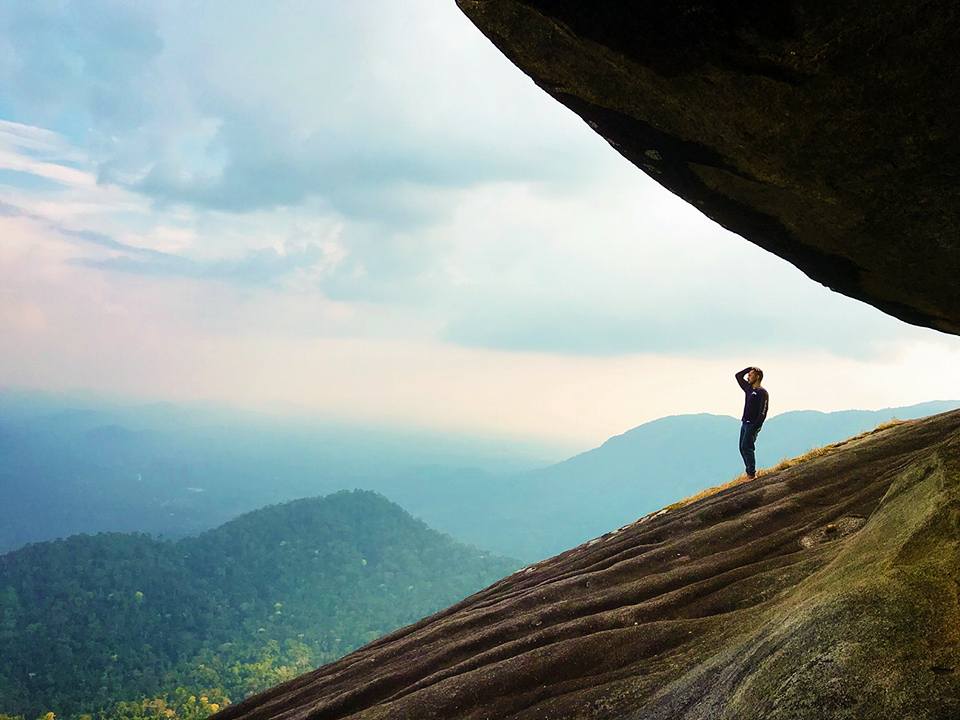 Dreaming for hiking in a tropical forest throughout the unspoiled trail and streams? Pha Hin Kub in Khao Soi Dao Wildlife sanctuary, Chanthaburi province, is a place for you. What is amazing here is its well-kept ecology system and a true natural beauty. It is filled with many strangely shaped granite rocks which make this place unique.
During the way, you will pass a waterfall, a cave and a clear stream. It is a challenging hike, some parts are steep climb. You can also camp under the rocks (if you get there fast and reserve the space in time). It is a popular place to see the amazing sea fog. Start early in the morning to get to the top is recommended, particularly for those who plan to camp on a cliff, viewing stars at night and enjoy the spectacular sunrise.
The trail takes about 5-6 hours to get to Pha Hin Kub (about 5-7 km). Here you can visit all year round, but it opens only during the weekends and you need a ranger. A popular trip is 2 days / 1 night.
How to get there: About 3 ½ hours from Pattaya by car.
Location: click here
7. Thong Pha Phum National Park – the undiscovered beauty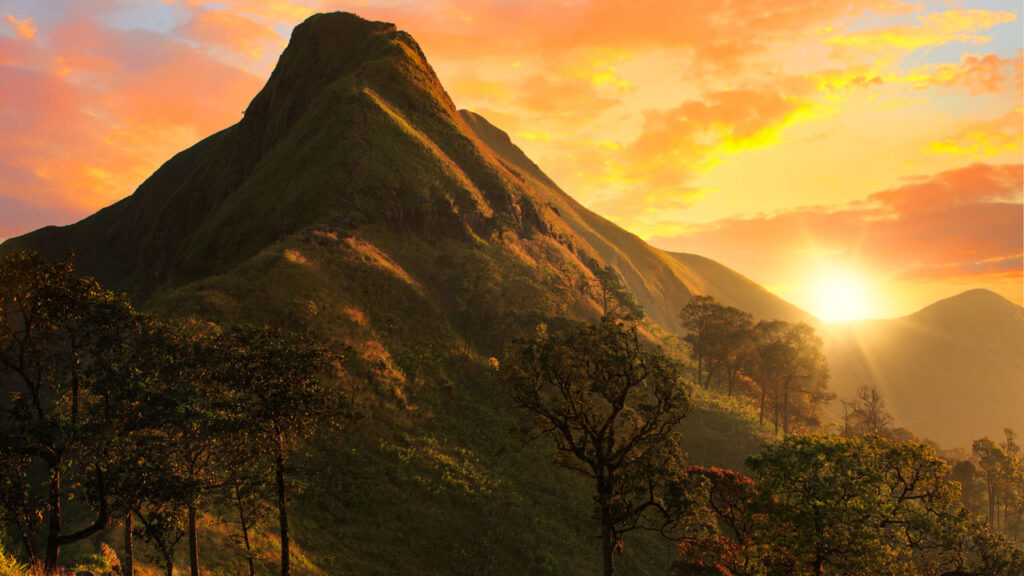 Thong Pha Phum National Park in Kanchanaburi is often overlooked due to its remote location, but its worth your effort to get there. It features caves, waterfalls, tin mine and vast jungles stretching into Myanmar. A popular activity is to stay a night in a Tarzan huts located in the park head quarter, overlooking the jungle canopy. A large camp site is also located in the headquarter with a panorama view looking out across the mountainous jungle.
How to get there: Heading north out of Kanchaburi, after around 130 kms you will arrive at Thong Pha Phum district.
Location: click here
Read more about Green Adventures –Thailand's Best Nature Destinations