10 unique restaurants for Thai authenticity you can't miss.

Aside from the beautiful world-famous beaches, the lively nightlife, and those unforgettable hospitalities, Thailand has another heritage inside the country which has attracted people from over the world to visit Thailand. Obviously, we are talking about Thai food. Thailand is the country with abundant of the delicious dishes, and the best thing is it is available everywhere all time! From the street food, probably unknown by even locals, to the fine dining level. And now, we are about to take you on a journey of excellence culinary guaranteed by Michelin stars. These 10 places in Bangkok, Chiang Mai, and Phuket will definitely impress you and answer why Thai cuisine has proudly been one of the choices among the world's famous cuisines.
1. Jay Oh Chula – Bangkok: MICHELIN Bib Gourmand
Located at the heart of Bangkok only a 10-minute drive from Siam area, Jay Oh has been a part of the street foods with very outstanding vibes from its area. The venue is simple with two air-conditioned rooms in the neighborhood, the place is always packed with people who look for food to eat, especially the under-graduated students from the university nearby. Highly recommended, we are deeply in love with the deep-fried pork neck, spicy salmon, and the amazing crispy pork that beat all the other crispy pork we've tasted before. The place opens at 5:00 p.m. but make sure to come earlier as it is always packed here.
Price range: 200 – 400 THB
Location: 113 Charat Mueang Alley, Rong Muang, Pathum Wan District, Bangkok 10330 click here
Opening hour: Mon. – Son: 17.30 – 01.00
2. Sorn – Bangkok: Two MICHELIN Stars
As one of the five places which is awarded the two-Michelin stars in Bangkok, Sorn is offering only an exceptional 22-course fine-dining meal. The brand image as "Experience of fine Southern cuisine", offering only the finest and well selected ingredients, including preparing fresh meal with heart every day. The Gems on crab stick is the star of the course, but other dishes are as impressive as well. The confirmed reservation is highly recommended as the waiting list is normally up to 3 months.
Price range: 3,500 THB
Location: 56, Soi Sukumvit 26 Khlong Tan Nuea, Khlong Toei, Bangkok 10110 click here
Opening hour: Mon: closed, Tue-Fri: 18.00-23.00, Sat-Son: 12.00-14.00 and 18.00-23.00
3. Jay Fai – Bangkok: One MICHELIN Star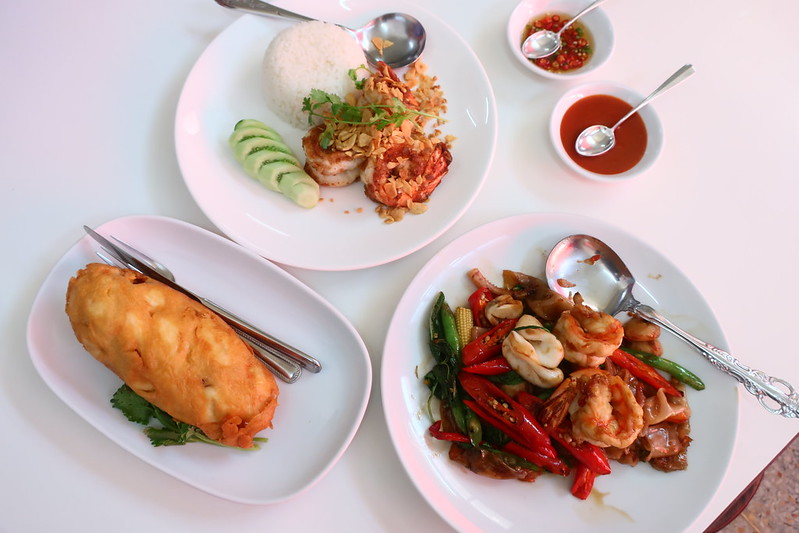 A much-discussed Bangkok's street food is Jay Fai, this place has attracted the food lovers from all over the world. Jay Fai is considered the iron lady, standing in front of the stoves with big glasses on her face, cooking delicious dishes for many decades. Without the doubt, the queue here is super long, and you might be able to make new friends there with both local and people from all over the world as it is the most popular dinner destination for everyone nowadays and thanks to that Netflix's street food documentary. Aside from the crab omelette and the dry Tom-Yum-Goong which are the highlighted menus here, Jay Fai cooks every other dish by herself with top class level as well.
Price range: 300 – 1,500 THB
Location: 327 Maha Chai Rd, Samran Rat, Phra Nakorn, Bangkok 10200 click here
Opening hour: Mon-Tue: closed, Wed-Son: 10.00-22.00
4. Kiew Kai Ka – Bangkok: MICHELIN Plate
With very impressive decoration with hardwood tables and the fresh feeling of painting in green color. This place is considered the most relaxing restaurant in Bangkok, offering traditional and local cuisines cooked with only the best ingredients. The restaurant is led by the famous Chef Nuttawut Nuntakam, the rare dishes such as grilled duck in red curry with fresh fruits or Thai spicy shrimp relish will never disappoint even all the pickiest eaters.
Price range: 300 – 600 THB
Location: 33 Nak Niwat Rd, Lat Phrao, Bangkok 10230 click here
Opening hour: Mon-Son: 11.00-22.00
5. Huen Muan Jai – Chiang Mai: MICHELIN Bib Gourmand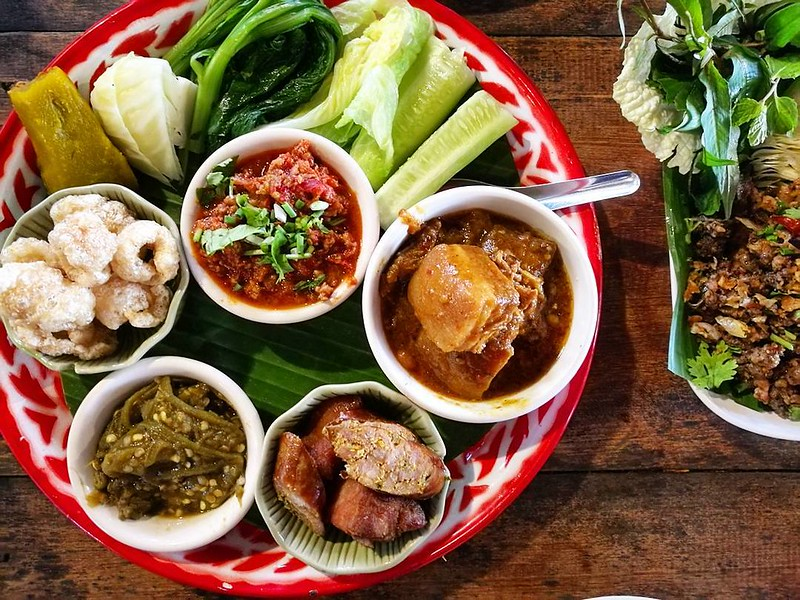 Step into this traditional Northern Thai wooden house and experience the true taste of Northern recipes. While many people might find authentic Northern dishes to be quite simple to find, this place offers up to 100 of food selections. This restaurant has been popular among locals and tourists because it is run by several famous chefs from the TV program, "the Iron Chef Thailand" So, do not hesitate to order the traditional Northern-style hors d'oeuvres to spoil yourself in the complexity of the flavors. And then, the main course dishes like Laab Moo Kua and Gang Hunglay which are rich in aroma and taste and you will always want to come back again.
Price range: 150 – 500 THB
Location: 24 Ratchaphuek Alley, Chang Phueak Sub-district, Muang Chiang Mai District, Chiang Mai 50300 click here
Opening hour: Mon-Tue: 11.00-21.00, Wed: closed, and Thu-Son: 11.00-21.00
6. Guay Tiew Pet Tun Saraphi – Chiang Mai: MICHELIN Plate
Chiangmai is also one of the cities that is full of street food. Many places are always packed and Guay Tiew Pet Tun Saraphi is one of them. This place is one of the most successful restaurants in Chiang Mai with a wide selection of dishes, ranging from the chicken rice to the barbecue pork, it makes this place never had empty tables. The Slow-cooked duck here has been widely said to be the juiciest, softest, and most aromatic in the province.
Price range: 40 – 45 THB
Location: 80 Moo 3, Railway Road, Saraphi, Chiang Mai, 50140 click here
Opening hour: Mon-Son: 9.00-16.00
7. Kao Soy Nimman- Chiang Mai: MICHELIN Plate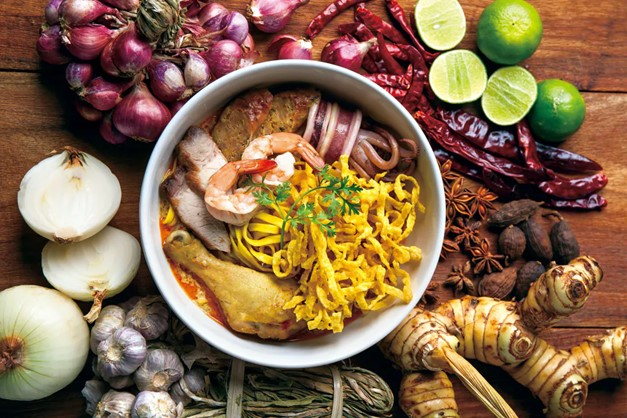 Kao Soy is the name of the food as well as the name of the restaurant. The word "Nimman" is the name of the area. As one of the busiest places in Chiang Mai, this restaurant has been in the don't-miss list of the visitors from all over the world for many decades. Located at the heart of the city, we enjoy the flavorful taste and aromatic herbs infused in the sweet-and-spicy curry of the typical Northern recipe. The additional toppings, including chicken, the cutlet fried pork, shrimps, seafood, traditional sausage, and Thai omelette. Those offer a "Super Bowl" with all the mentioned toppings for the magnificent experience.
Price range: 200 – 500 THB
Location: 22 Nimmana Haeminda Rd Lane 7, Tambon Su Thep, Muang Chiang Mai District, Chiang Mai 50200 click here
Opening hour: Mon-Son: 11.00-20.00
8. One Chun – Phuket: MICHELIN Bib Gourmand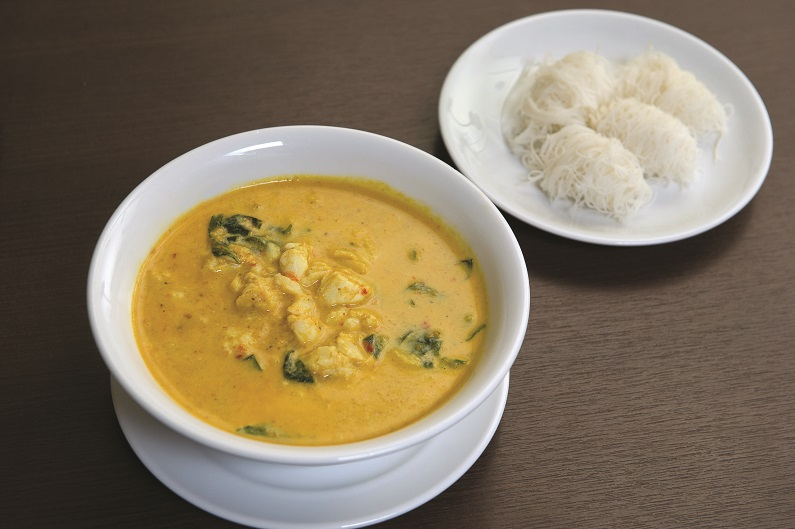 Run by a young Chef Prang, One Chun is renowned as the most authentic Southern cuisine with friendly price and friendly service. Decorated in retro style, the walls full of vintage clocks, and many other nice items, we truly feel like home in this place. The crabmeat curry, the salted stir-fried pork, and the Kam Poo Pad Manao, stir-fried crab claw with lemon sauce are some of our favorite dishes. Those are served with amazing flavors and very pleasant smell that are just to-die-for. As this restaurant keeps authentic recipes, it is considered as the restaurant of this city', Beware of the spiciness. You can let the chef know in advance how much spicy you can handle.
Price range: 250 – 650 THB
Location: 48/1 Thep Krasattri Rd., Talat Yai, Phuket, Phuket 83000 click here
Opening hour: Mon-Son: 10.00-21.00
9. Mee Ton Poe – Phuket: MICHELIN Plate
This restaurant has been established in Phuket for over 70 years, offering one of the best Hokkien noodles in Thailand. The golden Hokkien noodles are stir-fried with meat, eggs, and mixed vegetables in the sweet and salty sauce. It has attracted both locals and foreigners in the area as well as several food bloggers from all over the country. And wait! Don't forget to try the aromatic pork satay which is just very tasty as well.
Price range: 90 – 230 THB
Location: 214/7-8 Phuket Road, Phuket 83000 click here
Opening hour: Tue-Wed: 10.00-20.00, Thu-Mon: 10.00-18.30
10. Pak Nam Seafood – Phuket: MICHELIN Plate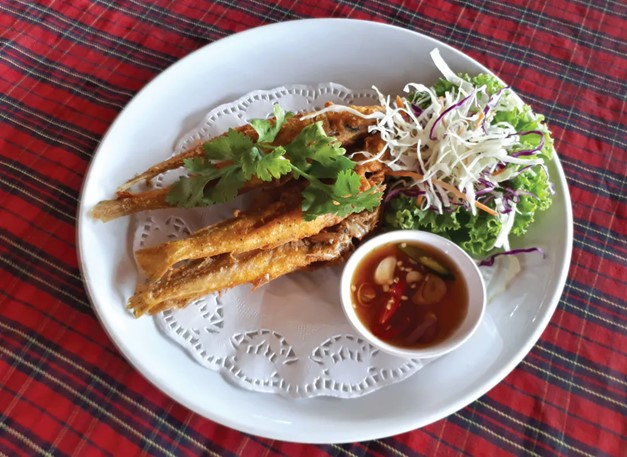 Pak Nam Seafood has been popular for 20 years and it speaks for itself how this place is one of the most popular seafood restaurants in Phuket. If you are in Phuket but never visit this restaurant, it is considered you have never arrived Phuket. The restaurant is decorated with the brick walls with a modern twist (loft style). We still cannot get over Taow Toey : Steamed Gray pomfret with mushroom and soya sauce which is the signature dish of the restaurant. They always make sure to serve only the fresh fish from the sea because texture and sweetness of the freshness can only compliment the best taste of their dishes. Last but not least, the stir-fried prawns with salt and chili, and Kaeng Poo' with 'Mee Hoon' – Crab curry with rice vermicelli are also the must.
Price range: 320 – 650 THB
Location: 52/220 Moo 3, Ratsadanusorn Rd, Ratsada, Muang Phuket District, Phuket 83000 click here
Opening hour: Mon-Son: 11.00-21.00